I've been desperate to try these since reading about them for what seems like absolutely ages. I've been very curious to see if they're worth the hype, but my local boots store in town hasn't been stocking them. However, a tiny boots in quite an obscure place had a few of them, so I very happily picked up Lollipop.
First and foremost, I
love
the packaging. I like that you can see the shade from the clear top, and the usual Revlon quilting design is really nice. The outer packaging matches the shade of lip butter. I like coordinated things. Lollipop is a bright pink, not the colour I would usually go for but I think it suits my skintone, which not many pinks do.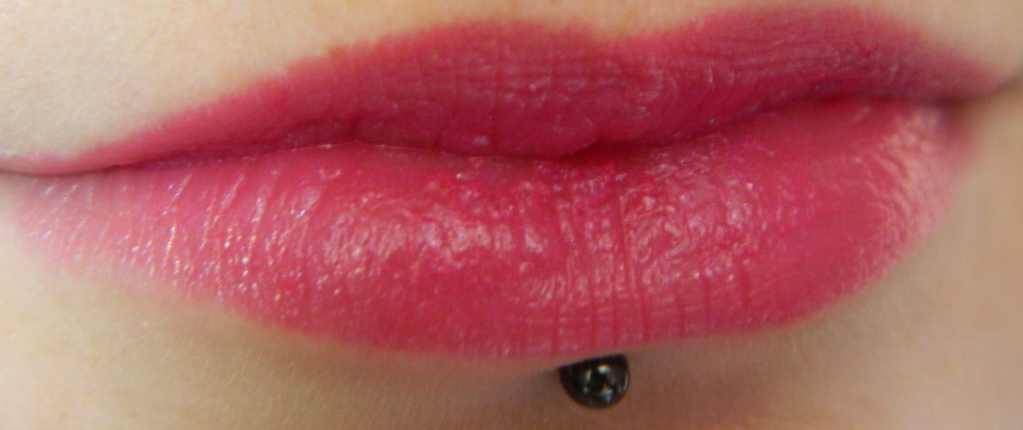 These are currently 3 for 2 in Boots, but at the store I was at they just seemed to have all the baby pink shades, which aren't for me, so I picked up Lollipop for £7.99 instead of using the offer. There's 14 shades of lip butter altogether (in the UK), but the store I was in stocked only 5. Revlon are not the cheapest drug store brand out there, but these are still pretty reasonable in my opinion, especially with the current offer.
I was expecting a very sheer finish with these, since they're a lipstick and balm fusion, but Lollipop is much more pigmented and a little more opaque than I was expecting. They are very easy to wear on an everyday basis, especially on days where you don't quite feel like a lipstick is suitable. For me, they're definitely Spring/Summer products, and I can see me picking this up quite a lot for the days where I'm at uni and I don't want to wear a lipstick but still want a dash of colour on my lips.
The wear time isn't great with these, but I wasn't expecting them to last as long as a normal lipstick. I got about 3 hours of wear with this, so I'd recommend carrying it around with you. Lollipop feels lovely on the lips, and it's very easy to apply and made my lips feel soft, but not as soft as when using a normal balm. However, it's still more moisturising than your average lipstick.
Overall I think that these really do live up to the hype, and I'm going to get a lot of wear out of them over the summer. I wish the wear time was a little better, but because of the lipstick/balm combination I wasn't expecting it to be great.
Have you tried any of these yet? What did you think?
Disclosure: I bought this product myself.