Remember my Cover FX post where I said that I'd somehow won two giveaways really close to one another? This is my other prize! I was lucky enough to win this from
Queen Morsh
, so sending a big thank you her way! It's the GOSH Smokey Eyes Palette in Plum.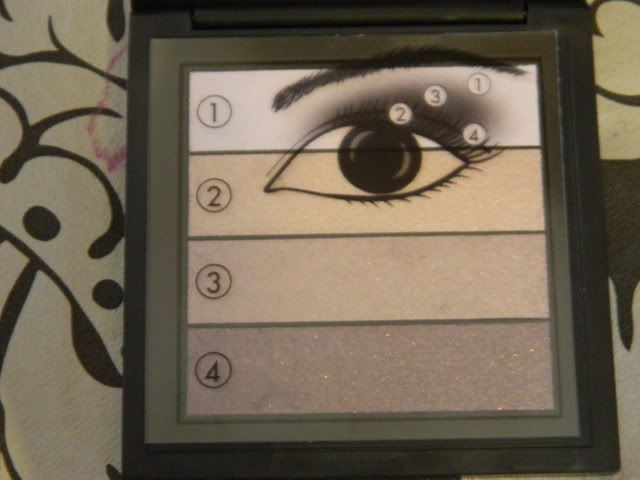 Managed to get lipstick on my backdrop - eek!
First and foremost, the packaging is so sturdy. I'd feel quite happy to pack this into my suitcase if I was going anywhere, I've had numerous experiences of smashed palettes in the past from travelling, so this is a big bonus for me! It has a magnetic closure doesn't feel secure, but it hasn't popped open on me as of yet!
The packaging is nice and simple, I'm also pleased to see that they haven't included any of these sponge applicators, I usually bin them straight away anyway. It also comes with a cute little guide (I love touches like this even though I don't use them 90% of the time). It doesn't come with a mirror.
This palette comes in 3 shades, black, brown, and plum. Plum is definitely on the softer side and from looking at the images I've seen of the other palettes I'd imagine that the black is more intense. The shades included in this palette are much lighter than I was expecting, but they're nice if you don't want something too dramatic. Some of these could pass for brown shades, I think. The colour payoff is nice too, the pigmentation isn't amazing but it isn't bad either. The fallout is minimal. The darkest shade in the palette is my favourite, it's lovely. The swatch photo doesn't quite show the purple to be as nice as it is.
The lasting time wasn't too bad with these shadows either. I wore these for about five hours or so I'd say. The lighter shades blend into my skintone so it quite hard to tell when fading started to occur!
This palette is lovely if you're looking for something subtle. The shadows themselves are nice, and the price is definitely a bonus a point. At £7.99 for 4 2g shadows it's on the cheaper end of the price scale.
This palette costs £7.99 and is available from
Superdrug
I couldn't find a link to the actual product on the Superdrug website.
Disclaimer: I won this palette in a giveaway.