This lipstick has been on my wishlist for absolutely ages. I love purple lipsticks, I've been building quite a collection, but this one in particular I was really excited to get hold of, even more so when I realised that they were 10% off at Debenhams. Weirdly, I can't seem to find it on the
Illamasqua
website, I don't know if it has been discontinued or whether or not it's out of stock, but it's still available at
Debenhams
.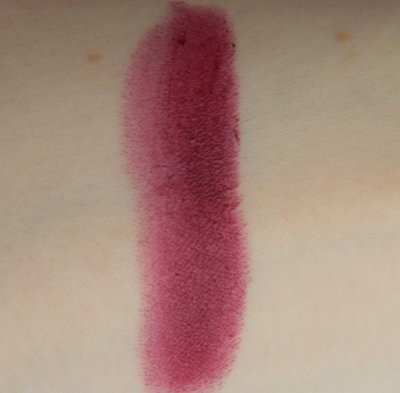 Apologises for the cut off picture. It was the only decent one that came out. It's much more beautiful than this shows.
This lipstick comes in the usual square plastic casing. I love the packaging with these, and the square shape is so much better. It means it actually stays put when you put it down somewhere.
Diablo
is a deep wine red. For some reason, it looks more of a red in my arm and lip swatch. I think it's closer to the colour in the tube than the swatches I posted. It's so beautiful. It's exactly my kind of colour. Some might find it a little too dark for them, but for me I'd be more than happy to wear this everyday. It's nicely pigmented, and it applies really well. I didn't find it to be as drying as other matt lipsticks are, but I'd still recommend applying a balm before hand.
The downside to this lipstick is the cost. It costs £15.50. I bought this with 10% off (and free postage) from Debenhams so it wasn't too bad, but it's not cheap. However, I'm not too bothered by the price since I think it's such a unique colour I know I'm going to get a lot of use out of it.
The wear time on this lipstick is very good. I wore this from around 3pm to 8pm with eating and drinking before it began to fade.
I think that this lipstick may well replace Rebel in terms of my favourite ever lipstick position. Does anybody know if it has been discontinued or not? I sent them a message on Twitter but they never responded. If it is, I'm definitely going to have to buy another one.
This lipstick usually costs £15.50.
What's your go to lipstick? Do you own any by Illamasqua?
Disclaimer: I bought this lipstick myself.