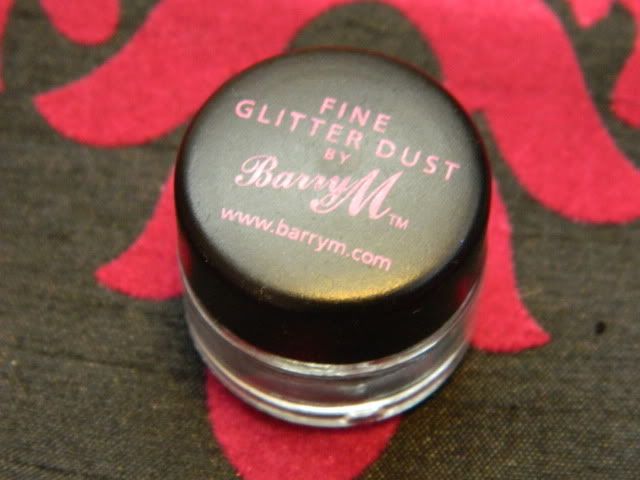 This is another one of those products that I've had for quite awhile but never really got round to reviewing. I'm not usually a glitter fan, but when I saw this in Superdrug I had to pick it up. Barry M's Fine Glitter Dust's are very similar to the Dazzle Dusts, but with a lot of a glitter. They cost £4.59 each, and come in 22 different shades.
The dust comes in a little jar with a black twist off lid. The packaging is very similar to the Dazzle Dusts, and they have the name printed on the top along with the Barry M logo. You get a lot of product in the little jar.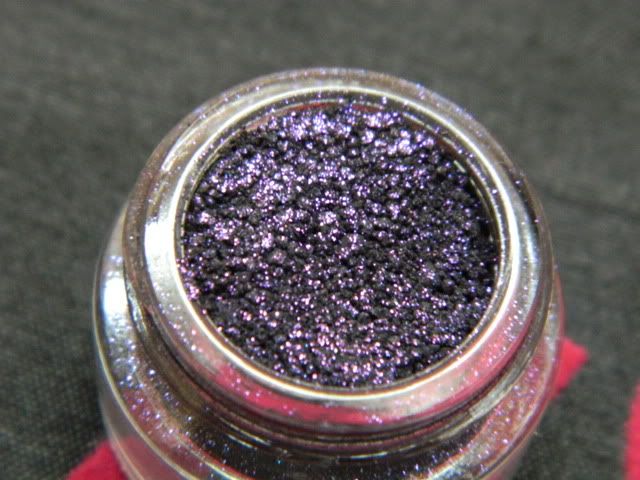 As the name suggests, these are made up of fine glitter. As with most eye dusts, they are a bit difficult to apply. The glitter does tend to fall all over your face, so I'd definitely recommend applying foundation afterwards with these. I always use a primer with these, to give to the glitter something to stick to. When applied over a primer they are quite long lasting, without they fade fairly quickly. You will need to touch up if you aren't using a primer, which could result in being very messy!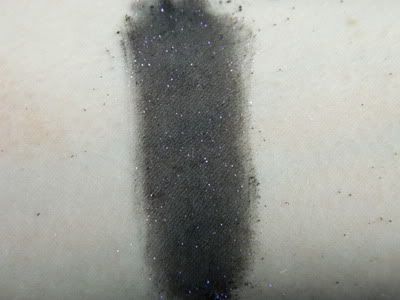 Black Purple is a black base with bright purple glitter. The pictures do not do it justice, at all. The glitter in my pictures make it look more of a lilac, when actually it's more of a vivid purple (the arm swatch picture is the most accurate). It's very intense and pigmented, and it doesn't feel at all gritty, the texture is surprisingly soft.
The Barry M
website
suggests that you can use these on the lips, cheeks and body as well as eyes, but because of the colour of this particular one I can't really see it working anywhere else apart from the eyes. I did apply it to my lips out of curiosity, but I struggled to get it to apply evenly and it began to fade fairly quickly. I think if you do want to apply it to the lips it would work a lot better if applied over the top of a black liner.
Although this product is messy, I think it's often worth it, especially if you're wearing this to go out at night. Plus at £4.59 it's affordable. The colour is really pretty. You can purchase this product from Superdrug, Boots and the Barry M
website
.
Have you tried any of the Barry M Fine Glitter Dusts? What did you think?
Disclaimer: I bought this product myself.