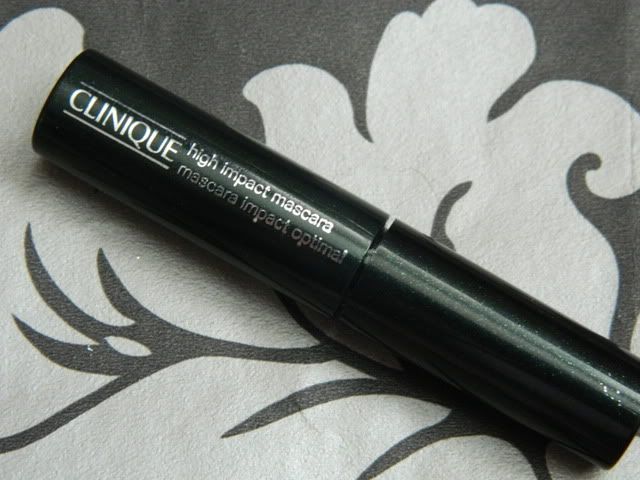 I've never really been one to wear mascara. I'm very lucky, I was born with naturally long lashes. I don't really like the look that most mascaras give me. I don't like my lashes thick or clumped together, if anything, I want them as natural as possible, only with a bit more curl. At some point last year, I gave up and started tinting my lashes black, and curling them in the morning. Unfortunately getting them tinted is much too expensive, so I started using one coat of Revlon's Grow Luscious mascara instead. I went to an in-store event at Debenhams a few weeks ago, and I was given a sample of Clinique's High Impact Mascara. Having never used a high end mascara before, I was very excited to give it a try.
I attempted several times to get a picture of my lashes, but for some reason my camera blurres when it gets close to my eyes, to the point where you can't see my lashes whatsoever, so I'm not able to post a photo of the mascara actually on, sorry! I may have it on the wrong setting, if anybody has any ideas please let me know!
The brush that comes with this mascara is quite large and thick, with dense bristles. It manages to coat most of my lashes in one swoop of the brush. The packaging itself is very simple.
The aspect that I like the most about this mascara is the length to adds to my lashes. It makes them seem a lot longer. However, despite this mascara being named 'high impact' I don't think that actually adds a lot of volume. I think it may have been better to market it as a lengthening mascara as opposed to one that adds volume. I didn't really notice any clumping issues with this mascara. It didn't go flaky on me either.
I like my mascaras to add curl to my lashes, and while this did add a little bit curl, it wasn't quite enough for my liking.
The biggest downside for most people is going to be the price. This mascara retails at £16.00. It's at the higher end.
While I would prefer it if it added a little more curl to my lashes, I do really like this mascara. I don't know if it's one that I would repurchase because of the price, but I really like the natural look that it gives to my lashes, and the added length.
What's your favourite mascara?
Disclosure: I was given this as a sample from Debenhams.