This is another product that I've been meaning to review for absolutely ages. I bought this several months ago with a giftcard that was given to me for my birthday. I don't normally like lip gloss, but I went and bought this one because it looked so pretty in the tube.
Bordeaux is a deep wine shade. It looks absolutely beautiful in the tube. I very rarely buy products on a whim unless I know that I've had good experiences with the brand, but this is an exception. Revlon products have always been a hit or miss with me, so when I bought this I was a little sceptical.
This gloss has the usual Revlon quilting design on the cap, which I've always really liked. It makes it look more like a high-end product. The gloss doesn't have a doe foot applicator, instead the applicator is flat.
While I was unsure about buying this since I'd heard little about them, it's fair to say that I
love
this gloss. It applies evenly, and it isn't too sticky. The pigmentation is good, and although the colour doesn't quite match to the colour in the tube (on the lips it is much lighter) it's still very pretty. I can wear this gloss for about 3 hours at most before it begins to wear, but it still leaves a touch of colour on the lips. I also found it to be quite moisturising.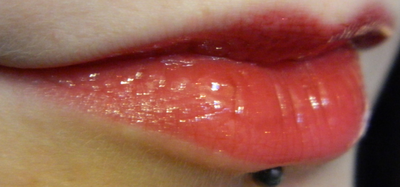 I've also started pairing it with Sleek's Cranberry lipstick which normally dries out my lips too much to wear alone, but with this gloss it's amazing. I don't normally wear gloss on a regular basis, but I reach for this one quite frequently for days where lipstick isn't quite appropriate.
This lip gloss costs £7.99 for 5ml, perhaps a little bit more than your average drugstore product, but I think it's worth it. It also comes in 15 shades.
Overall I absolutely love this gloss. It's really lovely. I can't really think of anything that I don't like about it, it's definitely one of my favourite lip glosses.
You can buy this lipgloss from either
Boots
, Superdrug or the Revlon
website
.
Have you tried any Revlon lip glosses? What did you think?
Disclaimer: I bought this product with a gift voucher given to me for my birthday.