I've never really truly looked into the whole foam hair dye business. Mainly because I'd automatically assumed that it would be messy, and I'm very stuck in my ways when it comes to hair colour. However, when I was wandering around in Tesco in search of a new dye, I came across this, and as soon as I saw the colour on the picture (I'm well aware that it
never
turns out like that, but I'm easily persuaded by these things) I just
had
to try it. It's in the 499 Violet Berry Burst shade.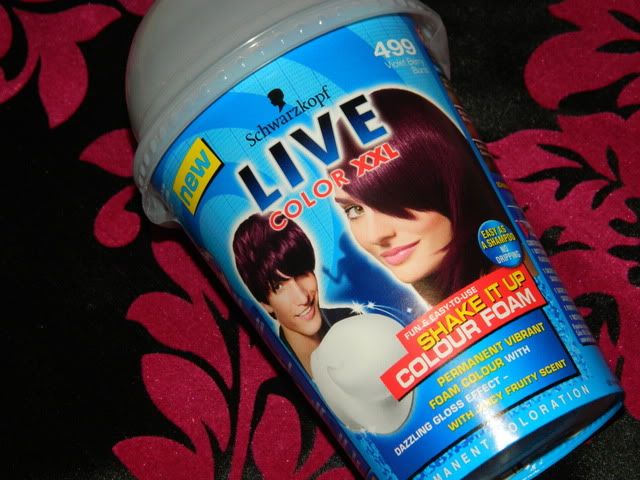 The packaging is interesting, it reminds me of iced coffee cups (you can tell what I do in my uni breaks). It contains a sachet of conditioner, developer lotion, colour powder, gloves and an instruction leaflet with extremely small text.
You pour the developer lotion into the empty tub, along with the colour powder, and put the lid back on. It's then recommended that it is shook 40 times, which is a little strange. I'm used to 'shake vigorously' so having to count seemed odd, I normally just shake colours for as much as possible for a few minutes.
The most surprising aspect of this product for me was the smell. It smells gorgeous! Very fruity. It certainly makes a nice change from the usual chemical smells. After shaking, you remove the lid (put the gloves on before you do this, I dyed my fingers doing this) and scoop up the foam and apply to dry hair. The application time is a little longer than usual, 25 minutes for roots and 40 minutes for the rest of your hair.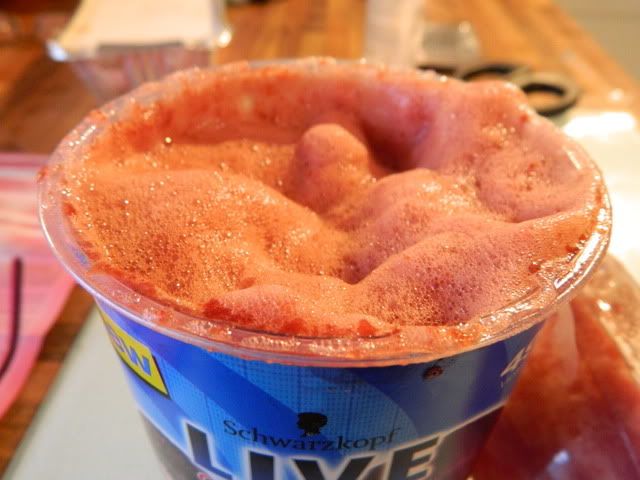 According to the box, this was supposed to be drip free. It didn't drip like crazy, but bits of it fell off my hair and it did go all on the floor, my neck and my jeans, so I'd recommend covering everything before dyeing.
I mistakenly left my colour on for longer than I was supposed to, so the result is a lot darker than I was expecting. It most definitely is not purple, it's a red. Personally I am really happy with the result, it's black with a hint of red. It's very shiny, and the red glows in sunlight. I really struggled to get a photograph of this, I was trying to capture the effect of sunlight and ended up having to tilt the camera towards the back of my hair. Any pictures straight on made my hair look completely black. It's a terrible picture, but I think you can see the contrast between the dark colour and the red.
My hair was super frizzy after quite a humid day outside!
I think if you are dyeing your hair for the first time, foam colour would definitely be the easiest route to go down. I really like the colour, but I wish it was more like the colour on the box. All of the Live purple colours have sent my hair red. This colour costs £5.99 and is available online at Boots
here
.
What hair colour do you use? Have you tried out any of the foam ones?