It's been a long time since I reviewed any Vivo products! I'd seen the Smoky Moods Kits in Tesco before, but when I was in there last week I noticed that they were on offer for £3 each instead of the usual £4, and since I couldn't choose between them I ended up with both Midnight Smoke and Daytime Smoke. You get three shadows and a black liquid liner in these palettes.
The packaging is nice and simple, and doesn't feel cheap. It's nice and compact. These also have cute little guides on the back, which is a really cute addition. I really like the little slot for the eyeliner. It would be excellent for travelling. It also comes with a sponge applicator. The shadows are 3.6g each and the liquid liner 2.5ml.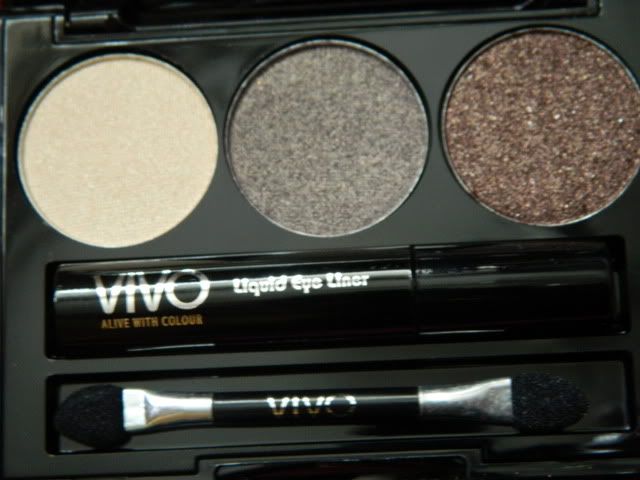 Daytime Smoke is perfect for everyday, and contains two brown shadows and a cream shadow which is recommended as a highlight shade, but I prefer matte shades to highlight. The cream is the least pigmented out of the three, but the other two shades really make up for it. The middle shade in particular is beautiful.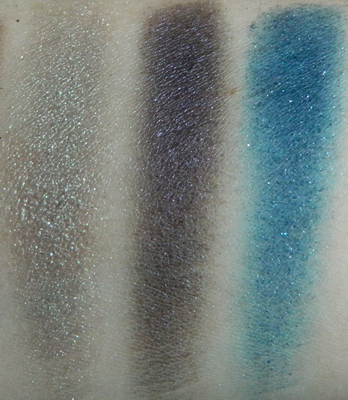 Midnight Smoke is the most dramatic out of the two palettes, and contains a silver, dark purple and a super sparkly blue. All three shadows are nicely pigmented. I was really lacking a good silver eyeshadow until I bought this palette. All three of shadows are really pretty. I really love the purple!
However, you do get a lot of glittery fallout with these. I'd definitely recommend applying your foundation afterwards as it can be quite messy. They are very soft and easy to blend. I'd say that they lasted around 5 hours or so on me without a primer before they began to fade, which on my oily eyelids is excellent.

The eyeliner that comes with these kits is a nice black. It's very difficult to remove. The day I bought these kits I swatched it on my hand and it survived the shower. It took a lot of rubbing with make up wipes to remove it! It's very long lasting. This was only aspect of the kit that I was expecting to be a little disappointed with, but it's a really good little eyeliner!
Overall I love these kits. The fallout means that they take a little more work, but the colours are beautiful. These would be great for travelling, I'm definitely packing them when I go to Spain next month! They usually cost £4.00 so they're very affordable too.
These kits cost £4.00 and are available from Tesco or the Vivo
website
.
Disclaimer: I bought these products myself.