I was given this perfume a few weeks ago as a gift from my grandparents for passing my first year of university. I love the original Black XS and wear it on a daily basis, but I recently ran out so I was very happy when I was surprised with this one!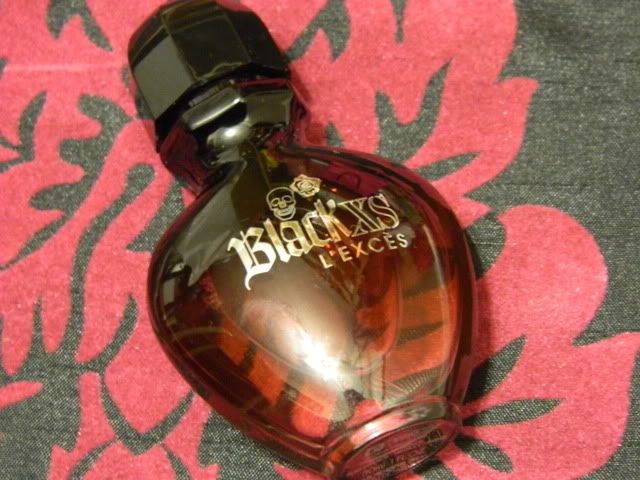 The packaging is quite different from the original, with the original having more decoration on the actual bottle. In store this had a little skull charm which looked lovely, I was quite disappointed to see that it wasn't included. I don't know if it's included in the large one since this is only the 30ml, but I was disappointed all the same. I love pretty perfume bottles (and anything with skulls), and this one is a little on the plain side, for me at least.
Black XS L'Exces has base notes of cashmere wood and black vanilla, heart notes of jasmine and rose absolute and top notes of neroli and black pepper.
I think the original Black XS is sweeter and a little more fruity, more of a daytime scent, whereas this one is a richer, deeper floral and more suited perhaps to night time wear. It still has a bit of fruity sweetness to it (particularly after a few hours of wear) but it's nowhere near as sweet as the original. I think it's a more mature scent than the original. You only need a small amount of it, and I could still smell hints of it hours later, which I don't really think that I could with the original.
Overall I love this scent. It's expensive so I will be using it sparingly since I have the 30ml, but it's lovely. If the original was too sickly and sweet for you, I'd definitely recommend you have a look at this one.
Black XS L'Exces costs £31.50 for 30ml and £42.50 for 50ml from
Debenhams
. The prices seem to vary from store to store.
Have you tried any of the Black XS perfumes? What did you think?
Disclosure: I was given this perfume as a gift.