I'd been meaning to order from MUA for awhile now (since Lip Booms came out, I'm not exactly impatient to say the least) so it was an added bonus for me that when you spent £8 on their website you were given a free Going for Gold palette worth £4 with your order.
MUA have released Going for Gold to celebrate the Olympics this summer. It's different to the other MUA palettes in that it has larger, square shadows instead of the usual circle ones. I think that I much prefer this design, you get a lot more shadow and I love the way it looks. You also get 10 shadows instead of the usual 12.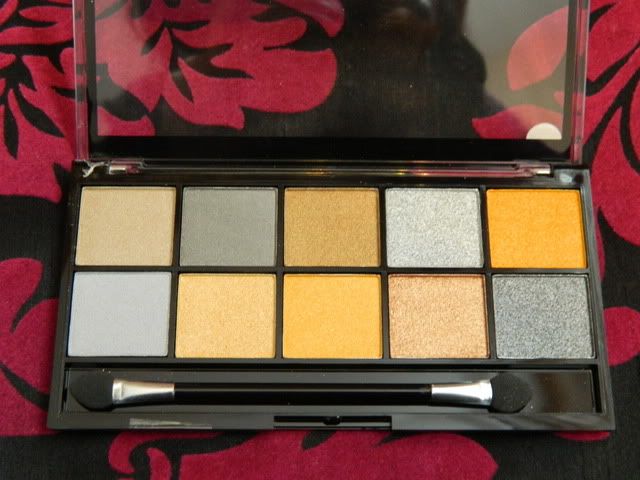 I don't know when MUA started doing this, but I love the little 'Mini-Master Class' feature on the back of the palettes. It's a really nice touch.
While I think that this palette is a little too much on the bright side for me, it's perfect if you love bright shimmery shades. The shimmer shades are definitely better than the matte ones, which I found quite difficult work with. The pigmentation on most of the shades is good, excluding the two grey shadows (bottom row on the left and one away from the left on the top row) I think. You will have to build up the colour. The fallout wasn't too bad either.The gold second to left on the bottom row is my favourite. If you're looking for some golds to add your collection then this is definitely the palette for you.
MUA shadows always last for ages on me, and this one is no different. I wore this yesterday from around 11am and it was still going at around 5pm, without a primer. Very good for the price!
On a side note, I'd also like to say how good the service from MUA was when I ordered this. I ordered this in the afternoon, and it was on my doormat the next morning! It's very rare that I receive anything that early, so I was impressed.
Overall while I do like this palette, it's a little too bright for somebody like me, but if you're into golds you while love this palette! It's very good for the price.
You can purchase this palette from Superdrug or the MUA
website
.
Are you interested in this new palette? Are you looking forward to the Olympics?
Disclaimer: This palette was free when I spent £8 on their website.