Undressed is another one of the new palettes released in July from MUA. Before I ordered this I'd only previously used Glamour Nights, so I was excited to try a more neutral palette since I'd heard such good things about Heaven and Earth.
As always with MUA the packaging is sleek and nice. I like that the top is clear so I don't have to open it to see which one it is. As I mentioned in my Going for Gold review, they've added a cute little 'Master-Class' guide on the back, which is a really nice touch. You get the usual 12 shadows.
Top row. My camera was refusing to focus. Doesn't show this shades to be anywhere near as beautiful as they are!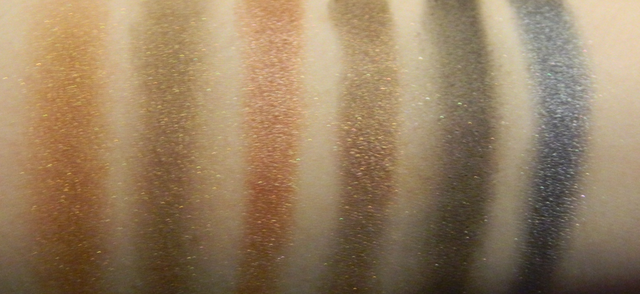 Bottom row.
Undressed has a lovely mix of shades. They're all so pretty, I don't think I can actually pick my favourites this time! All the colours are very wearable and lovely, and there's some darker shades to mix it up a bit! As always with MUA, the shimmer shades are gorgeous. I think the matte shades always look better on as opposed to on my swatches, but they aren't as nice as the shimmer shades. The majority of the shades are nicely pigmented, but will require you to build up the colour.
I've been impressed with the wear time of MUA shadows in the past, and this one is no different. These lasted around 7 hours or so on me before they began to fade, without a primer. Very good for the price!
I've heard so many people talk about how this palette is comparable to Urban Decay's naked palette, but since I don't own a Naked palette I can't really compare them. However I will say that since Urban Decay's palette is a bit of out of my price range I am more than happy to settle for this as dupe!
Overall I can honestly say that this is my favourite palette so far from MUA! The colours are just beautiful, I'm packing this to take away with me to Spain next month, as since it's only £4 I wouldn't be too upset if it got ruined, as it'd be cheap to repurchase.
You can purchase this palette from the MUA
website
or from
Superdrug
for £4.
Are you interested in this palette?
Disclosure: I bought this product myself.