Last Wednesday I went to the Nelly launch at Coco Tang in Nottingham after winning a ticket from Megan at
Seek My Scribbles
. The opportunity to go to events in my own city are very rare, and trips to London are very expensive so I was excited when I won. Becca also won (you can read her post
here
) and brought along Jade, so we all went together, which was nice.
I'd never actually heard of Coco Tang before (I'm not really the kind of student that goes to bars frequently), and I'm definitely glad that I wasn't on my own considering it's in quite a strange place! Fortunately a
lot
of people turned up (it was the promise of free heels!) so it wasn't too hard to spot when we were in the area. Lots of girls in
very
big shoes! Made little 4'11 me feel very, very small! I took my little shoot and point camera so a lot of the pictures are blurred. It doesn't deal with dark rooms very well.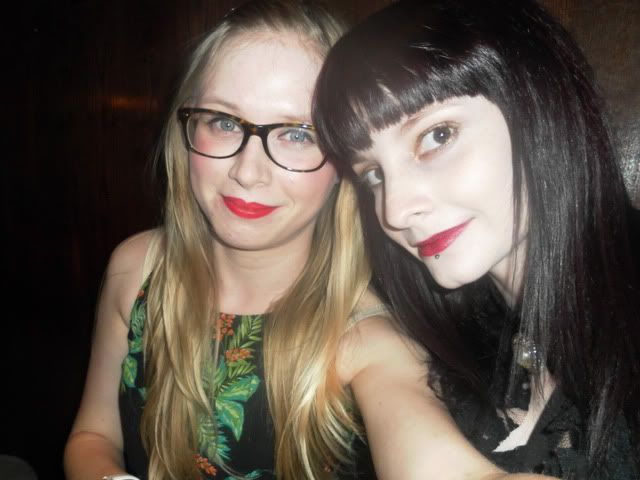 Thank you to Becca who kindly let me borrow this picture.
They had lots of display cases containing the heels, and we were given cards to write down which three heels we liked the most. Not an easy choice! There was a lot to choose from, and they were all very pretty. I have a love hate relationship with heels. I love looking at them, but I knew that I wouldn't be able to wear 90% of them. I have a minor disability, so my balance is completely off and I have to limit myself to sensible footwear that offers me some support. I've been trying to slowly start wearing higher shoes (I'm 4'11, this
needs
to happen) but it's going to be a long process! In the end I did manage to find three that I liked.
We all had a really nice time, it was well organised considering the amount of people that turned up. I'm going to be eagerly anticipating the arrival of my shoes in the post! A big thank you to
Megan
who I won the tickets from!
Did you manage to attend one of these events? What did you think?
Disclosure: I won a ticket for this event in a giveaway.