If you're a frequent reader of this blog you'll know of my love for jewellery. I posted
here
about my Alchemy Gothic collection so far, and the other day I decided that it was time to add to it. I orginally bought
La Fleur de Baudelaire
from
The Gothic Shop
, but it was far too big for my neck (although it was very beautiful) so I decided to look for some other pieces instead.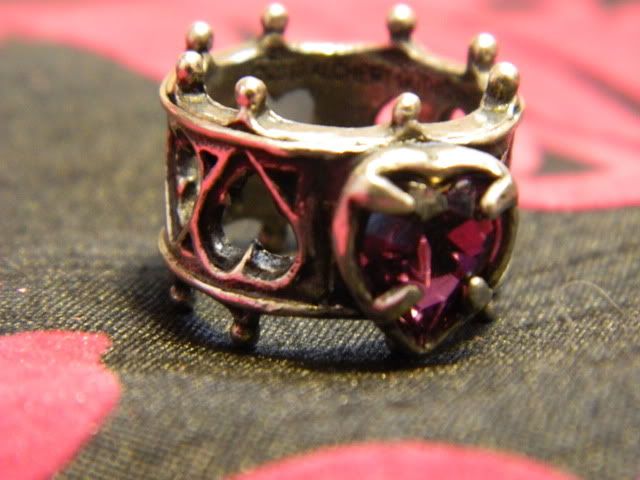 I ordered from
GlitterGoth
this time, which is a first for me. They've always been on my radar so to speak, but for some reason I have never previously ordered from them. I was also pleased to see that they had a wishlist feature which now already has 31 things on it (you know, in case I win the lottery in the near future). I ordered
The Reliquary Heart Locket
(I will review this in a separate post) and the
Elizabethan Ring
. I ordered these in the morning, and they were on my doormat the morning after. Very fast postage, which is
very
impressive and wonderful since I'm always so impatient and excited when I order jewellery!
I've never actually bought a ring before besides adjustable ones that I've put together myself. I ordered this ring in size L, which is XX Small. I have teeny fingers, I was really hoping that it would fit me as I usually really struggle. On the photos of this on my hand, I'm wearing it on my left hand. I bought it for my right hand as my fingers are a little larger, so it doesn't fit my left hand at all. I'm wearing it there because I can't take photographs with my left hand! It is still a teeny bit big, but it's not uncomfortable and isn't that large that it falls off.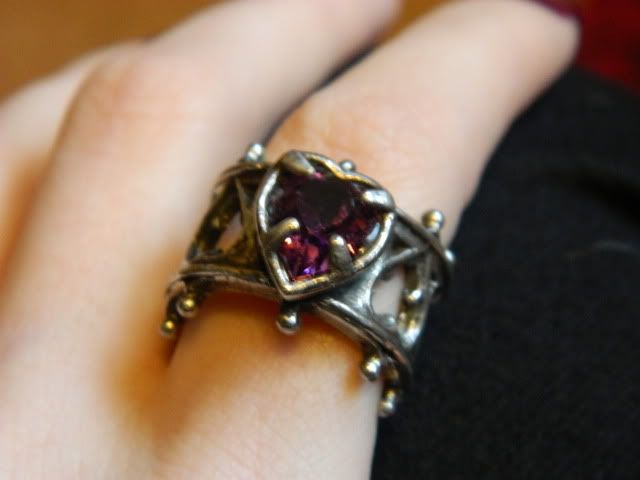 Nail polish is Rebel by MAC.
Isn't it beautiful? I love more intricate pieces and this is perfect. The crystal in the middle is a little large for what I would usually go for, but I love it! It definitely stands out. It feels very sturdy and I love the elegant feel to it. It's not light but not overly heavy either, and sits well on my finger. It's a little expensive, I bought it for £17.98, but I think it's worth it. I honestly can't see me taking this off. I'll definitely be looking into getting more Alchemy Gothic rings, I have my eye on
this
beauty for a start!
There's also a gorgeous matching
bracelet
to this, but sadly my wrists are far too thin for it to fit.
This ring was £17.98 (usually £19.99) from
GlitterGoth
.
Do you have any Alchemy Gothic pieces?
I mentioned changing the blog name in my last post, and I'm still undecided! Does anybody have any thoughts on whether or not I should keep/change it? I'm debating putting up a poll, good idea or not? Thoughts would be appreciated!
Disclosure: I bought this ring myself.