I seem to be writing these posts all the time now! I've amassed quite a considerable jewellery collection (I blame the wishlist feature on GlitterGoth). Emerald Venom had been on my list for quite some time, but I never actually got round to ordering it until a few weeks ago.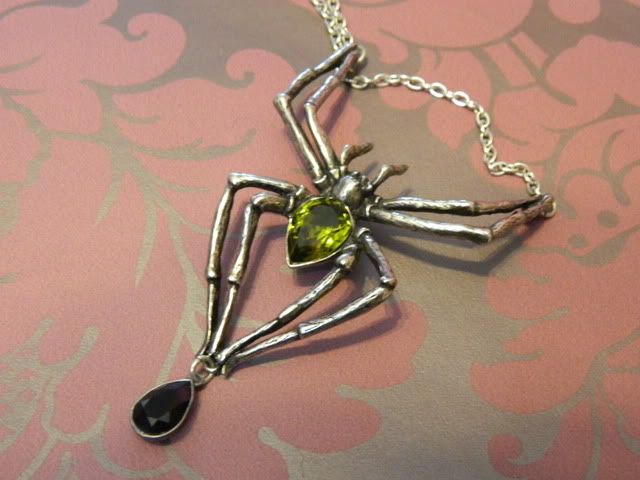 I have a bit of a thing for spiders. Whenever there's a spider roaming the house (that hasn't been discovered by Thomasina) I tend to just hear '
Claaairreee get ittttt!
' from my sister, who decided a couple of years ago that she is frightened of them. I actually
like
spiders, which a lot of people consider to be a little bit weird. My garden used to be full of them when I was younger (before we acquired Thomasina) and I used to sit and watch them. I can also remember putting one in my paddling pool because I'd read somewhere that they could swim and having to rescue it and put it back where I found it...I was a bit of a strange child! Not much has changed, obviously...
So, I was more than a little bit intrigued when I first saw Emerald Venom! I'd decided to buy more green jewellery after I bought the Westernra choker (
here
). It's a little bit larger than I had anticipated (I didn't check measurements again) and I was pleased to see that the chain is adjustable, and the spider sits really well. It doesn't feel heavy or bulky when it's on. Although the size surprised me, I don't think it would have the same effect if it was smaller.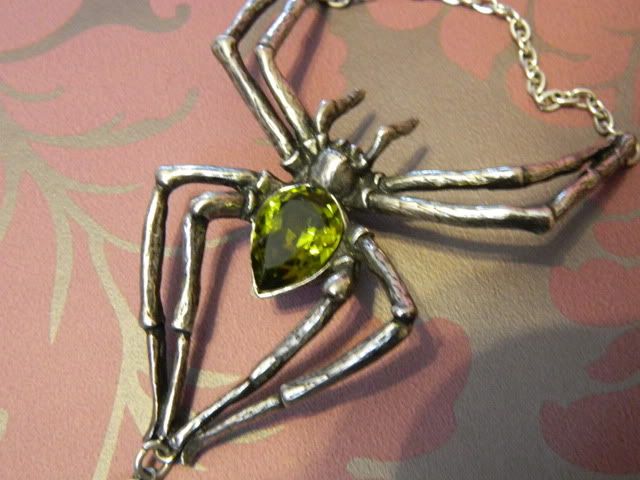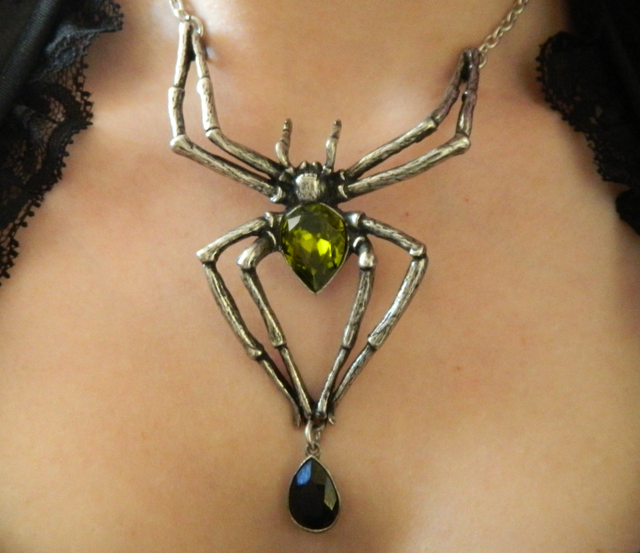 It's a really beautiful piece. The green really catches the light (for some reason my camera found it quite difficult to focus on it) and it's such a unique and interesting piece of jewellery. It definitely gets noticed! I don't think I worn this and not had it mentioned, it's really wonderful. I don't think that you need to like spiders to like it either!
I bought this necklace for £29.98 from
GlitterGoth
.
Have you bought any jewellery recently? I ordered the Aurum Mortis ring (
here
) the other day, and it was dispatched this morning so I am anticipating its arrival in the next few days! I get so excited when I know I have jewellery on the way.
Disclosure: I bought this piece myself.