I posted
here
about my Alchemy Gothic Elizabethan Ring, and this is the other piece of jewellery that I ordered from
GlitterGoth
, the
Reliquary Heart Necklace
.
This necklace was always one of those pieces that I'd look at on the internet but never got round to actually buying it.
I was very surprised when I did order it as it's so much bigger than I was originally anticipating. I was expecting the locket to be tiny (I stupidly forgot to look at the measurements before I ordered), when in fact, it is quite large. It's a heart shaped locket with a little skull on the surface. There is a mirror inside the locket and a magnetic clasp.
The clasp is a little awkward for me as the black bed and red ribbon chain that the locket hangs on cannot be adapted, and since the necklace is far too long for me, I'm going to have to remove it and hang it on a single black ribbon instead. I've never been much of a fan of beads so it doesn't really bother me. I haven't posted a photograph of me wearing this as it's just far too long!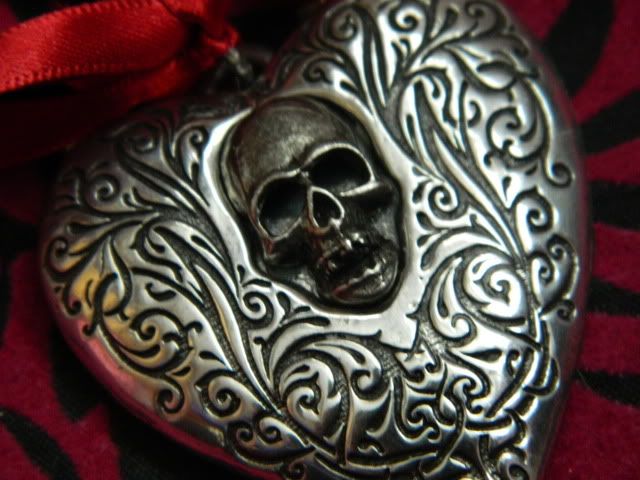 The intricate detailing on the front is really lovely, and my favourite part of the locket. The little skull fell off the day after it arrived, and I glued it back on. So far it hasn't moved, but it's something to be aware of. Luckily it fell off when I was in the house, I'd have been very disappointed if I had lost it.
The locket can hold quite a large image (I've chosen one to put in it but have not yet had the photograph printed) and has a poem engraved inside that reads:
'Where I am always thou art,
Thy image lives within my heart.'
It's all very beautiful, and the poem is a really nice touch. The mirror is a substantial size, too.
Overall I love this locket. The skull falling off was annoying but not too much of a disaster since I didn't lose it, and fortunately now seems to be secure. The detailing is really lovely, and I can't wait to finally put a photograph in it.
This necklace is currently on offer for £23.59 instead of the usual £26.99 from
GlitterGoth
.
Do you own any lockets?
Disclosure: I bought this locket myself.