Miners haven't really been a brand that has been on my radar, but I've been seeing quite a few reviews of their products recently, so I thought that I'd finally get round to reviewing their lipstick in Icon, which has been sitting in my box for quite some time now!
Firstly, The packaging isn't too bad, it does feel a little on the cheap side, and isn't that sturdy. I could feel the lipstick sliding down a bit into the tube when I was applying it, but it's not too much of an issue. At least the bright colour means that it's fairly easy for me to find - the majority of my lipstick tubes are black so this definitely stands out! I also love that you can see the colour of the lipstick in the bottom, if you have several of these lipsticks it would make it much easier to find the one you're looking for.
Icon is a lovely deep berry colour. It applies smoothly and evenly. The colour really pretty, and not quite what I was expecting from the pinkish colour in the bullet. It's definitely the kind of colour that I usually go for, and I think for most people it's more of an evening shade than an daytime one as it's probably a little dark for some, but I'd be more than happy to wear this everyday. It's opaque in a couple of swipes of the tube. It feels gorgeous on the lips, it's extremely moisturising and made my lips feel very soft. It doesn't dry my lips over time either.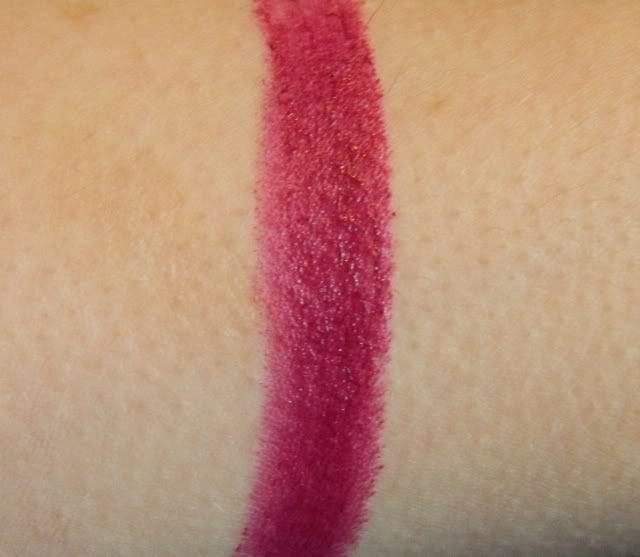 The wear time isn't too bad with this either. I'd say that it lasted around 3-5 hours (depending on whether or not I ate/drank) on me before it began to fade.
One of the biggest advantages with this lipstick is the cost. It's very affordable. It costs £3.99 from the Miners Cosmetics website. The only downside to this is that it seems quite difficult to get hold of unless you order online. There's a list of stockists available on their
website
.
Overall I really love this lipstick. It's exactly my kind of colour and it feels lovely. The packaging could be improved, but the colour is so nice that I honestly don't really mind.
This lipstick costs £3.99 can be purchased from the Miners
website
.
Have tried any of these lipsticks? What did you think?
Disclosure: This lipstick was given to me by a friend.