This post has been at the bottom of my draft post pile for ages! I've been getting lazy when it comes to charging my camera and I've been forgetting to take pictures. I bought this last month, and I've been meaning to blog about it since. I'd been on the lookout for a dark red lipstick for awhile as I'm on a bit of a red kick at the moment. I have Man's Ruin by Rockalily but not many others, and I decided that I wanted to get one by MAC because of the staying power. I ended up narrowing it down to Diva and Media (I had also seen both on lots of blogs running up to this and decided I wanted a nice dark red), but in the end, Diva just had that certain edge over Media that I preferred. I think it's because Media looks a little more purple toned whereas Diva is more of a burgundy?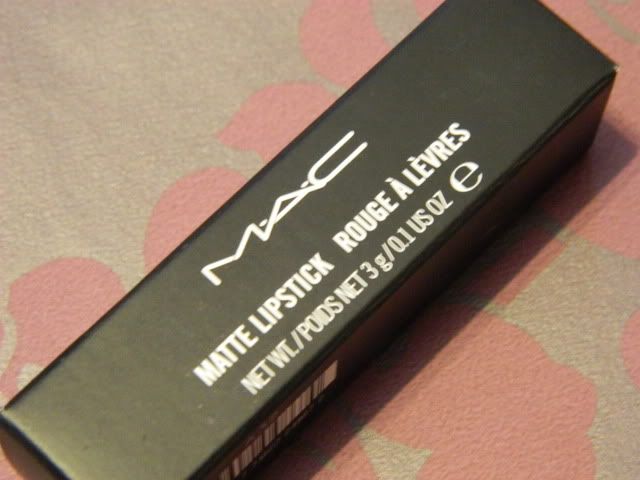 This lipstick comes in the standard MAC bullet packaging. I still prefer square lipsticks - I had to chase this around again to photograph it! I very nearly used blue tac to make it stay still...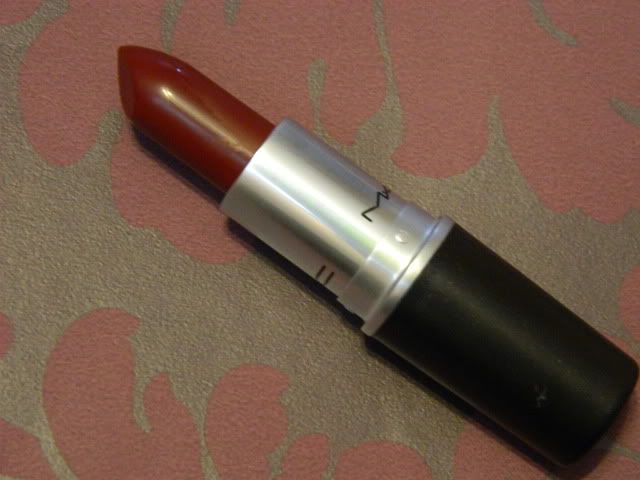 Diva is a dark burgundy with a matte finish. As always with MAC lipsticks, it's super pigmented and opaque in a couple of swipes of the tube. I'd like to take a moment now to say that my lip swatch on this post is absolutely useless. My camera wouldn't pick up the colour of the lipstick, and unfortunately the colour shown here isn't very accurate and is nowhere near as nice as the actual colour of the lipstick. The majority of my pictures came out bright orange. It was very frustrating!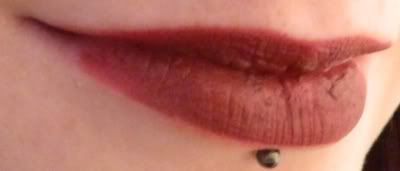 See what I mean? This makes it look really drying too. It isn't.
This lipstick has a matte finish, but feels very comfortable after applying. I was quite surprised about the texture actually - I didn't feel much like a matte when I applied it, it's quite creamy! It doesn't enhance the dry areas of my lips after immediate application, but overtime it becomes quite drying and a little patchy (or at least it does on my chronically dry lips) so I'd definitely recommend reapplying if you're going to be wearing this for a long period of time. I would still suggest applying a balm before you apply this, however.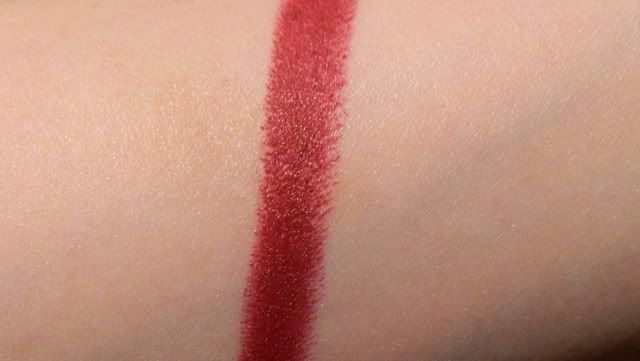 I really love the colour of this lipstick. It's exactly what I searching for. It isn't too light and it isn't too dark either, it's the perfect balance that I was looking for, and definfitely my new favourite red in my collection.
The staying power of this lipstick is fantastic, and also my reason for buying it. This survived a meal and drinks the other week, and didn't need to be reapplied until the evening (and that was because it had become patchy, not because it had faded). I haven't had any issues with it fading whatsoever.
I really love this lipstick, and I see me getting a lot of use out of it. I'm very glad that I went with this one in the end!
This lipstick costs £14.00 from
MAC
or
Debenhams
.
What's your favourite red lipstick? Do you have this one or Media? If you have Media, how do you think it compares? Is it still worth looking at?
Disclosure: I bought this lipstick myself.