Happy Halloween! (Or Samhain if you prefer). I can't quite believe how quickly this has come around again. It is quite unusually cold here at the moment (it apparently snowed last weekend, and being away I missed it!) and I can't say I envy the kids wandering around outside tonight!
I no longer dress up for Halloween, but I do still like to get involved because I'm a bit of a creature of tradition. This year I have made tarantula chocolates. I bought the mould I used to make them from Ebay, and it holds 16 of them. I made these with the intent to hand them out to the kids, but considering my Dad has already eaten three of them I don't think that that is likely...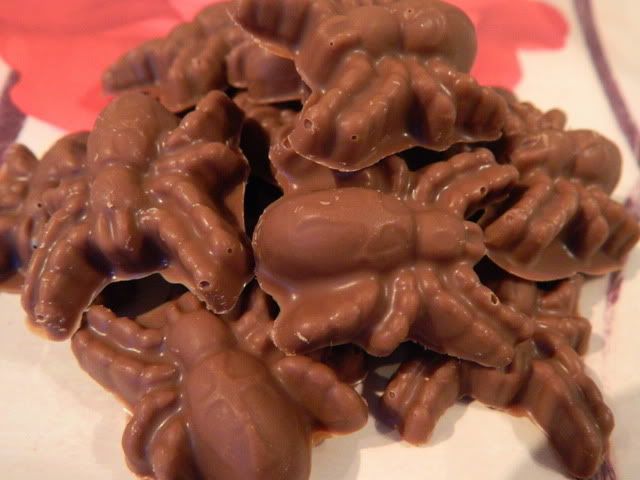 Some of them turned out a little messier than I'd have liked, but as long as they taste good who cares? I actually made them with some super cheap chocolate (it was about 35p a bar) and they are surprisingly delicious! We also have a ton of bought sweets to hand out too.
I'm going to attempt to steal a lollipop before the kids get to them...
I've also attempted some Halloween nails, but they're really quite mediocre and very basic. I bought some of the Models Own nail art pens yesterday, and this was my first attempt at using them (or using any kind of nail art pens, ever). It's not terrible for a very first attempt! Unfortunately I didn't even try to replicate it on my right hand...
This is using Barry M's Tangerine and Black on the tips, and Models Own nail art pen in Black for the web.

I don't have other plans for tonight except to snuggle down and watch The Nightmare Before Christmas once it all goes quiet. I also need to try and keep Thomasina safe and indoors, which is normally difficult (she seems to know when she isn't allowed to do something and it makes it want to do it all the more).


I hope you all have a wonderful (and safe) Samhain/Halloween!
Are you doing anything to celebrate Halloween?