This post is another one that has been sat in my draft posts pile for ages. I had very nearly forgotten about it, which is strange because I love this product! I'm getting a bit behind with all my posts at the moment as I'm still getting into the rhythm of things at uni, you'll all have to bear with me for a little while longer while I get myself organised and into a schedule!
I saw this when I was wandering around in Boots a few weeks ago. It's very rare these days that I go and buy something without having read about it or looked it up first, but this was one of those impulse buys where I'd heard of the product before but I hadn't looked into it or had any intentions of buying it. The colour just looked so pretty on the tester, so I bought it. Unfortunately I had to take it back and exchange it for a new one the following day because my jar had a big finger mark in it. This has happened
so
many times and I still forget to check that the seal isn't broken before I buy products. Anyway, the staff in Boots were really nice about it and I was given a new one.
The packaging is very simple. I love transparent jars, it makes it so much easier to grab in the morning without having to twist open to find out which shade it is. It's very sturdy and easy to screw back on to stop the product from drying out.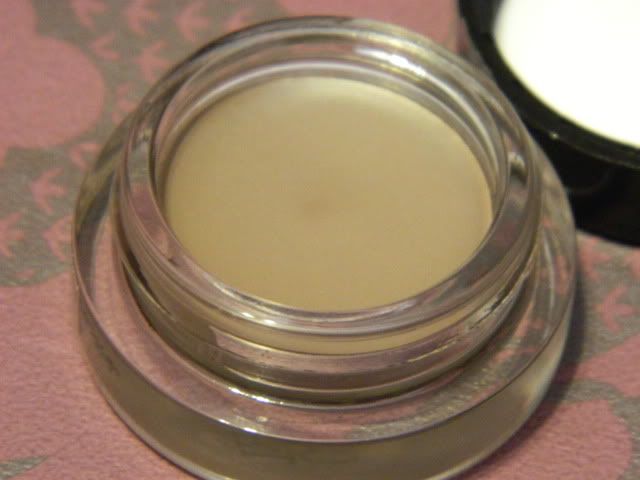 Permanent Taupe is an interesting shade. It's a grey toned taupe. It reminds me a lot of MAC's Copperplate eyeshadow (which is one of my favourites). It's not the kind of colour that I'm normally inclined to go for, but I really like it.
It applies lighter than this on the lid.
The texture initially is quite soft and creamy until it sets. It sets quite quickly which makes it rather difficult to blend, but once it sets it won't budge. It dries to matte finish, which from my experience is quite unusual for a cream shadow. This product is really versatile. I tend to use this mostly as a base, but it also works well on its own, which is great if you don't have much time to spare in the morning.
As for the 24 hour claim, I have not tested it for 24 hours. I don't really need make-up to last me 24 hours as I don't wear make-up for such lengthy periods. However, this does last a very long time. I'd say I reached the ten hour mark before this started to fade and crease. Over primer it lasts even longer. I also found that it reduced the amount of fall out of shadows that I apply over the top dramatically. There's some shadows that I actually avoid using in the morning because they create such a mess, but over this I didn't seem to have a problem with them, which is great!
I've heard of lot of comparisons made between these and MAC's Paint Pots. I've never tried the Paint Pots before so I unfortunately cannot comment on that, but after using this I think I'm less inclined to buy any of the Paint Pots to try - especially with such a big price difference!
This product costs £4.99 and can be purchased from
Boots
and
Superdrug
.
Have you tried any of these? What did you think? Also, has anyone tried the Immortal Charcoal one? Is it worth me picking it up to use as a base for black shadow?
*unrelated note* I will be away from early Friday afternoon to Sunday to evening, so will be unable to respond to comments in that time. I'm going to see my Dad's family for the weekend and I normally stay away from the internet when I'm visiting family. I'm really looking forward to seeing everyone and it should be really nice.
Disclosure: I bought this product myself.