Autumn is by far my favourite season. Summer is too hot, Winter is too cold and Spring is just generally one big downpour. I like the feeling of coming home from the cold in autumn, the long dark nights and curling up in bed with the cat (she sleeps inside instead of in her kitty room in winter). While Autumn doesn't make a difference in what I wear (except I tend I wear a lot of heavy coats to keep me warm on my bus journey home from university) I do tend to have a selection of things that I consider to be Autumn-y, and while it is a bit embarrassing to admit, I am quite excited about getting my nice snugly hat and scarf out of my wardrobe (although I
will
be complaining about being cold in a few weeks and wishing for it to be warmer I can assure you!)
I thought I'd do a quick post on my favourite autumn/winter lipsticks, as that's what I probably change the most at this time of year as I tend to go for darker, deeper shades that I would otherwise sometimes be a bit unsure about wearing in the Summer months. You've probably seen most of these on here before, but I've included new swatches on a few of them as some of them were very old and taken with my old camera. The other swatches were taken from when I reviewed that product. I have had a few of these lipsticks for quite some time now, so they are all very used and aren't looking too attractive!
I am apparently incapable of lining things up in a straight line.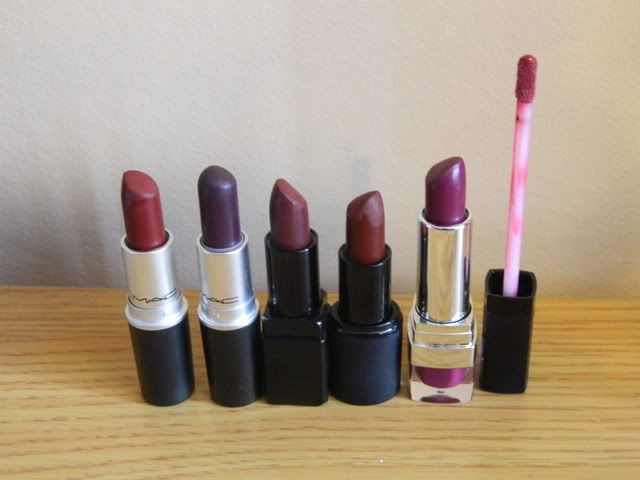 MAC - Cyber
I do tend to lean towards more reds and burgundys in autumn, but this is one of those lipsticks that I only tend to wear in the darker months. Cyber is a very deep dark purple. It's quite a difficult colour to wear as it's such an intense dark colour, but I really like wearing it when I'm out at night in the darker months. I use this over the top of the Velvetella liner, which was unfortunately discontinued. I used to wear it quite a lot when my hair was black, but with my hair being red at the moment I've generally been sticking to more burgundy colours. I'm debating going back to having black hair again, so it might see some use yet!
Miners Cosmetics - Icon
Icon is a wonderful deep berry. It's also one of the more affordable brands that I've featured on this post. I normally wear berry shades in summer, but I think that this is dark enough to class as Autumn, it is much darker than MAC's
Rebel
for example. It is also very moisturising which is perfect for the colder months!
MAC - Diva
Diva is a perfect burgundy red. If I could choose just one lipstick to wear for the rest of Autumn it would be this one. In my opinion this is the perfect fall colour. It's really beautiful! It is a matte, but it isn't overly drying and actually has quite a soft texture to it. Yet again, my camera doesn't show how lovely this one is. The arm swatch at the bottom is more accurate.
Sleek - Cranberry
This one came out with the Berry Collection last year. It's a very dark red with a hint of brown. It's quite a bit darker than Diva. It is matte and is incredibly drying, so I always apply a balm first with this one! It's a shame because it is such a beautiful colour.
Illamasqua - Diablo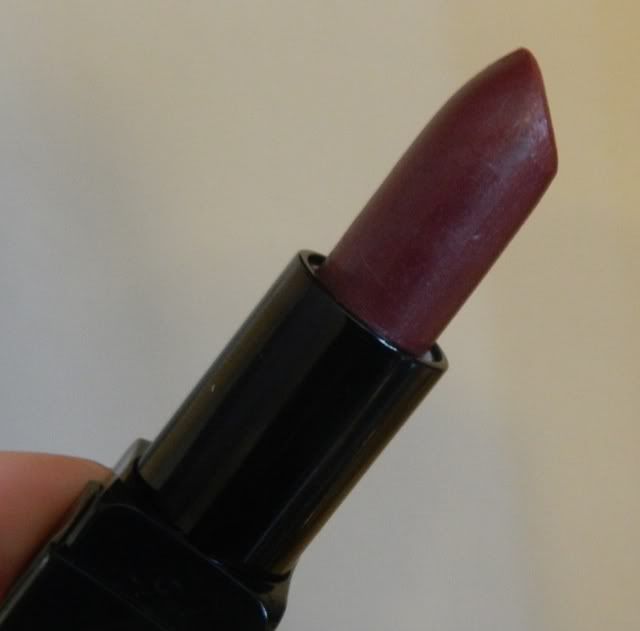 Diablo is still one of my favourite lipsticks in my collection and I'm still hoping they bring it back at some point! It's a beautiful deep wine red and it's perfect for winter. It's another matte, so it is a teeny bit dying, but I think the colour is worth it. It's closer to the colour in the tube than it shows in the lip swatch. The purple in it never comes out very well with my camera. I've been using this sparingly as I will be quite sad when I reach the bottom of the tube! It is still available on the Debenhams
website
though!
Revlon - Bordeaux
Although this is a gloss and not a lipstick I included it in this post because I think it's a really gorgeous colour for Autumn and it looks lovely layered over some of these lipsticks. In particular I think it looks really nice over Cranberry and stops it from becoming so drying. It looks really pretty in the tube and while it isn't that pigmented on the lips I think it's a really nice subtle shade.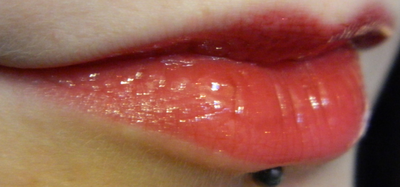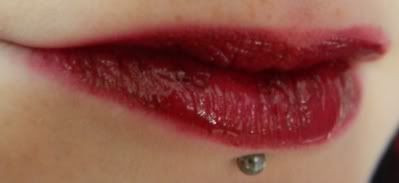 Over Cranberry. I don't know why my camera makes gloss look so weird and fuzzy!
Cyber, Icon, Diva, Cranberry, Diablo, Bordeaux
What are your favourite Autumn lipsticks?
Disclosure: I bought all of these myself, except for Cranberry which was a Christmas present, and Icon which was given to me by a friend.