Some of you may remember that a few months ago I was off in search of a more natural lipstick that I could wear to university or on days where I didn't feel like a more colourful lipstick was appropriate. I've always felt a little out of my depth when it comes to looking for natural lipsticks. My lips are naturally very light so without lipstick it can make me look really washed out, but some lipsticks can be too pink and nudes don't really tend to suit me either, so I wasn't sure where to start! In the end I narrowed it down to Modesty and Crème In Your Coffee (a big thank you to
Sandy
for this suggestion!) In the end I decided to go with Crème In Your Coffee because it seemed a little bit darker than Modesty so I thought it might be a safer option.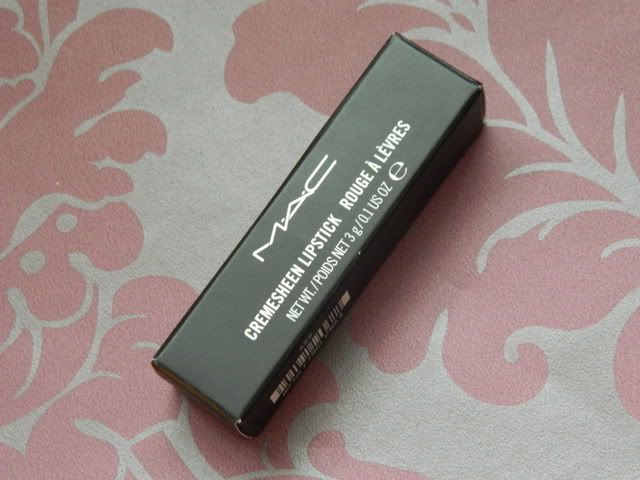 This lipstick comes in the standard MAC bullet packaging. I had the usual problem of having to chase it around my room to photograph it (I think my house is on a tilt). While I do like the MAC packaging, I do find it a little annoying to have to pick them all up and check the bottom of them to find the one that I want in the morning.
MAC describes Crème In Your Coffee as a mid-tone pink brown, which I think describes it perfectly. For me it isn't too pink that it looks silly against my pale skin, and it isn't too dark (for me at least) to not be suitable for everyday.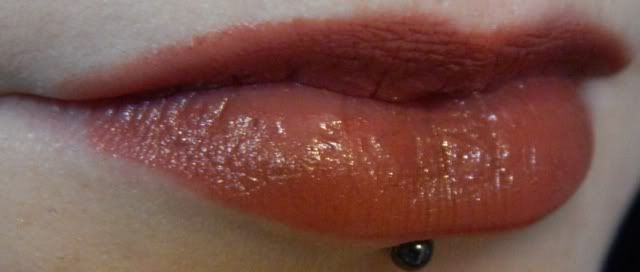 This is one of the cremesheen lipsticks, so it is very creamy and had some sheen to it. I really like the texture of cremesheen lipsticks. They're a little thicker than normal lipsticks, but they don't feel too heavy, and this one doesn't dry out my lips at all. This lipstick takes around three coats to become fully opaque.
The only downside to the cremesheen finish (for me at least) is that they don't last as long as the usual MAC lipsticks. This lasts around three hours on me before it needs to be touched up.
Overall I'm really pleased with lipstick. I've used a lot of it too, I've been reaching for it nearly everyday for university and I can see me having to buy another one fairly soon. I may also pick up Modesty too, does anybody have this one to compare it with? This lipstick has definitely filled the gap in my collection for a natural lipstick!
This lipstick costs £14.00 and can be purchased from the MAC
website
.
What's your favourite natural MAC lipstick?
Disclosure: I bought this product myself.
**unrelated note**
This was going to be standalone post, but since it's only going to be about a paragraph long, I decided to add it in onto this post.
Last week I was contacted by Mentorn Media, who are making a show for BBC Learning all about problem skin; how it makes people feel, the effects it can have on people's lives and the different treatments and options available to help deal with acne.
They are looking for success stories of people that have battled nightmare skin and would like to find out what treatments they have tried. I'm aware that this might be a little uncomfortable for some, but I offered to ask on here if anybody was interested since I've heard a lot of success stories through reading blogs in the past and I definitely encourage people to get involved if you are comfortable to do so.
If this sounds like something you'd be interested in, then Alex at Mentorn Media would love to hear from you.
You can get in touch with her on adewhirst@mentorn.tv or 020 7258 6805
Thank you!