Urban Decay's Smoked Palette was one of those palettes that I'd look at whenever I was in the store but I never bought. At £35, I decided it was a little too far over my price range and I couldn't quite justify it, especially since I already own a Perversion eyeliner and a primer potion. I went to one of those in store Debenhams events last week, which was £5 per ticket (which was redeemable on products) along with 10% off beauty and fragrance. I also had £5 worth of points on my beauty card, so in the end I managed to get this palette for £21! My mum wasn't overly pleased when I bought this though, it turns out it was what she was planning to buy me for Christmas...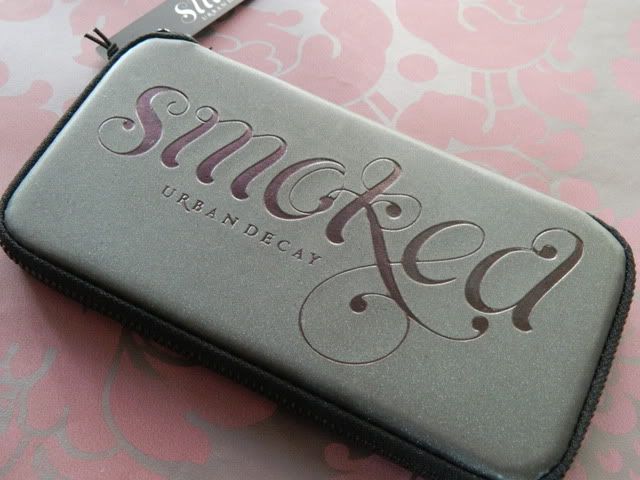 I actually got very excited when I was opening this. It comes in a black box, with a travel sized primer potion at one end and the palette at the other. The palette itself is zip up (similar to the Midnight Emergency kit) and it's very lightweight. A lot of Urban Decay palettes are a little too extravagant and too fussy for my liking, but this is perfect. It's very compact, and has a space in the middle for the Perversion eyeliner. It would be fantastic for travelling, and it's very sturdy (I wouldn't be worried about this getting smashed on the plane for example). It also has a good sized mirror.
Another nice feature of this palette is the 'look book' that comes with it. I
love
things like this, and it's really nice touch. There's 10 looks altogether, all with step by step instructions. I haven't actually had the time to really sit down and play around with some of these, but it's super handy if you're going out and you're at a bit of a loss of what to wear make-up wise. I'm really looking forward to trying some of these out! Just from glancing at it I think 'Rock Star' is my favourite.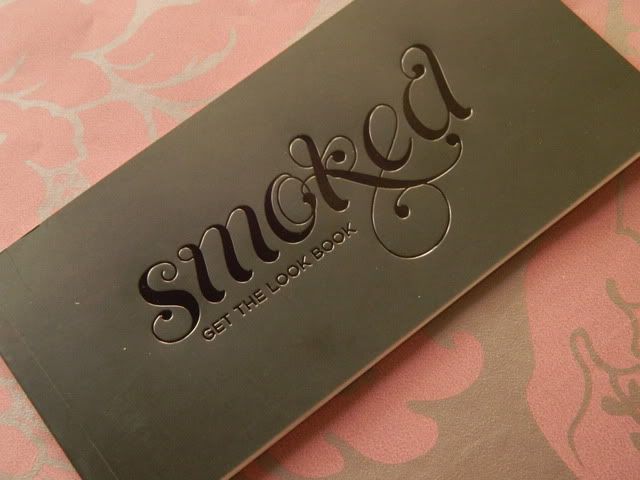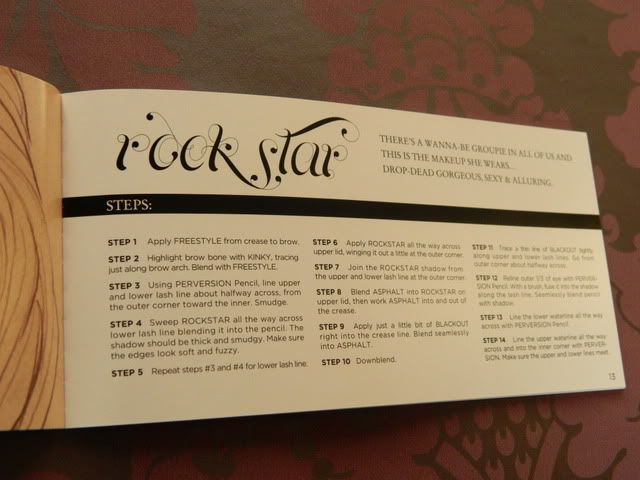 This palette contains 10 eyeshadows, three of which are matte. As always with Urban Decay shadows, these are soft, highly pigmented and generally wonderful to apply. I was also pleasantly surprised with the colour payoff with the lighter mattes, which I usually have trouble with. My favourite colours in this palette are probably Mushroom, Rockstar, and Barlust. There isn't a single shadow in this palette which is of a bad quality. However, none of these are full sized.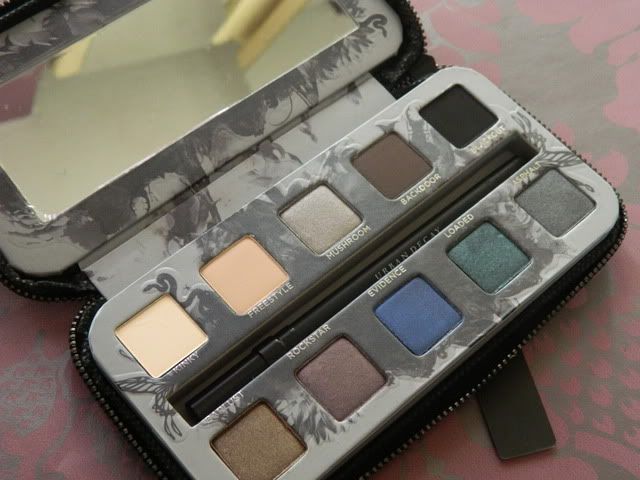 If you have several Urban Decay shadows I'd recommend that you check which ones you have if you're interested in these palette as five of the shades (Mushroom, Rockstar, Blackout, Evidence and Loaded) are part of the permanent range. I don't own many of the individual shades so for me all of these are new, but if you own some of these the value isn't as good.
I reviewed the
Perversion
eyeliner in full quite some time ago. This is still my favourite eyeliner, and I'm really pleased that I now have a back up. I've had my other one for nearly a year now and I'm not even at the half way mark (I use it nearly everyday). This eyeliner is extremely soft, long-wearing and super pigmented. It's the most intense black that I've seen with an eyeliner. Unless something cheaper and of a similar colour comes on the market I can't see me using another black eyeliner. It's full sized too, which is great value.
For those of you who don't wear dark shadow frequently this palette isn't for you. If, like me, you wear a lot of dark shadow on almost a regular basis you'll love this palette and get a lot of use out of it. In terms of versatility it isn't great due to the amount of dark shadows there are, so if you want something that can create a number of neutral looks too than this is not for you.
Overall I love this palette! I am going to get a
lot
of use out of it and I really like how compact it is.
This palette costs £35.00 and can be purchased from
Debenhams
.
Have you bought this palette? What's your favourite Urban Decay palette?
Disclosure: I bought this product myself.