I dye my hair a lot. At least once a month. And the only thing that bothers me about dyeing my hair quite often is how dry it gets. I normally have to arm myself with hair oils and conditioner to lather on for the rest of the week in order to repair the damage, so when I saw Olia advertised which claimed to reduce hair damage I was very, very interested.
I picked up the colour Deep Black (1.0). At first I wasn't actually aware that there was a Deep Black option, I was wandering around Boots with Black when I came across an Olia colour chart and noticed there were three black shades available. I always go for darkest one; especially since the red that I dyed my hair last time is still trying its best to hold on and is still peeking through. It was on offer for £5.99 when I bought it.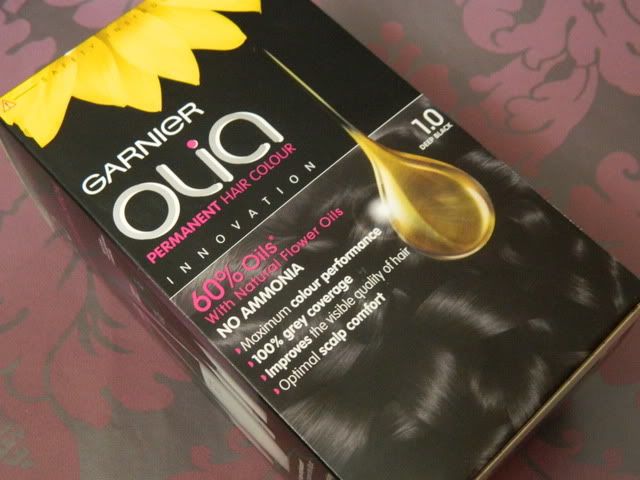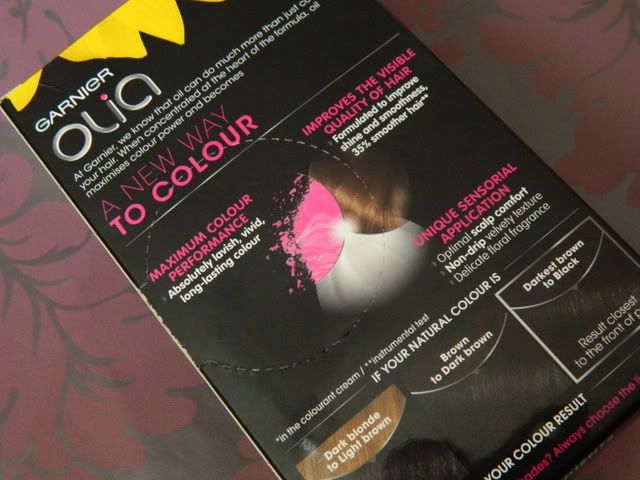 It comes in the usual big hair colourant boxes (which is a little larger than most) and contains colourant cream, developer cream, a mixing bottle, gloves and conditioner. The box also has a hole in it to balance the Olia bottle, which I didn't use as it just seemed like more hassle and I didn't have any problems with it tipping over.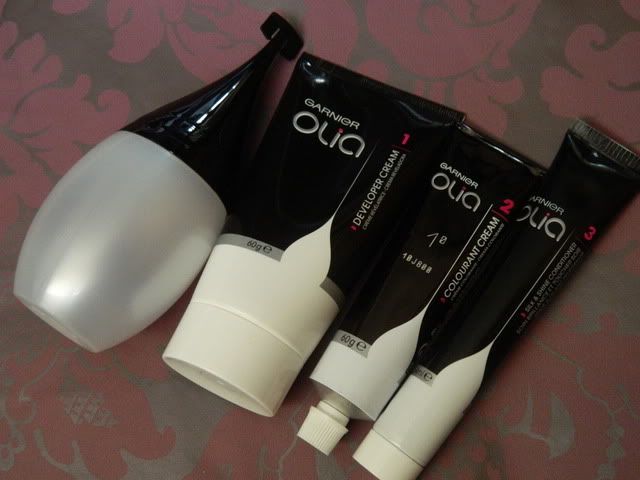 The only problem that I had with the application is the bottle is a little large for my tiny hands! I found it quite difficult to get a good grip on it, but aside from that the application went really smoothly. It didn't irritate my scalp and I didn't have any itchiness which happens with a
lot
of hair colourants that I've tried. One bottle was just enough (I think I will have to use two pretty soon) to cover my thick hair which is just past my shoulders.
Now, I stupidly forgot to take before and after pictures...I dyed my hair with this about four weeks ago so taking one now would be a little pointless, so when I next dye my hair with this I'll do an update post so you can all see. The colour result did surprise me a little. When the hair colour was on my hair it was a really dark black colour, but when I washed it off it wasn't nearly as dark. I'd say it's more of an ordinary black rather than a deep black. I also still had some red peeking through (my hair holds red really well, I assume it's because my hair is naturally red). The result wasn't as shiny as I was expecting either.
One good point about this hair colour is that my hair was definitely less dry. It wasn't breaking or splitting, and I didn't have to lather it in conditioner. For once the conditioner that comes with the colour actually managed to cover
all
of my hair (this
never
happens there's never enough in the tube) which was a bonus!
Overall I am a tiny bit disappointed with the colour result not being as shiny as I would like, but I am really pleased with the condition of my hair after I used it. It's great for people who have dry hair but still want to colour it. I don't think I will repurchase unless it's on offer, but I will probably use it again at some point just because I really like the condition of my hair afterwards, and the fading hasn't been too bad either.
Olia costs £6.99 and can purchased from
Boots
and Superdrug.
Disclosure: I bought this product myself.