It's December now so it's absolutely fine for me to go off on a Christmassy tangent isn't it? For those of you who don't know, I
love
Christmas. It's my favourite holiday. I think I get more excited about Christmas as I get older, which is a little backwards, but since my 23 year old cousin is the most Christmassy person I know I think it's a family thing. As soon as it hits December I'm itching to get the Christmas boxes down from the loft and to start putting everything together.
I've been quite pleased with myself this year, as I've actually bought everything (except one extra tiny present which I'm not counting) for everybody, before the last week of Christmas! Nottingham gets insanely busy around Christmas time and I try to avoid having to go into town later on. Fortunately having to get the bus in town to get to uni everyday meant that I could go on mini shopping trips and get everything done without a five hour stint in town, which gives me the rest of the month to actually
enjoy
Christmas.
So, I thought I'd do a Christmassy post on here (mainly so I don't inflict my excitement on my friends, I think they've suffered enough of my Christmas rambling for this year to say the least) and show you all my Christmas decorations! Christmas is a big deal in my family, as it's my Dad's birthday on Christmas Day (which means we have to find him double the presents, difficult is not the word). It's also one of the few times that I get to see all my Dad's side of the family together. This year we're going to my aunts for Christmas, which I'm super excited about! We're all creatures of habit and we have the same traditions that we go through every year. I actually like Christmas Eve more than Christmas Day when we decorate the Christmas cake, make the gingerbread house and then snuggle down just before bed to watch The Polar Express. Never too old right?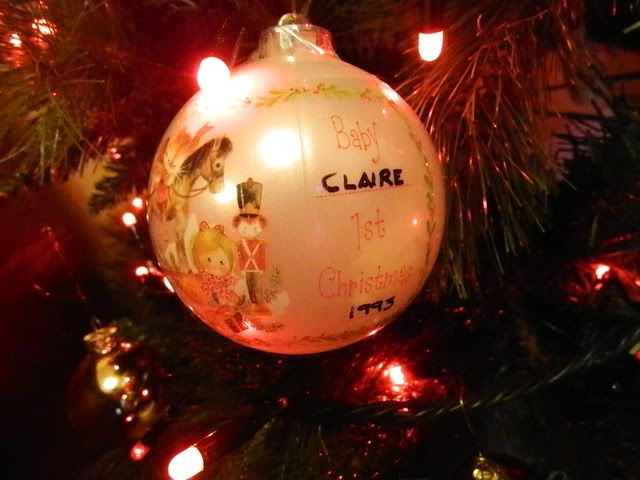 As I said - our decorations are very old now, haha! I had to tape up the top because it broke last year. :(
I always forget how messy our decorations are...we've had them since before I was born, and we never seem to throw any of it away, and we always end up with bits of tinsel (even though we don't even use tinsel...) and tree all over the place. I'm currently keeping an eye on Thomasina and making sure she keeps her distance from the tree. I don't want any bauble casualties this year!
My tiny tree. I don't like how unorganised the bauble's are...
What's your favourite part of Christmas? Do you all like these ramble-y nonsense posts or do you prefer more structured ones with more of a point?