I've actually had this polish since last Christmas, and this is the first time that I've worn it. I'm not sure but I think that this was free when you bought two products or something of the sort. It isn't the kind of colour that I would actually buy so I'm assuming that it was something like that, and it ended up in my nail polish box and has remained there for nearly a year.
I have always been a little curious about this one, but it looks a little too sparkly in the bottle for my liking and I was always a bit wary about using it. I decided to try it out yesterday as I'm stuck in the house working my way through coursework and it seemed like a good opportunity to experiment.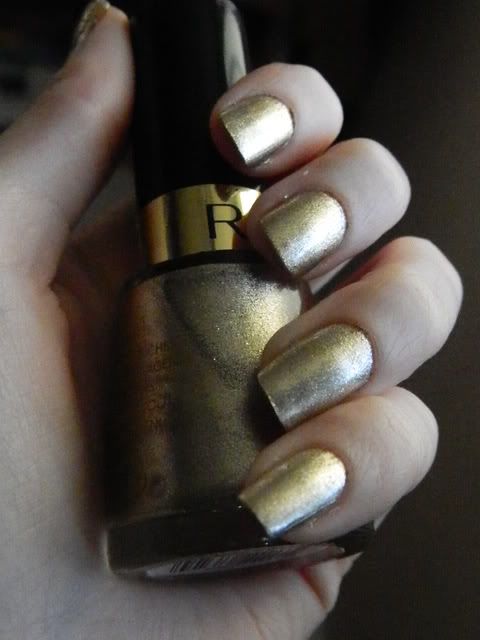 I'm still very much undecided about this one! It's a shimmery metallic gold colour, and I've never worn anything remotely gold coloured on my nails before. It's quite Christmassy. In some lights I really like how it looks, but in others I'm not really sure about it! I may end up giving this one away to my sister. I think I may prefer it as an accent nail.
This polish is opaque in two coats and dries very quickly. It doesn't have a shiny finish but it is very shimmery. I can't seem to work out if this one is still available or not, I'm sure there's a ton of similar shades out there, however.
What do you think to gold polish? Are there any colours that you are a little wary of trying?
Disclosure: I think this was free after I bought two Revlon cosmetics last year. It was an offer of some sort, anyway!