Winter is probably my favourite season. I love coming in from the cold into the warm, and I love snuggling up at night with the cat (she sleeps inside with us instead of in her kitty room in winter) and watching films with hot chocolate. I think by now you've gathered that I love Christmas. I enjoy buying presents for people and wrapping them up (I'm one of those peculiar people who likes wrapping) and I love decorating.
So far we haven't had any snow whatsoever, but we have had a
lot
of rain. The field next to my road has flooded! I'm staying at my Aunt's for Christmas this year, and apparently it has already snowed down there so I may get to see some snow this Christmas after all (I'm one of those people who likes looking at snow but hates going out in it and complains about it after a week, plus cold weather makes me seize up).
I'm also pleased to say that we haven't had a single bauble casualty this year. Thomasina has managed to knock off some of the plastic ones and chase them around the living room for a few hours and she has discovered that if she crawls under the tree we can't pick her up to put her in bed, but aside from that she has behaved herself (so far).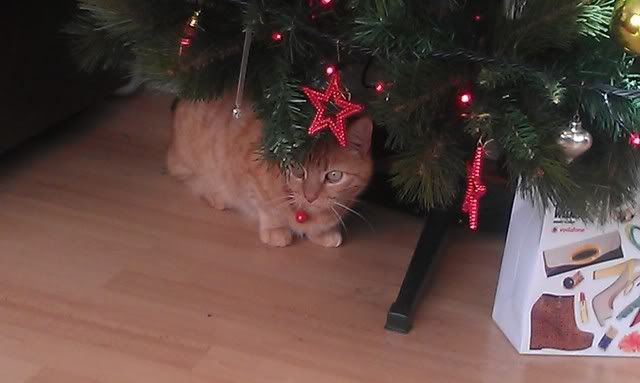 Can you see that gold bauble on the right? She knocked it off as soon as this picture was taken!
My hair is now black again (it's due to be dyed so it's very faded right now) and I have a blunt straight fringe instead of a rounded one. It's much better and I haven't been complaining about it as much (I can't believe it either). I will get round to taking a picture sometime soon! There isn't anything that I detest more than taking photographs of myself, so it takes me awhile to find the motivation to attempt it! Also, I'm not going to be doing a separate review on this, but I used
this
hair colour on it yesterday. The smell was so awful that it actually made me feel really nauseous for the rest of the night. Absolutely vile stuff! I can still smell it on my hair this morning.
I also thought I'd show you my new winter coats. I was planning to show them on here when I bought them, but I didn't think that they warranted a whole post, so I thought I'd stick them in here (that's what these random update-y posts are for, right?) I've not included me in these shots purely because I'd spent the day doing coursework and I didn't feel like applying make-up and straightening my hair to take the pictures, haha! I get lazy when I'm not at uni...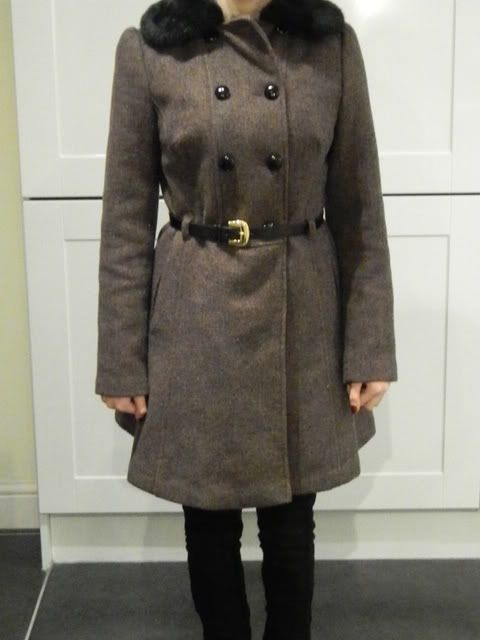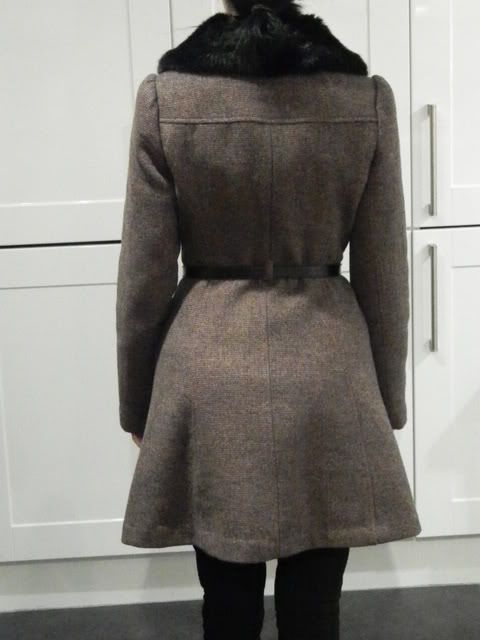 This one is from the Petite section in Dorothy Perkins. It isn't the type that I normally go for (it isn't black for a start) but I loved the black fur and because it's a petite one it fits really well. Personally I think I was just so shocked that I managed to find something that wasn't hideous in a petite section! It's really warm. I can't remember how much it was, but I know it was 20% off. I'm still not sure about the belt though.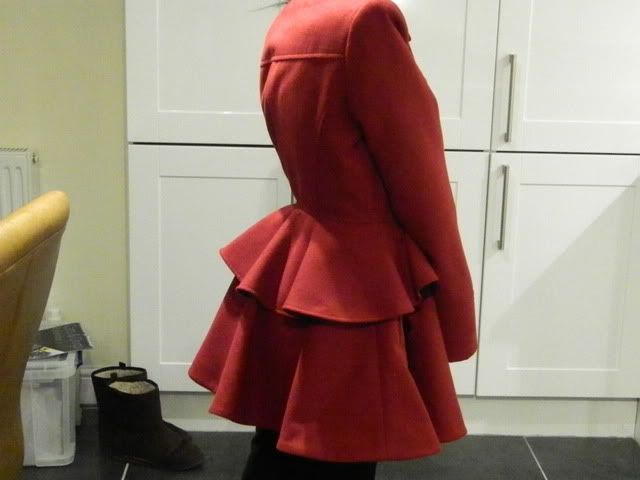 You can see the ruffles best from a side angle. They are quite big!
This is one is from Miss Selfridge. I actually saw this several months ago but I was put off by the price tag (it was £75.00). I love coats with a bit more shape. I went to a Debenhams event last month and this on offer. It also had a button missing, so I got another 10% off even though it had a spare button with it, so I got it for £54.00 in the end. It's still a lot, but I live in coats. This is probably a coat that I will save for going out. You can't tell on the picture, but it's actually a dark berry colour, not red!
I'm also pleased to say that I've managed to get a good chunk of my uni coursework done. My
The Castle of Otranto/Frankenstein
essay is pretty much tied up, and I've made a good start on the research for my
Measure for Measure
one, which I'm actually really looking forward to writing!
Also, have you all been to see The Hobbit yet? If you haven't, I highly recommend it. I was a bit sceptical after reading the reviews before I saw it, but it is absolutely worth it. I thoroughly enjoyed it (so much so that I would pay to see it again).
I'm actually heading to my aunts early on Christmas Eve and I come home on the 27th, so I will be gone and unable to answer comments or reply to anything on Twitter until that time. I will probably do a late Christmassy post with pictures when I get back (I'm also planning to do an OOTD while I'm there). If I don't post again, I hope you all have a wonderful Christmas!
Are you all ready for Christmas? Have you had any snow?
Disclosure: I bought all the items featured in this post myself.