I made
this
post not long ago where I mentioned that I was looking into getting this fake fur stole from Restyle. In the end I gave in (this always happens when I'm subscribed to mailing lists and I see discount codes...) and I ordered it. At £16.00 it wasn't exactly expensive, so I thought why not?
Just a heads up on the pictures, my camera has been really acting up recently and these were the best of a bad bunch. I'm going to order a charger for my old little camera to use as a back up. My normal camera wouldn't focus and all my pictures were coming out orange and bright regardless of what setting I put it on and how many times I reset the white balance.
I'm one of those people who is
always
cold. I own at least four coats now and numerous jackets. I had actually been on the lookout for a cardigan for the past month or so, but I hadn't been able to find one that I liked (how hard is it to find a nice, inexpensive long black cardigan?!) so I was interested when I saw the fur stole on The Gothic Shop's website. I went out to a restaurant for my cousins birthday and it was too warm to put my coat on (and I'd have looked a bit silly sat in my coat) but I was still a bit chilly. I thought it'd be good for similar situations as well as making my outfits a little more interesting!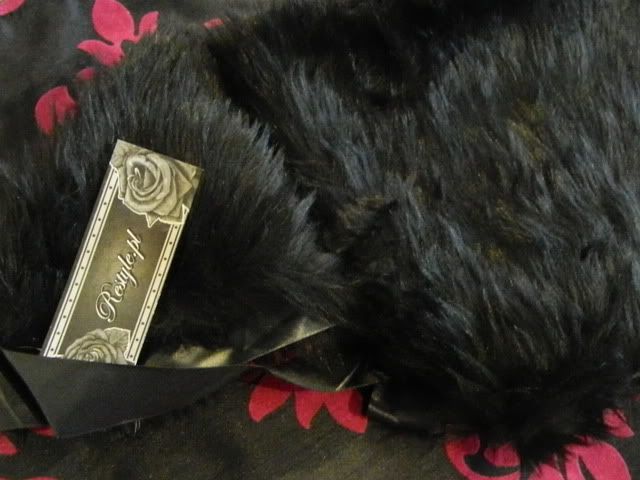 I was a little concerned about ordering this because the top I ordered before had been too big for me, but I went by the measurements on the site and hoped that it would fit. Fortunately, it did!
This fur stole measures 39 inches across, and it has a fleece lining and fastens with a ribbon. It's actually a lot warmer than I was expecting! It's very, very snugly and comfortable to wear. I was also quite surprised at how informal it can look too. I thought I was going to have to wait to wear this when I go out, but I wouldn't feel odd wearing this to university. I'm never concerned about it slipping or moving around either.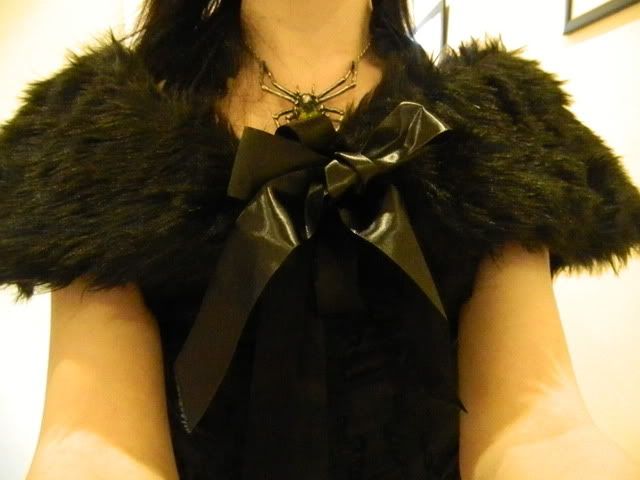 Taking pictures of yourself in a mirror is much harder than it looks! I actually cropped my head out of it because I'd been out all day and looked like I'd been dragged through a hedge backwards (to say the very least).
The only problem that I have with this stole is the ribbon. I feel like it ought to have been longer. I'm tiny so I have it on it's tightest, and there isn't much ribbon left to make a bow. The ribbon is also quite stiff and doesn't hang very well.
Overall I'm incredibly pleased with this. It has definitely made me feel better about ordering some more of Restyle's clothing items after one of their tops didn't fit me, and I really glad that it didn't put me off ordering. It's a piece that I will get a lot of use out of because I can wear it with so many outfits. I think I will probably benefit from it the most in summer; I always tend to go outside without a jacket despite being really quite cold!
I don't usually do clothing reviews, but I was so pleased with it that I decided that it wouldn't hurt to post about it! Would you like to see more posts like this or not?
Have you bought anything from Restyle?
I would like to thank you all for your kind words on my last post regarding Thomasina. It was really lovely of you all and it made me feel incredibly grateful to know all of you through blogging! She is due back at the vets on Monday so we're going to see how that goes. If all is well, they'll put her on some stronger steroids that should brighten her up even more. She seems uncomfortable but she isn't in pain (from what I can see). Hopefully the steroids will ease her discomfort a bit. I'm keeping my fingers crossed that it all goes well and that there's something that we can do to help her a bit.
Disclosure: I bought this myself.