If you've been reading this blog for a long time, you'll know how much I love jewellery. I feel bare when I'm not wearing any, so my collection is beginning to get quite big! I discovered
Restyle
a few weeks ago through reading numerous blogs that mentioned them. As much as I love Alchemy Gothic, I've always been a little bit put off by the price, so I was really interested when a saw that lots of people were saying that Restyle was a cheaper alternative.
I was a little bit unsure about ordering directly from Restyle because of it being in a different currency (I'm easily confused to say the very least) and I wasn't sure if I'd have to pay extra to convert it into pounds. Instead I ordered them from
here
, because I'd used that website before. They cost more than buying them on the actual Restyle website, but I figured that not having to pay the postage to get them shipped probably equalled it out.
I went for the Night Whisper necklace because I don't own a lot of purple necklaces except for my
Morticia necklace
. I thought the bat was adorable and that it would match my Morticia earrings. It features a silver bat with outstretched wings above a dark purple stone set in a silver frame. The rectangle stone isn't as bright as I was expecting, it's a really deep purple. My skin is really red in these pictures; I think I was reacting to the wash powder again! You can also see the shadow from my camera - I couldn't quite position it to capture the jewellery properly and not get a shadow, sorry!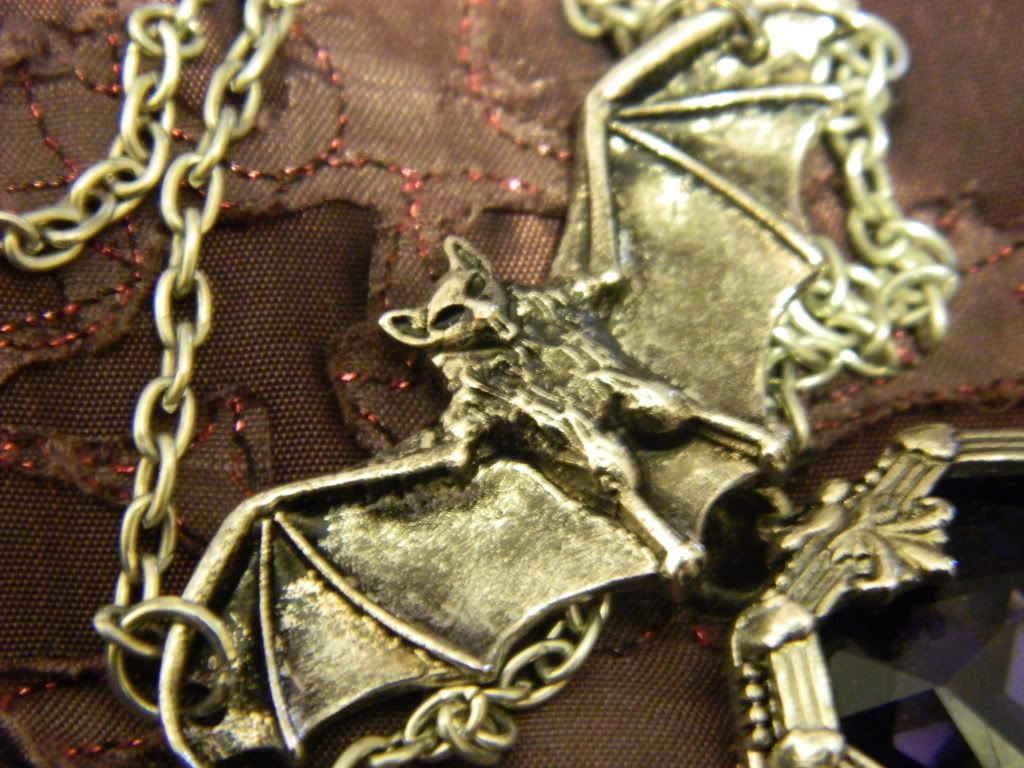 I really adore this piece because it's a little more understated than most of the jewellery that I own. It hangs really well and the detailing on the bat is really nice. The only issue that I have with this one is that there seems to be a bit of a gap between the frame and the stone on the lower part of the necklace. Fortunately you can't see it when it's on so it's not a major issue, but I thought I ought to mention it nevertheless.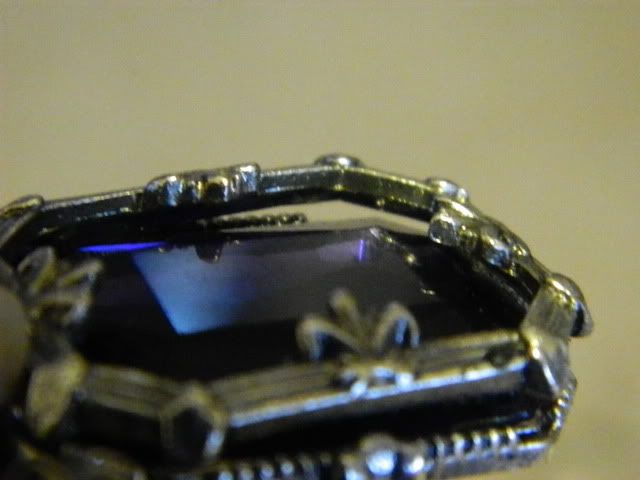 The other necklace I went for was the Wild Rose necklace. I'm really into deep reds at the moment and this one captured my attention immediately! I was torn between the necklace and the matching earrings - in the end I went for the necklace and decided that if I liked it I could always buy the earrings at a later date. It features an oval dark ruby gem in the centre surrounded by roses and leaves, with two black stones either side and one hanging from the bottom.
This is definitely my favourite of the two necklaces. It's a really ornate and beautiful piece. I love more intricate jewellery designs and this is exactly the sort of thing that I love. I can't decide if buying the earrings to go with it would look a bit much or whether or not it's nicer on its own! The gem really catches the light.
On a side note, I also ordered
this
blouse last week in a size small, which was listed as being a UK size 8. I'm actually a UK size 4-6, but I've known size 8s to fit me, and I'd also heard that their clothing tended to be on the small side, so I took a gamble and ordered it. It was not a size 8. Nowhere near. It was more like a size 10-12, it absolutely buried me. Just a warning if anybody is looking at the clothing!
Overall I'm really impressed with the jewellery I bought; the quality is excellent for the price. I'm still debating ordering
this
fake fur stole, but I'm really worried after my experience with the blouse I ordered that it'll be too big. If anybody else has bought this, is it huge? I'm also
very
tempted by that red rose handbag too...
Have you bought anything from Restyle? What did you think?
Disclosure: I bought both of these necklaces myself.