Those of you will who follow me on Instagram may remember when I posted that I'd just ordered Restyle's Absinthe necklace from
The Gothic Shop
. Well, I came home to my package on Friday and I was surprised with these two chokers as a free gift! I'd had a really bad week and it brightened up my day!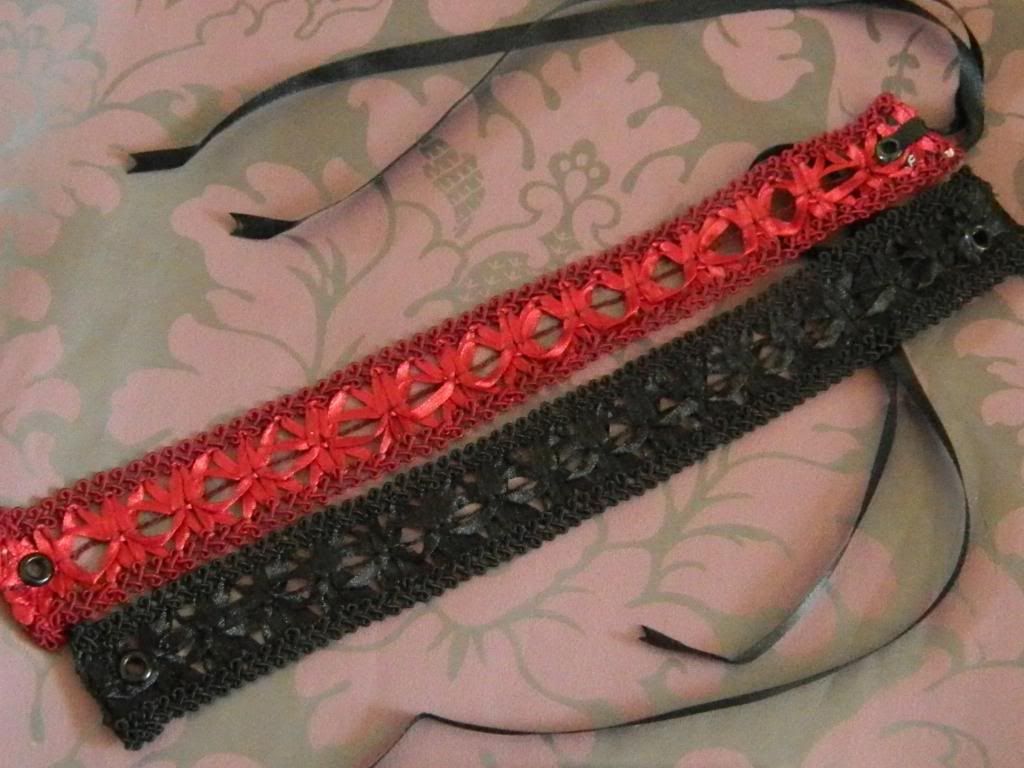 I've always been a bit unsure about chokers. I always look at them but I've never bought any except for Alchemy Gothic's
Westernra Choker
. I was always concerned that they'd be too large for me. Fortunately I discovered that these are adjustable, which is excellent if you aren't sure about sizing. These measure around 12 inches in length, and approximately 24 inches including the length ribbon if that makes the sizing at all clearer. The chokers do have a tiny bit of stretch in them, but not very much.
I was sent both the black and the bordeaux chokers. They are beautiful and elegant in simplicity. I'm normally one for more intricate and elaborate jewellery but is nice to wear something a little more understated for a change! They tie with two black ribbons, and they are incredibly easy to fasten. You can also wear them with the ribbon fastening at the front in a bow, but I prefer to wear these with the ribbon at the back.
I can't quite decide which of these I prefer. I think I will get a lot more use out of the black one, but the red one is incredibly eye-catching. The border of the bordeaux choker is of a slightly darker red to the ribbon detailing in the centre, which makes it look a little more interesting. I really love the detailing on the border of these chokers.
I actually found these pretty difficult to photograph, so I've included a photograph of my wearing one so you can see what they look like a little more accurately.
You will have to excuse my messy desk in the background!
Do I get extra blogger points for being brave and actually posting a picture of myself on here instead of making an excuse and cropping out my head? Still, I'm not sure why I always look so grumpy on photographs...
Overall I adore these chokers! They make a nice change to the more elaborate jewellery that I own, and they are very different to anything else I have. They have definitely persuaded to me to look into buying more chokers!
You can purchase Sinister chokers from
The Gothic Shop
. I couldn't find a link to the specific ones I have, there's a good chance they they're sold out or that I'm being blind and I missed them when I was browsing!
Update:
To get one of these chokers for free, mention me in the comments section when making an order!**
Have you bought anything from Sinister?
Disclosure: I received these as a free gift when I ordered my Restyle necklace.
** While stocks last.