Setting sprays are one of those products that I'd always look at but I was never quite sure if they're worth buying. I was always a little sceptical as to whether or not they'd actually work, and I didn't really want to pay a lot of money for one if I wasn't completely sure. I was given an Urban Decay voucher for my birthday, and I had no idea what to buy with it. When I was browsing through the Debenhams website I came across this again and decided to give it a whirl. I have incredibly oily skin which means that I really have an issue with my make-up lasting, and carrying products around with me to touch up really isn't that convenient. You know that feeling when you glance in the mirror when you get home and you hope you've only looked like that for the past ten minutes? That's me every day....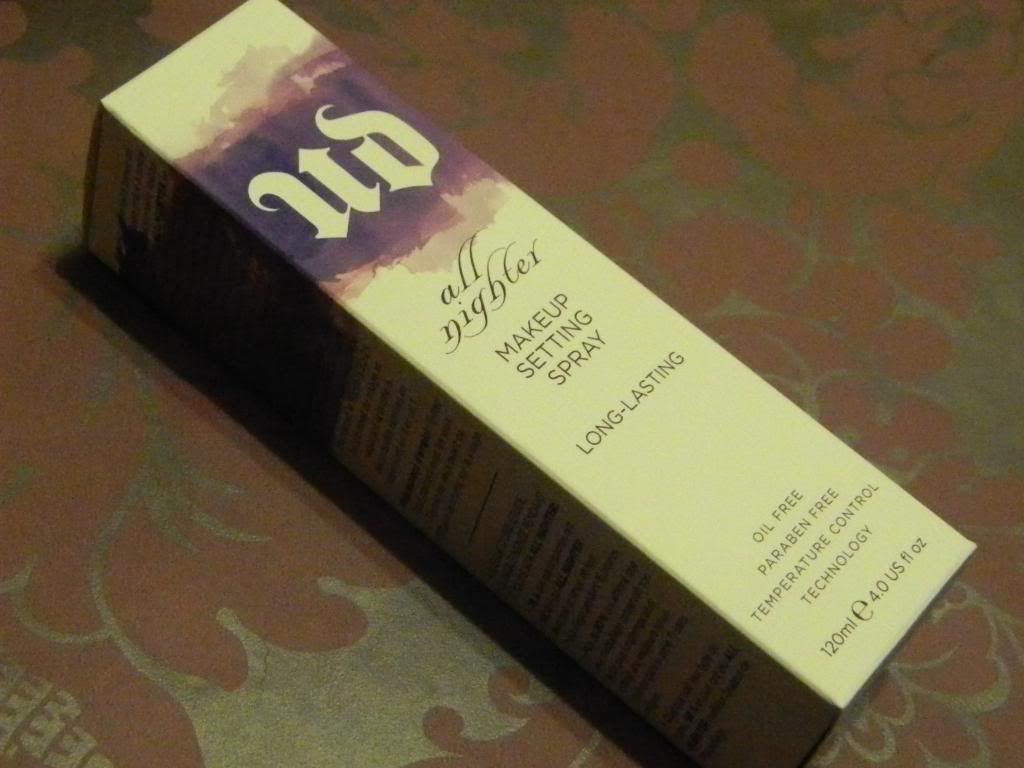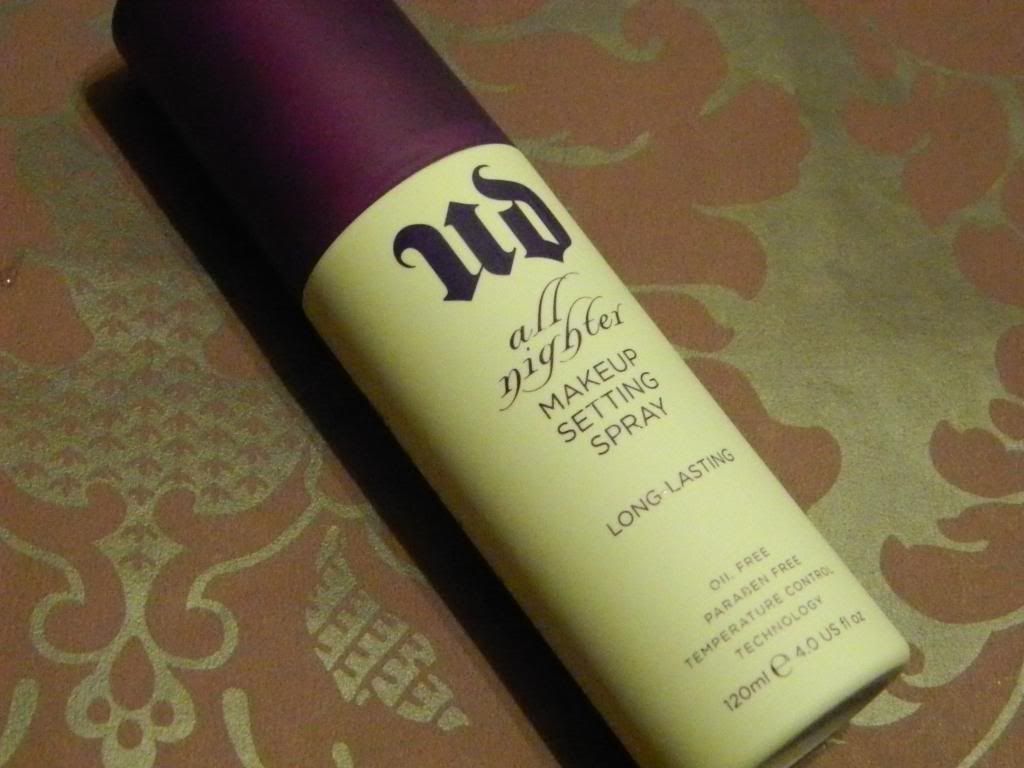 As always, the packaging is really pretty, and very sleek looking. It comes in a rather simple spray bottle. You get 118ml of product. It's relatively compact, I could quite easily pack this into my bag if I were going somewhere. They also have a smaller 30ml size which is perfect for travelling or trying out this spray!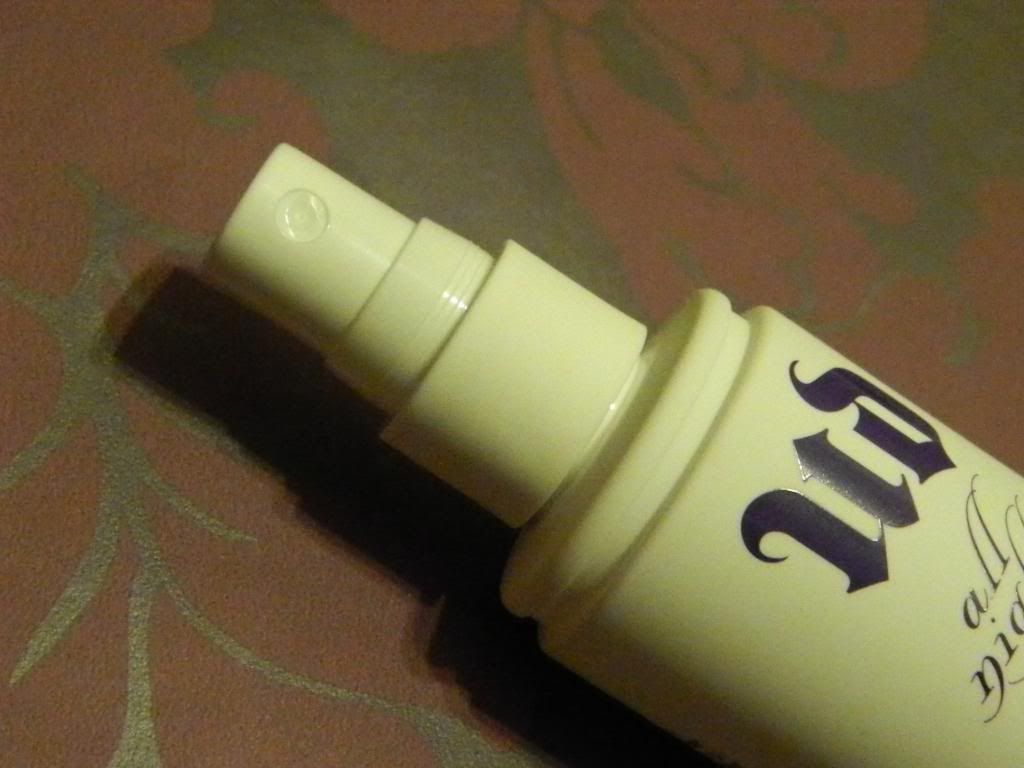 To begin with, I was a little wary about using this spray. Spraying something directly into your face is a
very
strange phenomenon and I kept wanting to open my eyes or move away from it...fortunately after using it a few times I managed to stop my instinct to turn away or shield my face as it was wasting quite a lot of product! It has a very slight scent which seems to vanish after application. It feels incredibly lightweight, I don't feel that it weighed my skin down at all. It also dries incredibly quickly, and it doesn't leave a shiny finish. One of my biggest concerns when I was using this was that it would make my skin incredibly oily, but I've found that it helps control my oiliness. I've definitely not been anywhere near as shiny since I started using this!
In terms of increasing the staying power of my make-up, there has been a notable improvement. I can now apply my make-up at 6:30 in the morning and it is still going strong by 6:00 in the evening. I find it particularly useful when I'm wearing darker colours on my eyes that are prone to noticeable fading and creasing, they definitely crease and wear a lot less. I'd say that my make-up now lasts around 11-12 hours with this spray before it begins to wear a little. It's a wonderful product if you love to wear darker shades!
I've also used this on my Mum who has incredibly dry skin and acne rosacea when she was going on a night out, and her make-up when still going strong when she got home in the early hours of the morning. Of course, I can't comment on how it feels on dry skin personally, but it could be worth giving it a go if you are prone to dryness.
Of course, my biggest gripe with this product is the price. It costs £19.50 for 118ml. Fortunately I paid for this using a voucher, but it is expensive to buy normally. I do think that it is worth checking out, but it might be a good idea to buy the travel size one first if you aren't sure.
This spray costs £19.50 for 118ml and can be purchased from
Debenhams
. The travel sized version costs £9.00 for 30ml and can be bought
here
.
Have you tried any setting sprays?
Disclosure: I bought this with a voucher that was given to me for my birthday.