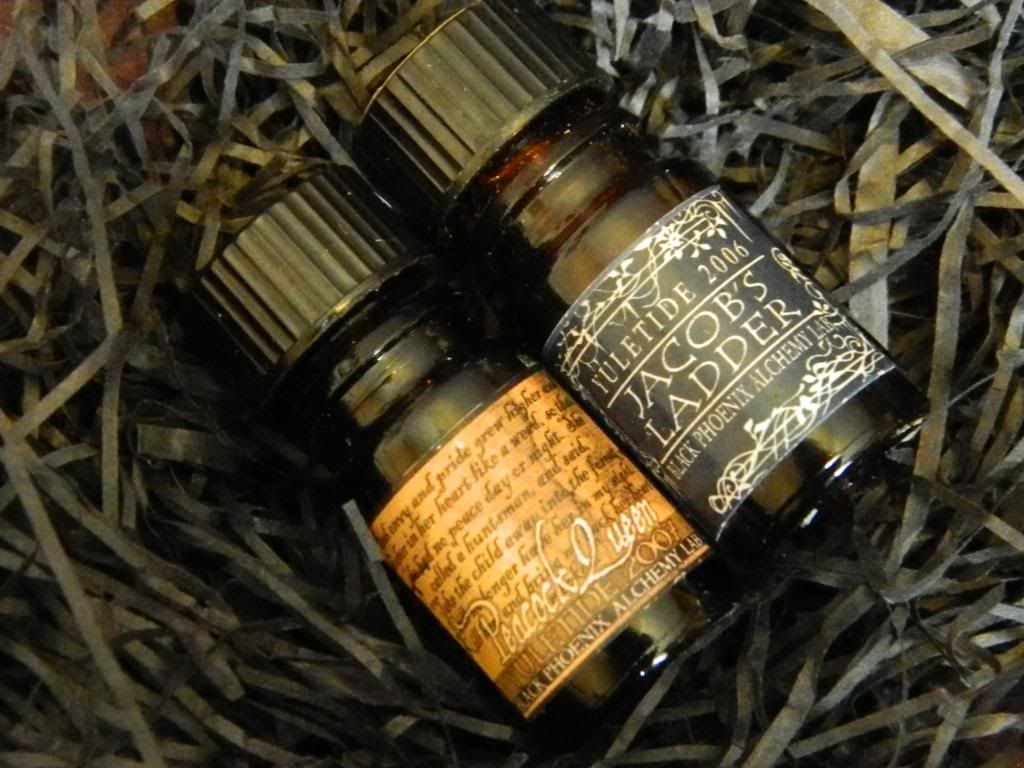 I've been admiring Black Phoenix Alchemy Lab perfume oils for what seems like forever. I'd been considering ordering from their website for awhile but their high international postage rates always made me hesitant. I actually found these on Ebay. One seller had several bottles for sale so I watched them and tried to win a couple of them. I so desperately wanted Snow White but I was outbid by about 10p, which was frustrating! I managed to win Peacock Queen and Jacobs Ladder. The packaging is so gorgeous - I'll most likely keep these once they're empty! I love seeing little bottles of lotions and potions like this on my dressing table.
Peacock Queen - Yule 2007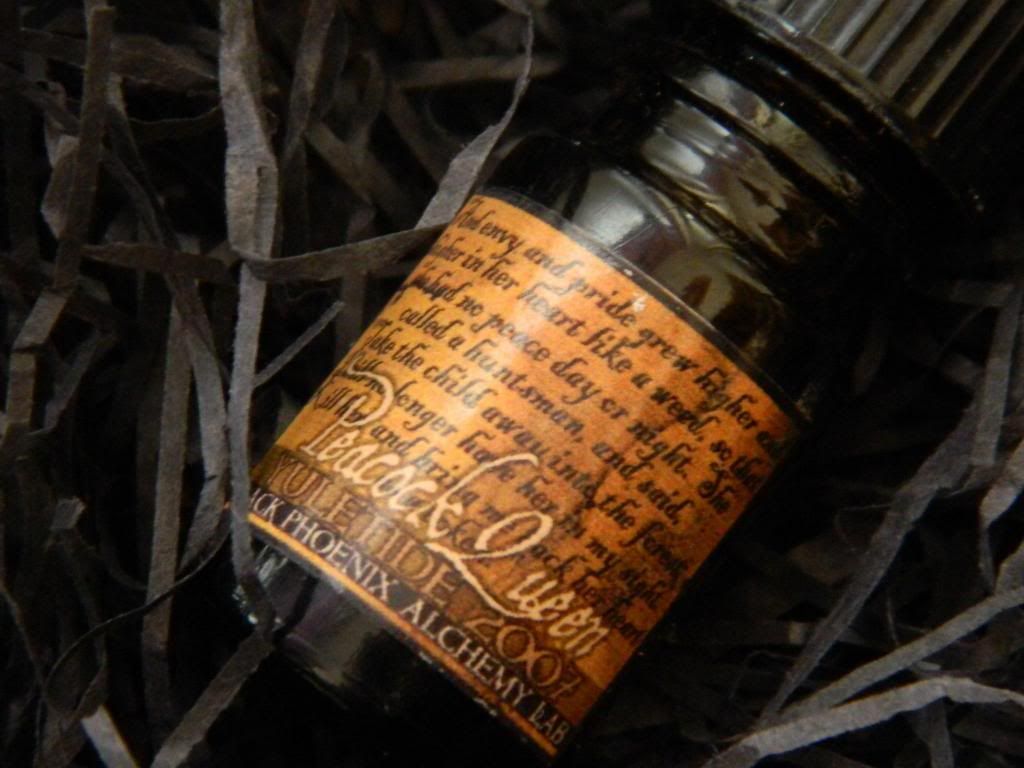 According to the Ebay listing I bought this from, Peacock Queen is described as follows:
'In dramatic contrast to the soft innocence of Snow White and the dew-kissed freshness of her sister, Rose Red, this is a blood red, voluptuous rose, velvet-petaled, at the height of bloom. Haughty and imperious, vain yet incomparably lovely to the eye, but thick with thorns of jealousy, pride and hatred.'
Isn't the description just delightful? I think it describes it very well. It has a dark sense of sweetness to it. There's a rose garden in a park near me, and that's what it reminds me of. It isn't a fresh rose scent, more aged and deep, almost like when you leave flowers in a vase after they've begun to wilt. It's a very rich scent, and rather sophisticated, it's more of a womanly scent. It's beautiful, and I can see me getting a lot of use out of it. I normally go for sweeter smells but I adore this. It has a certain degree of elegance to it, and I love it. It lingers throughout the day and the throw is very good. With usual perfumes I normally can't smell them after a few hours, but with this I kept getting a hint of it. It's really wonderful!
The description for Jacob's Ladder is as follows:
'The meeting of Heaven and Earth: golden amber, galbanum, benzoin, ambrette, rocktose, costus and tonka.'
I have to admit that have I never heard of half of the ingredients in that description! All I know is that Jacob's Ladder is a very musky scent, and the oil is a wonderful golden orange colour. It reminds me of my Nanna, because it's very similar to what she used to wear. I'm assuming that Jacob's Ladder refers to the Bible story in the Book of Genesis (I think? My religious knowledge is pretty poor I'm afraid, I apologise if I'm wrong). Jacob's Ladder is a connection between Heaven and Earth. I'm not sure that it's a scent that I'll wear very often, but it's nice nevertheless. It could pass easily as a unisex scent. It isn't overly masculine but it isn't feminine either. It lasts an incredibly long time on my wrists, and the throw is good. It grows sweeter throughout the day on me. I do think that it is beautiful, but it's a little on the dark side. I will probably get more use out of it in Autumn.
As you can probably tell, I am thrilled with both of my purchases! I am scouring Ebay to see if I can nab a few more. These are the first perfume oils I have tried and I really love how long last compared with usual perfumes. I normally can't smell perfume on myself throughout the day, but I can with these! They've definitely won me over into looking into getting some perfume oils - I actually bought a couple from Nocturne Alchemy on Ebay the a few days ago too! I will probably give in and order from the official Black Phoenix Alchemy
website
at some point too...
Have you tried anything from Black Phoenix Alchemy Lab? Any scent recommendations for me?
Disclosure: I bought these myself.