So I thought some of you might be interested in seeing how Figgy is getting on in her new home! I didn't manage to include many pictures of her in my original post since she was so nervous and spent most of her time hiding behind the sofa! We've now had her for a whole month (it feels like longer) and she is a completely different cat to the one we bought home a month ago.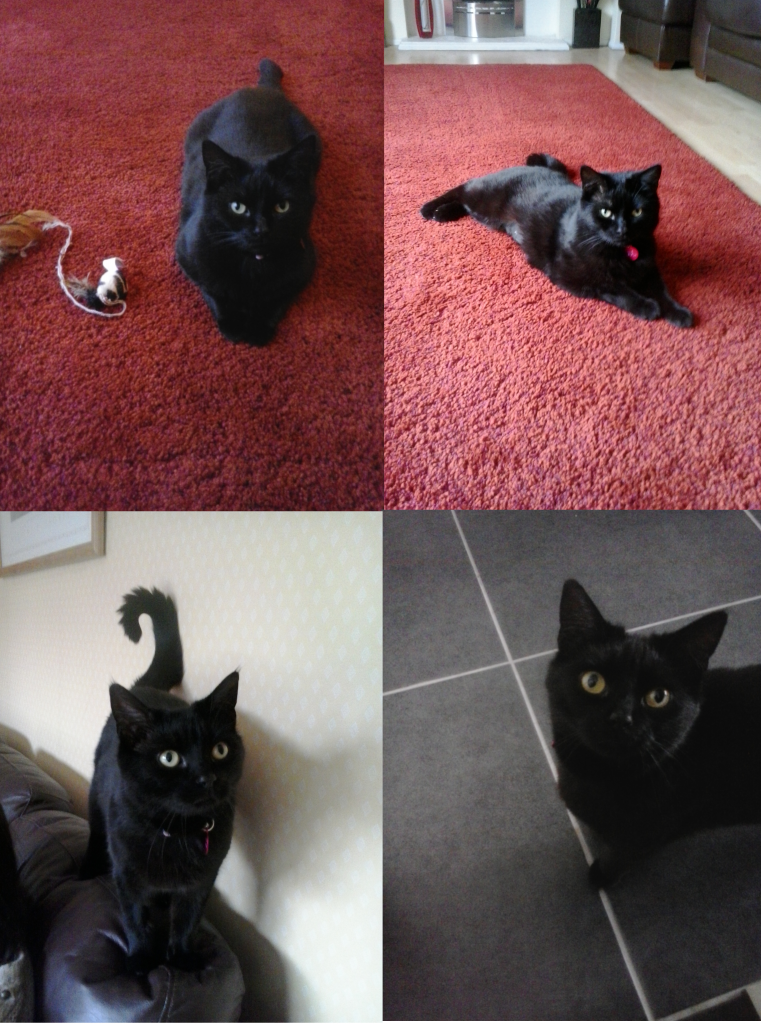 I say cat, but Figgy is completely convinced that she's a dog. She spends half of her time carrying random objects around in her mouth (mainly pens and toys) and chewing things. We've had to start unplugging everything just in case she chews through a live wire. She particularly likes to chew the wire on my GHDs, which is a bit worrying! She also thumps her tail when she's happy (she purrs at the same time) which is something I've never witnessed from a cat before!
The good news is that she isn't hiding at all now. When she gets scared now she'll run upstairs and into my room instead of behind the sofa, and if there's somebody she doesn't know in the house, she'll only go downstairs if I go down first. She's incredibly fussy though, everybody who has been to my house has fallen in love with her!
The sad news is that she has so obviously been abused in her last home. If I catch her doing something naughty (like trying to drink my tea out of my mug for instance) she'll lower herself to the floor and whine, and when I tried to step over her the other day she thought I was going to kick her. The thought that anybody could ever be cruel to her breaks my heart, but at the same time I'm glad that she's safe with us now. I still miss Thomasina every single day, but it's comforting to know that we've given Figgy a second chance at life and an opportunity for her to be happy and loved instead of scared and alone.
She really is a lovely cat and is coming out of her shell a lot now. She's very vocal and lets you know exactly what she wants when she wants it, and has the cutest and most innocent looking face! She's extremely playful and mischievous and
loves
cat toys. When she wants to play she goes behind the sofa and drags her toys out into the middle of the rug, which is just the sweetest thing! It's nice to see her developing a personality.
The other good news (I think?) is that she
loves
the garden. She is only allowed out into our little garden at the moment, we're trying to get her used to her surroundings and build her confidence a bit before we completely let her loose. She did manage to sneak out once and went wandering for an hour, but she came back. I'm a bit concerned that Figgy is too friendly...the majority of my neighbours are lovely (Thomasina used to go into my next door neighbours house for chicken and fuss and we didn't even know about it), but I don't trust some of the kids on our road. Figgy is the kind of cat that thinks everybody is her friend, and I'm worried that someone will take advantage of that and hurt her. I'm still hoping that she's more of a house and garden cat!
We've still got a few kinks to work out. She doesn't know how to use the cat flap for instance (she'll go through if I hold it open but not when it's closed) but aside from that she has been absolutely perfect! It's great to see her learning to trust us.
I hope you're all having a great week!