Restyle's handbags have been on my wishlist for absolutely ages. Their red rose one in particular caught my eye, and I'd been watching numerous clothing websites for months waiting for it to come back in stock, so I was pretty excited when
The Gothic Shop
made them available to pre-order! My old handbag was falling to bits, the zip opener kept coming apart and I was struggling to open it, so this order was definitely overdue!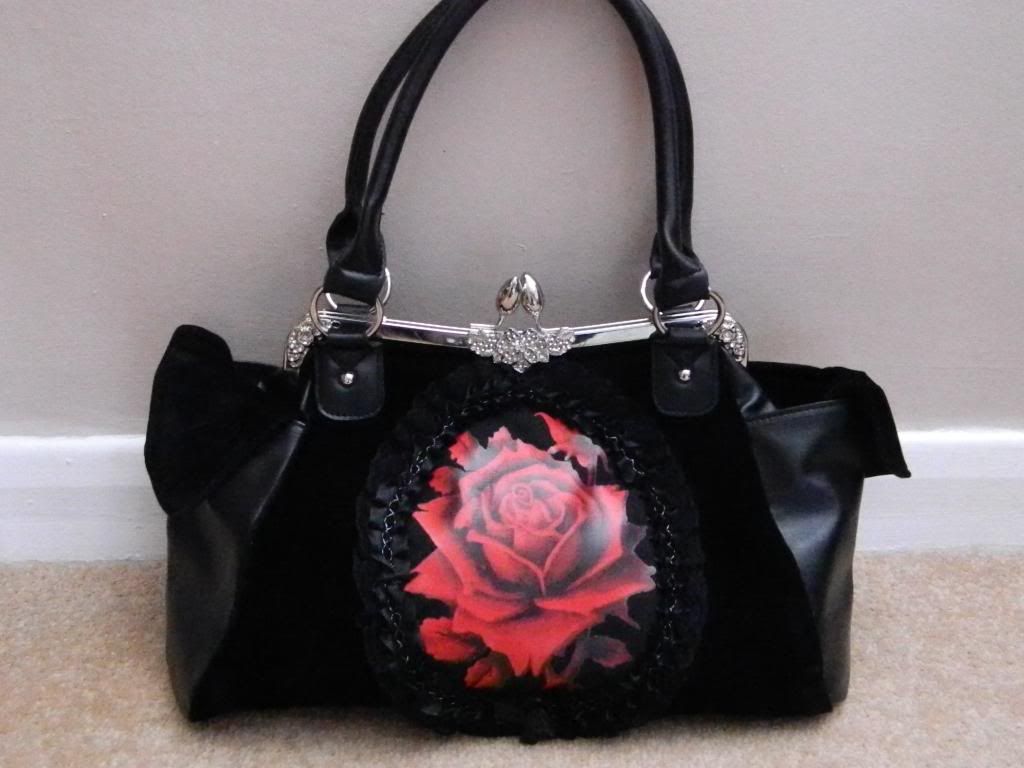 This bag features a red cameo rose on the front of the bag, encircled by ribbon and lace. The back of the bag is made from faux-leather and the front is velvet. The top of the bag has a silver metal fastening, decorated with silver leaves and gems. It also has two compartments on both ends of the bag, which have a magnetic fastening. The handles are also faux-leather, and are extremely strong.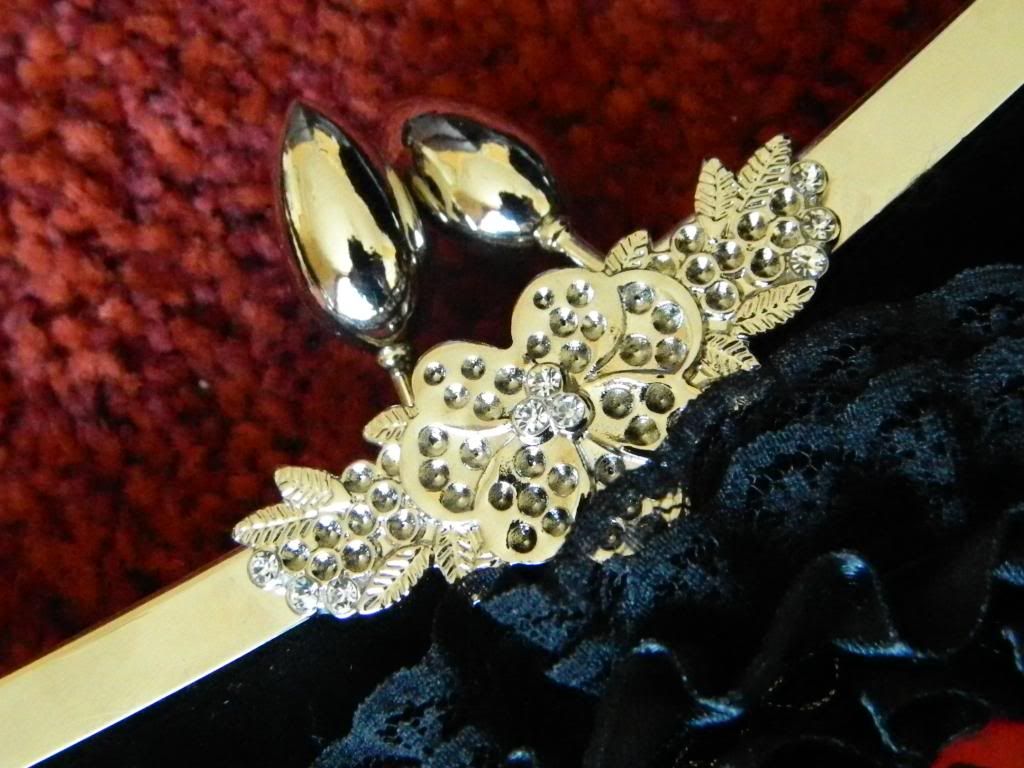 Inside, the bag features a zip pocket and a pouch. There is ample room for me. I managed to fit a small notebook, a pencil case, a small water bottle, a lunch box, my
huge
purse, my hairbrush, a lipstick, a 500 page novel and my glasses case in there last Wednesday. It will pop open if you cram too much in there as I discovered when I tried to fit in all my dissertation information and module book in there too! In particular I like that it has a zip compartment to put more valuable items in. I get really paranoid when I'm wandering around in town on my own so it helps to know that nobody can reach in and take anything important!
The handbag is longer and flatter than I was expecting when it first arrived. Of course, I forgot to check measurements
again
. It's also quite weighty, it was a lot heavier than I was expecting when the postman handed me the parcel! I'm actually glad that it's bigger than I was anticipating, because it means I can take it with me to university instead of my giant backpack on days where I don't have many lectures. It's a lot rounder once you begin to fill it.
My only concern with this handbag is the rose on the front. I had a top made out of the same material and the design eventually wore away and I'm worried that the same thing will happen to this bag. However, aside from that I really love it. It's beautiful but also very practical. I would even consider buying one of the other ones for variety at some point!
This handbag costs £34.50 and can be purchased from
The Gothic Shop
or the Restyle
website
.
Disclosure: I bought this handbag myself.