As you can probably tell from my onslaught of jewellery posts, I've been really loving Restyle jewellery recently. And as soon as I saw this locket on Restyle's website, I fell in love with it. It's exactly the sort of thing that I love, and it is
book shaped
. It also has Edgar Allan Poe's
The Haunted Palace
engraved inside. It really wasn't going to be long before I bought it was it?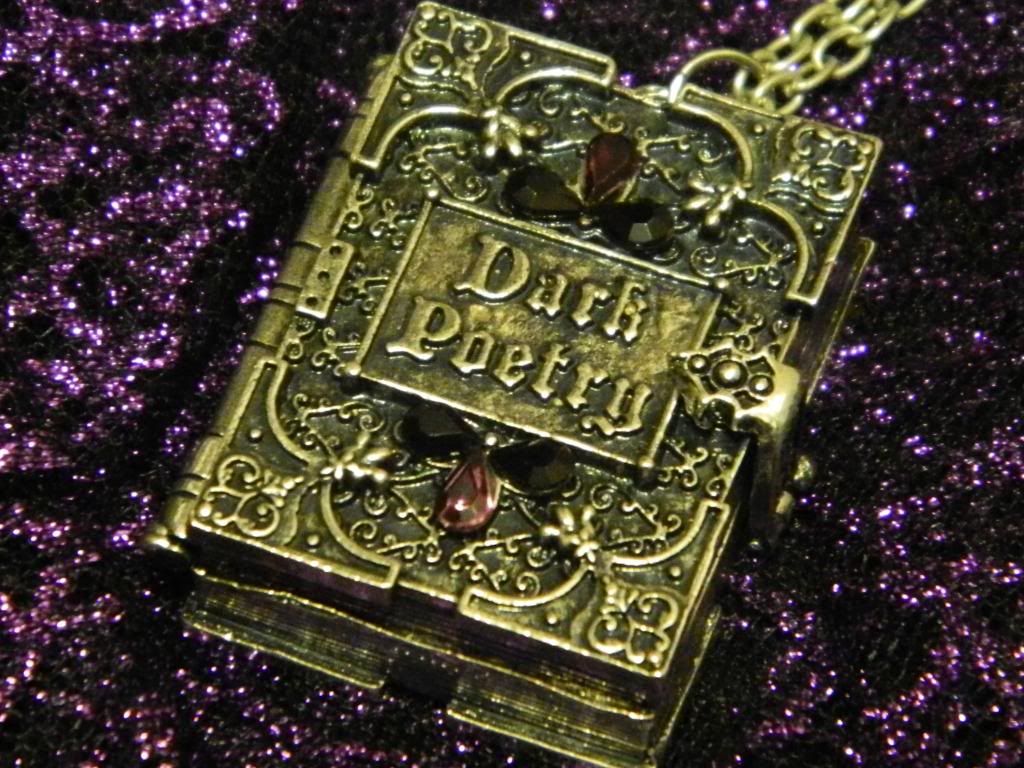 I bought it from
The Gothic Shop
. I was quite excited waiting for it as I'd heard from other people that it really beautiful, and I've been incredibly impressed with all the Restyle jewellery I've ordered so far.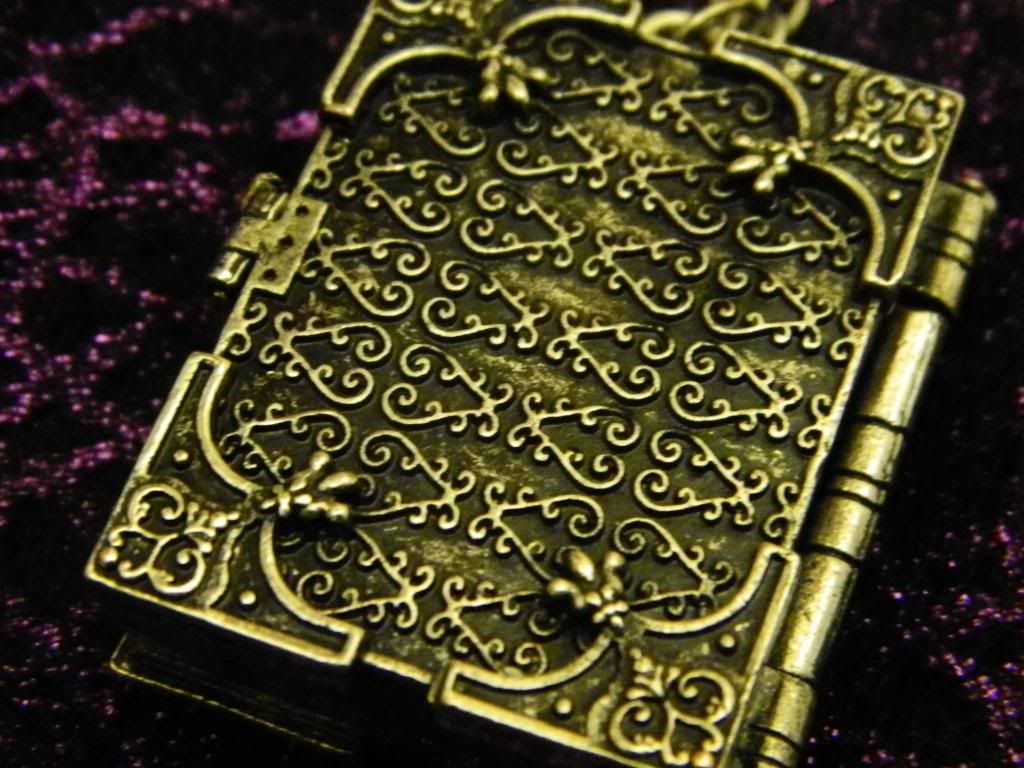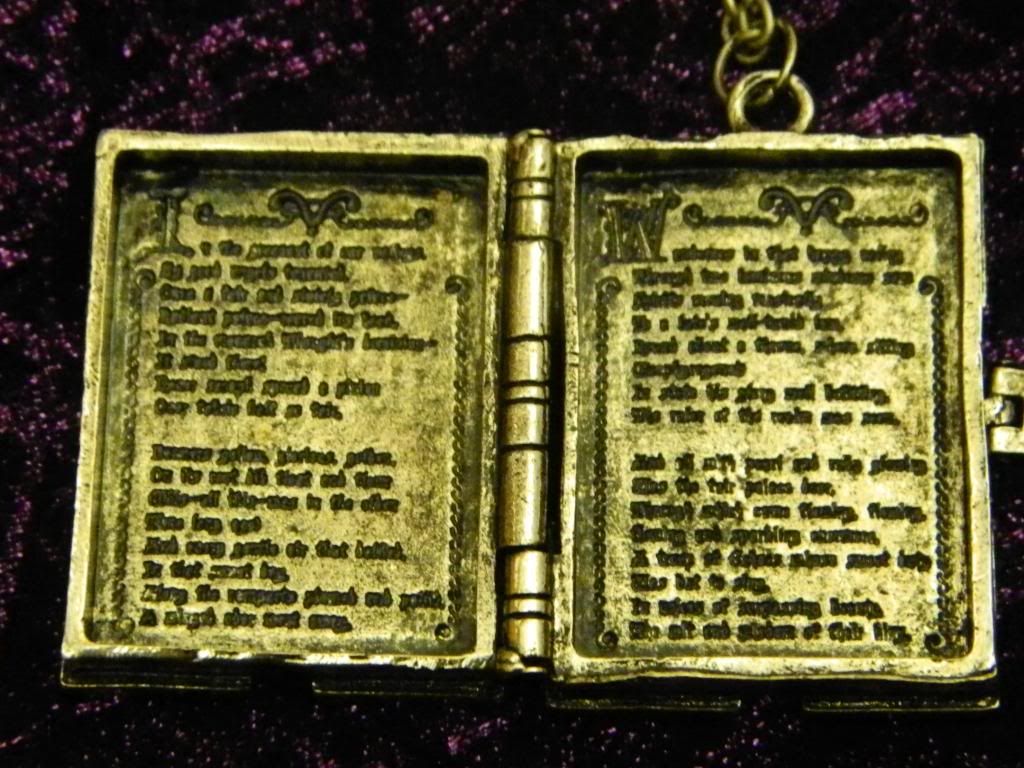 This is a book shaped locket, with 'Dark Poetry' inscribed on the front as a title, and decorated with black and purple stones. The detail is astonishing for such an affordable piece; it's very intricate and beautiful. Unfortunately the poem inside is too small to be distinguishable, which is a shame, but it's a nice touch nevertheless.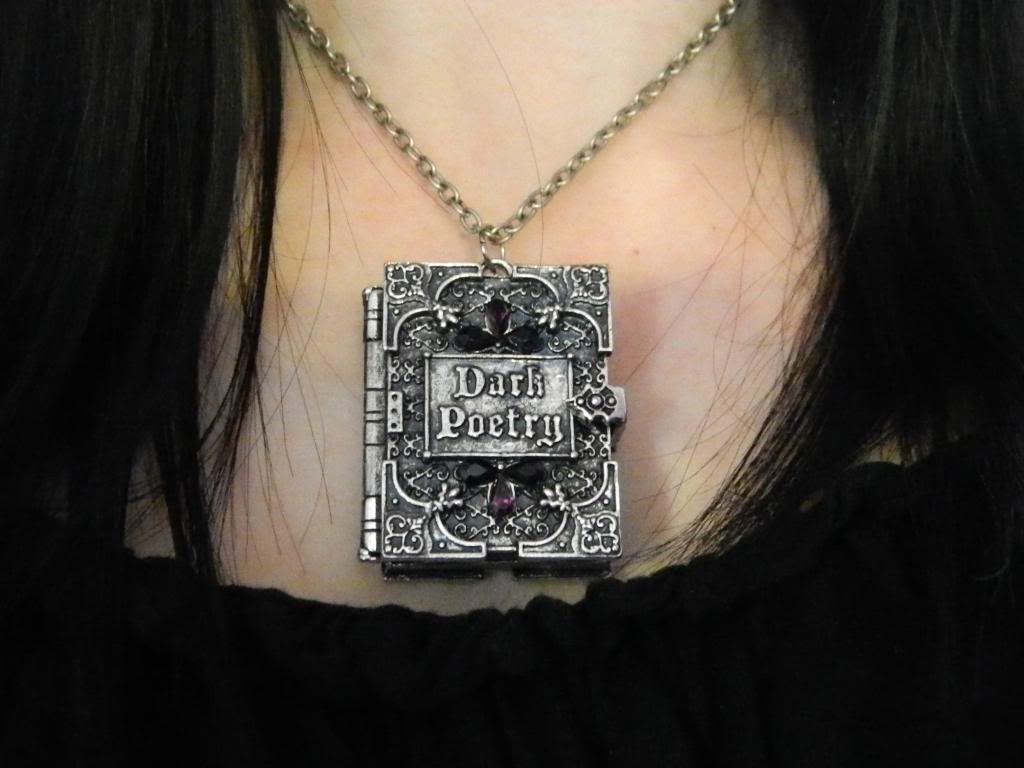 The only negative regarding this necklace for me is that the hinges on the clasp don't feel overly sturdy. It hasn't broken on me yet, but they feel rather flimsy. The chain could also do with being replaced, but that's easy enough. Personally I think the originality of the piece and the beauty of it far outweighs the negatives. It's a lovely locket and I'm glad I bought it! I'm not sure if I'll use it to store things in, but it's definitely thick enough to do so. The locket itself is a bit smaller than I was expecting. It isn't tiny, I just think I've gotten used my jewellery seeming huge when it arrives!
Restyle are very much like Alchemy Gothic in that they always seem to go that little bit further when it comes to the quality and the uniqueness of their products. The only difference is of course, that Restyle is half the price. There are a few minor issues for me (the hinges, mainly) but overall it's a wonderful piece for the cost.
And since you can't read it on my photos of the locket, here's a copy of Edgar Allan Poe's
The Haunted Palace
for you to enjoy! The line spacing went a little crazy and I don't know how to fix it!
In the greenest of our valleys
Once a fair and stately palace-
Radiant palace-reared its head.
In the monarch Thought's dominion-
Never seraph spread a pinion
Over fabric half so fair!
Banners yellow, glorious, golden,
On its roof did float and flow,
(This-all this-was in the olden
And every gentle air that dallied,
Along the ramparts plumed and pallid,
Wanderers in that happy valley,
Through two luminous windows, saw
Spirits moving musically,
To a lute's well-tuned law,
Round about a throne where, sitting
In state his glory well-befitting,
The ruler of the realm was seen.
And all with pearl and ruby glowing
Was the fair palace door,
Through which came flowing, flowing, flowing,
A troop of Echoes, whose sweet duty
In voices of surpassing beauty,
The wit and wisdom of their king.
But evil things, in robes of sorrow,
Assailed the monarch's high estate.
(Ah, let us mourn!-for never morrow
Shall dawn upon him desolate!)
And round about his home the glory
That blushed and bloomed,
Is but a dim-remembered story
Of the old time entombed.
And travellers, now, within that valley,
Through the red-litten windows see
Vast forms, that move fantastically
While, like a ghastly rapid river,
A hideous throng rush out forever
And laugh-but smile no more.
You can purchase this locket from
The Gothic Shop
(where it is now back in stock!) or the Restyle
website
.
Have you bought any jewellery recently?
Disclosure: I bought this myself.