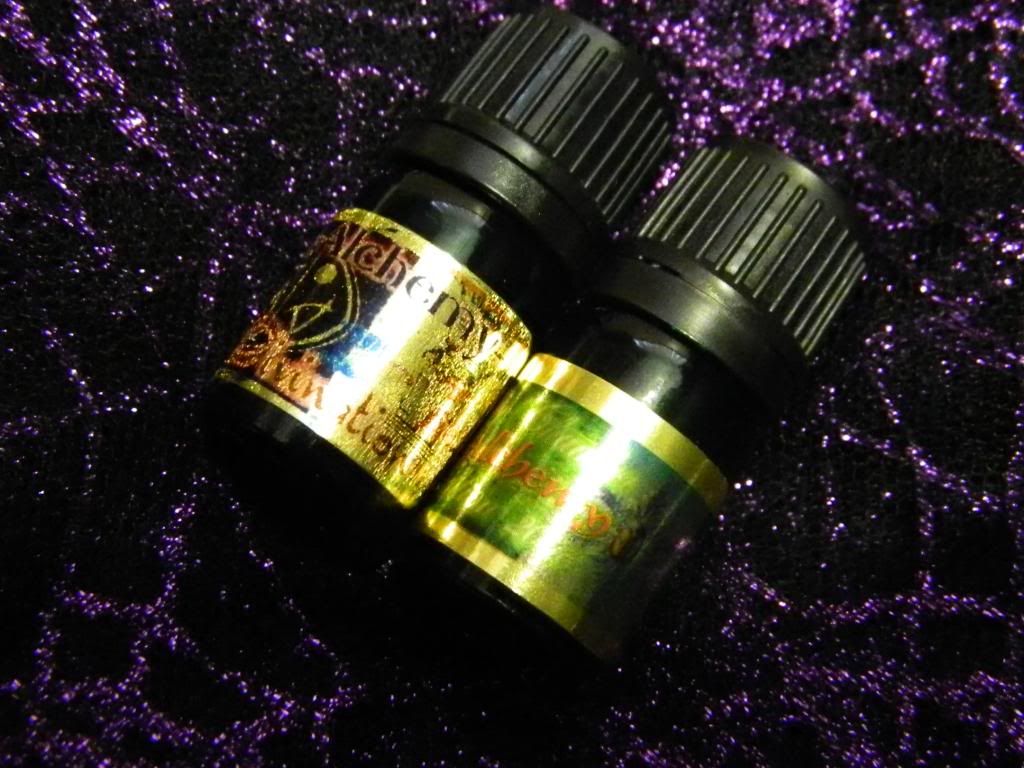 When I was scouring Ebay looking for any BPAL oils up for sale, I saw 'Nocturne Alchemy' as one of the related searches, and I was curious and decided to have a look. One seller had numerous oils up for auction, and I won two of them,
The Hidden Chamber
, and
Egyptian Divination
. After being thrilled with the BPAL oils I bought, I was very excited to receive these to see how they compared! I think they are both limited edition, but they might be a few floating around on Ebay!
Egyptian Divination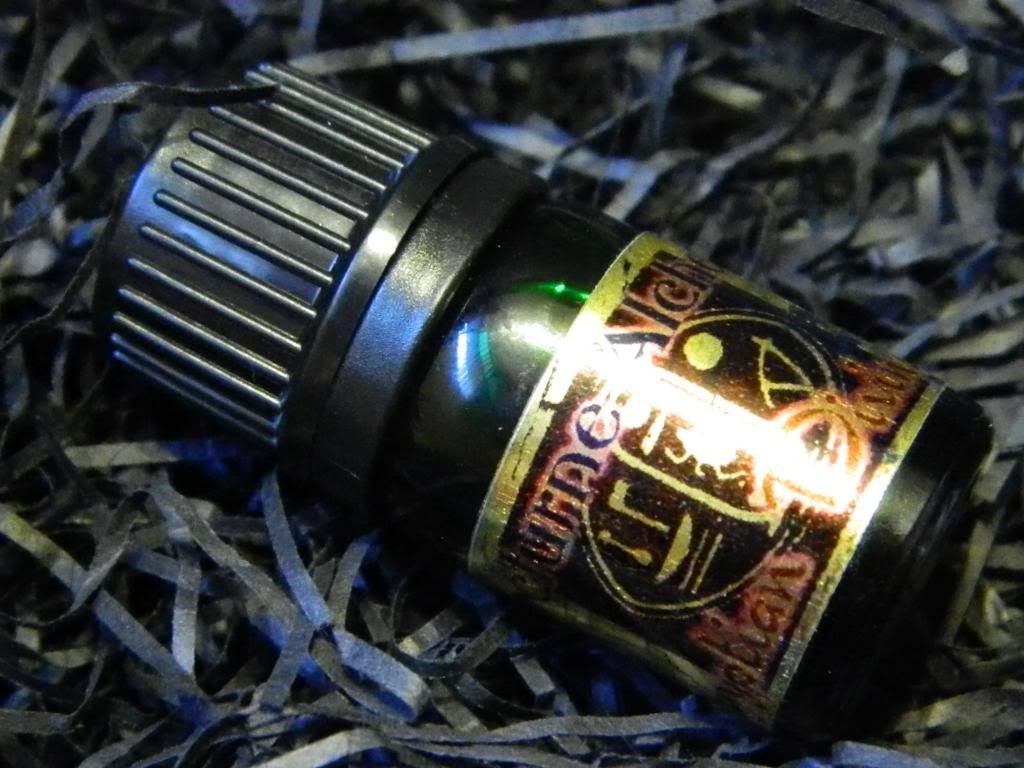 'Kiwi, Clementine, Vanilla Absolute, NA Dragon Blood, Red Musk, Black Tea and Dragon Berry.'
Egyptian Divination is one that I was most looking forward to receiving. Dragon's Blood is one my favourite scents (whenever I burn incense it's the one I reach for). It's an incredibly rich scent. You know that those really interesting stores that you walk in and you can immediately smell the incense? It reminds me of that. Dragon's Blood is nearly impossible to describe, but I think it's the scent that comes across the most in this oil. It comes across a little sweeter on my skin than it does when you smell the bottle. It's a gorgeous scent and one that I can see me getting a lot of use out of.
'Pure Chocolate Oil but added Candy Canes and Egyptian Mint, a touch of Black Vanilla and blended a Holiday Spun Sugar with Pink and Blue Ice crystals.'
Doesn't the ingredient list just sound good enough to eat? I adore sweet scents so I figured that this one would be something that I would really love. It smells exactly like mint chocolate to me, with a touch of vanilla. I tend to only apply a small amount of this because otherwise the sweetness would be a little overpowering for me! If you like mint perfumes, you will love this.
The seller I bought this from also very kindly included some sample oils, which was a lovely surprise! I'm only to say something quick about these, I haven't really worn them very much yet!
Fireflies from Violette Market:
'Lydia's golden fireflies glowing among raw agave sugar crystals, toasted marshmallow creme, and a pinch of golden amber dust.'
I am so, so wishing that I'd never opened this! It smells good enough to eat. To me, it smells exactly like digestive biscuits (perhaps with a little more sweetness to it) and it gives me a serious craving for sweets. The Violette Market
website
is very pretty too; their Vampyre perfumes look particularly appealing! I can see some of them being added to my ever growing wishlist!
Year of the Snake 2013 Cobra Venom by VApothecary
'Aged Ambre Ombre (shadow amber), Black Musk, Aged Oud, Blue Heather, Chinese Allspice, Chinese White Clove, Chinese Frankincense, Sicilian Cedar, Bamboo Accord and Vanilla Musk'
This smells amazing. It's one of those perfumes that on the first sniff you aren't sure if you like it or not but you gradually fall in love with it. It's not as musky as I was expecting, there's a touch of sweetness that I wasn't anticipating. It's a strong scent and quite spicy. It's a very hard one to describe!
Year of the Snake Anti-Venom by Nocturne Alchemy
'Chinese Plum Nectar, Cherry Blossom, Egyptian Sugar Accord, Nokturne: Crystal (Vanilla Musk) and Mimosa Skin Musk'
Aside from vanilla musk, I have no idea what any of the other scents in that list smell like. You know how some scents really remind you of something that you just can't put your finger on? That's how I'm feeling with this one. To me it seems a little more on the floral and fruity side in a very strange way... it definitely doesn't smell sweet to me and vanilla isn't as strong as I was expecting, it's more in the background. It's a very strong scent. I'm not one hundred percent sold on this one as of yet, it's very different to what I usually wear. I've not tried it layered with the Cobra Venom one yet though!
Overall I am really pleased with the two full sized oils I bought and the decant ones were a lovely surprise. I think I may have to purchase another bottle of Egyptian Divination if another one pops up again!
You can buy Nocturne Alchemy perfume oils from their
website
.
Have you tried anything from Nocturne Alchemy?
Disclosure: I bought these myself. The Ebay seller included the decants with my order.