As some of you may have noticed from reading this blog, I have acquired a jewellery collecting problem, which has caused my collection to expand... I have suddenly ended up with quite a few pieces and nowhere to store them. And considering that I found my Alchemy Gothic Passion necklace stuffed down the side of the printer yesterday, it was a problem that needed a solution. I'd been thinking about buying a larger jewellery box for a long time. I was using a small cardboard jewellery box that was overflowing, and it reached a point where I was just selecting the necklace at the top of the pile because it was too much effort to untangle everything to get to the bottom. Plus I couldn't close the lid so it wasn't very attractive!
I've always had a thing for jewellery boxes, and I can see me keeping this one for a very long time. My Nanna used to have a little jewellery box that she'd had for years, and she always used to let me play with it when I was small. I used to spend ages looking through all of her pieces (she had quite an extravagant taste in jewellery) and it used to fascinate me. Being allowed to look through it always like a responsibility and I always felt honoured that she would let me go through her things. Looking back it's probably where my love of jewellery comes from!
I was walking home from work the over day and I passed one of the very few alternative shops in my area, and they had a gorgeous purple lined jewellery box in the window. I went in and enquired about it and they mentioned that they also had a larger one in stock that was red velvet lined instead of purple. They very kindly went and searched for it, and I fell in love.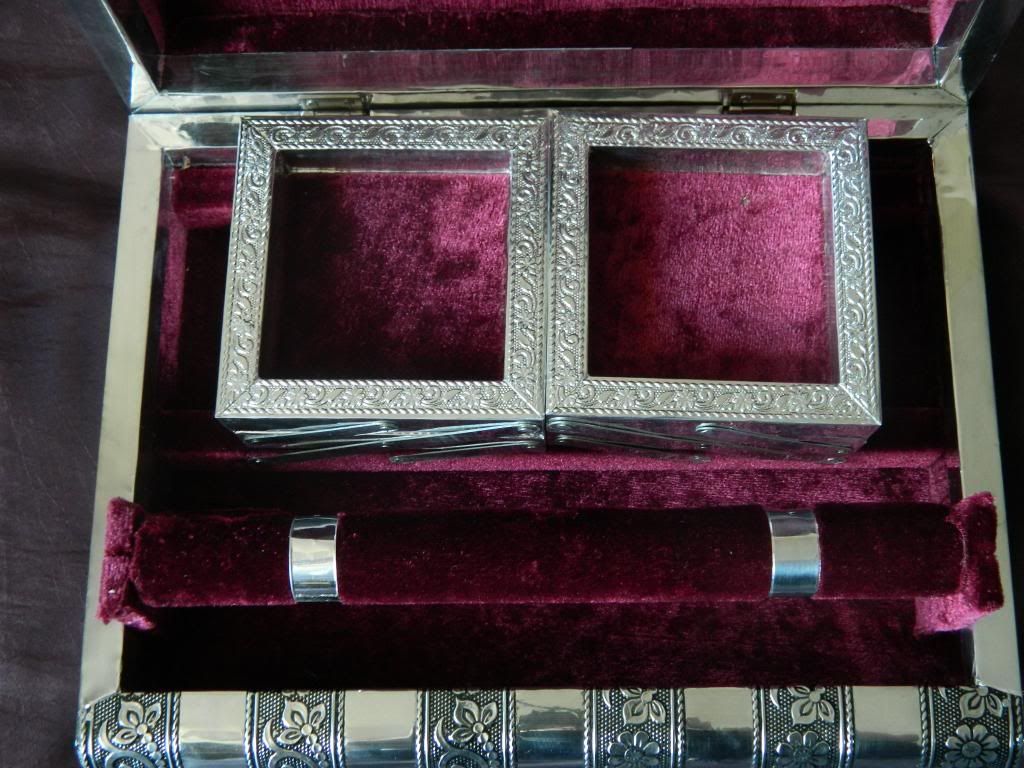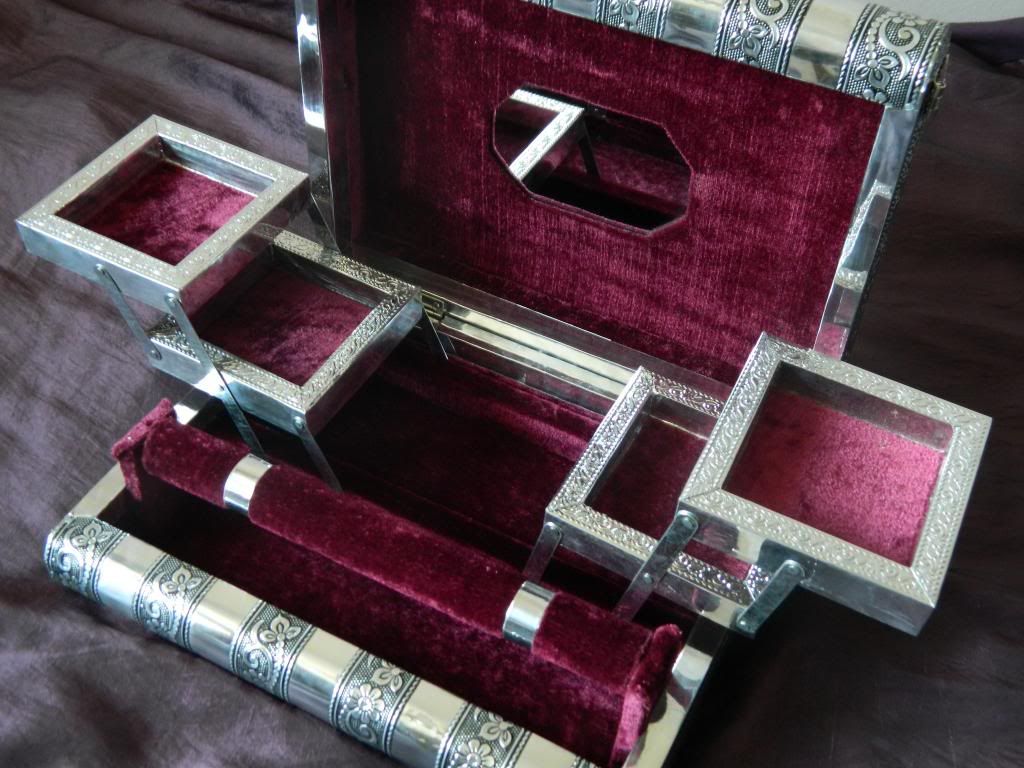 It has little elephants on the front, with an almost unnoticeable hinge on the side that allows you to lock it with a padlock. It has a beautiful floral border around the edges that continues down onto the spine, which reminds me of a closed book. Inside, it has a red velvet lining and a small mirror, and pull out compartments. It's quite large when you pull everything out! I'm glad that I went for the larger of the two boxes, as it's still a little snug with my jewellery packed into it! My only little complaint is that it has a small dent in the top, but aside from that it's a beautiful box. It must have been out in the shop for a long time because it smells quite strongly of incense! It's a lovely box and I hope it will last for a very long time!
This may or may not be my last post for awhile. I go to Spain for two weeks on Wednesday, and I get back on the 15th. I will hopefully have some holiday photos to post when I get back, depending on whether or not I do anything interesting! I don't know if I'll be able to reply to comments during that time, but I might be on Instagram (depending on whether or not I have internet). I'd also like to thank everyone who had voted on my poll so far, it's a great help, and quite surprising! I've extended it until I get home. I'll definitely think of doing more outfit posts since so many of you voted for them!
I hope you all have a lovely weekend!