I'm not usually tempted by over-hyped products. I'm naturally very sceptical, and usually when something is hyped I'm more inclined to have doubts. However, if there's one product that I'm likely to give into, it's lipstick. Matte lipsticks in particular are a bit of a tricky business. Mainly because it's difficult to find one that doesn't dry out your lips and doesn't settle into your lines. I'd seen a lot of reviews of Lime Crime's Velvetines, and I was interested from the start. I was impressed by their other lipsticks so I thought I'd take the plunge and order Red Velvet.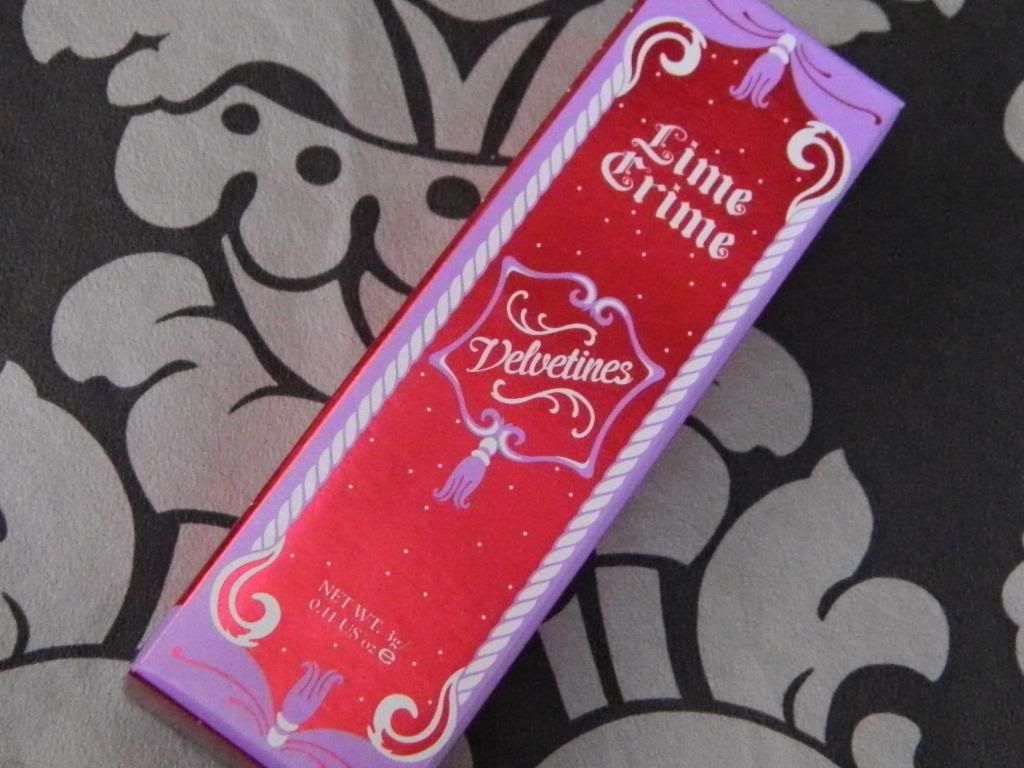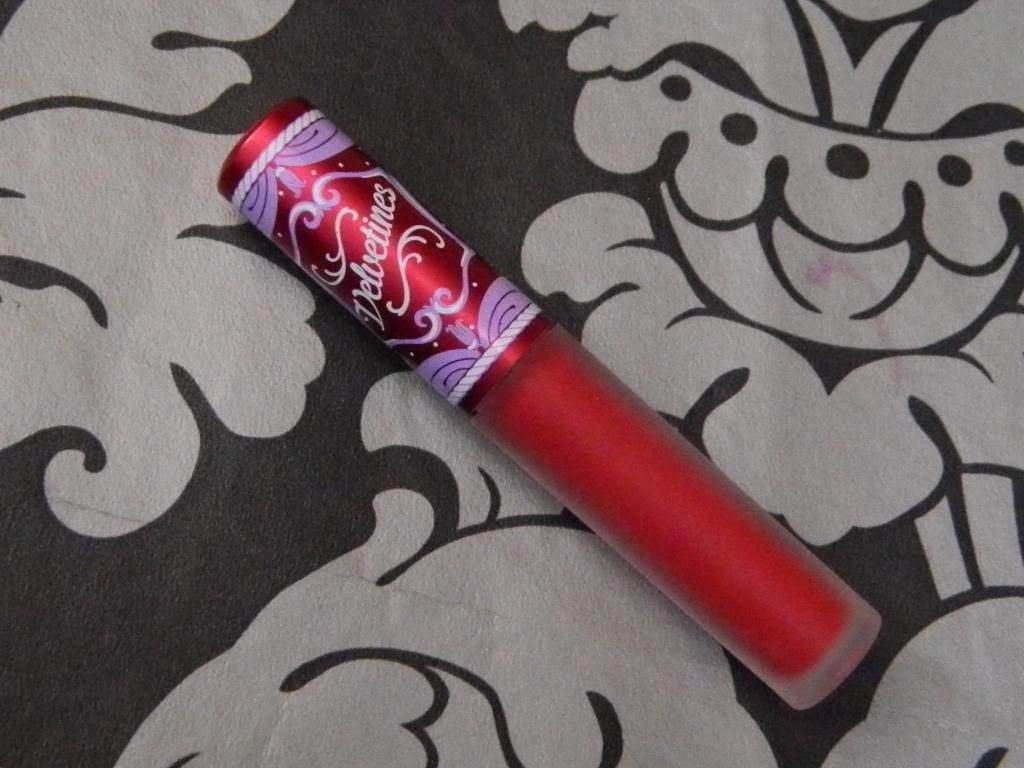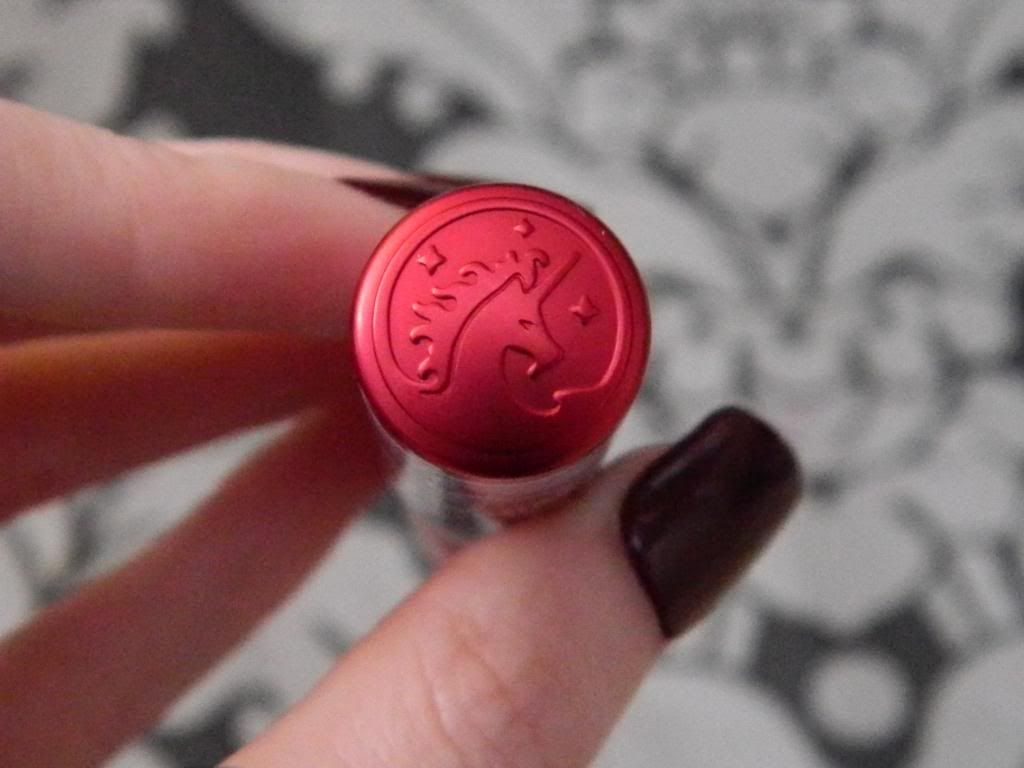 Red Velvet comes in bright red packaging. The bottle has a frosted look, and like all Lime Crime products, it is very girly. It has a wand applicator. Personally I find the applicator a little too big for my lips, I seem to always have to go around the corners of my mouth with remover because the applicator is too large for me to apply it to the edges of my lips. Instead, I scoop the product off the applicator onto my lip brush.
This lipstick applies wet and dries to a completely matte, velvety texture. The texture is incredibly odd, and not something that I've come across before. The only way that I can think of to describe the texture is that it is almost like liquid powder. It dries very quickly, and it's incredibly pigmented. One swipe of the applicator is enough for my entire lips. It's a bold, classic red shade. I'm going to apologise for my lip swatch as it is all over the place!
One of the aspects that attracted me to this lipstick was its promise to be very long lasting. I wear lipstick on a daily basis, and when I'm at university/work they have to last all day because I don't really have an opportunity to touch up. I'm pleased to say that the reviews I'd read were true to their word as this lipstick lasts at least four hours on me before it begins to fade, including after eating/drinking. Unfortunately, I really dislike how it fades on me. Instead of the colour gradually fading, the product just seems to rub away in the middle of my lips, which is extremely noticeable and annoying. I also don't like applying this over the top when it has faded from the middle. Instead I have to take it off and reapply as I find it looks a bit odd when I touch it up. While this lasts long enough that I seldom need to do this, it isn't very practical for me. I don't think this is a universal problem though as none of the other reviews I have read has mentioned it, so it may just be me!
So, you'd think that this lipstick being pigmented and long lasting would mean that I would love it wouldn't you? Unfortunately, I don't and I don't quite know why. I am so desperate to love it and I've worn it on numerous occasions in an attempt to get accustomed to it, but it isn't working for me. I don't know if it's because the colour doesn't suit me or because I'm not used to a fully matte texture. I am going to keep it and try and wear it a few more times in attempt to learn to love it, but right now I can't see it happening. I think maybe the red is a bit too bright for me, and I'd prefer it if it were darker. I do however think that I would be very interested in a purple one if they ever bring one out!
Lime Crime Velvetines cost £11.50, and I bought mine from
Love Make Up
. You can also buy them from the Lime Crime
website
.
Have you tried any of these lipsticks? What did you think?
Disclosure: I purchased this lipstick myself.