One of my favourite gifts that I received for Christmas this year was the leather-bound edition of
The Complete Works of William Shakespeare
by Barnes and Noble. I'm sure some of you have noticed that Waterstones have stated selling these; I had to ban myself from going anywhere near the Nottingham store just in case I was tempted to buy this! Some of you may recall that I bought the Barnes and Noble version of
Alice's Adventures in Wonderland
a few months ago and I've been admiring their editions ever since!
Firstly, I would like to once again apologise for the poor quality of photographs in this post. It truly is a beautiful book and I couldn't quite capture it as the lighting here as been so dull. It has been one of those weeks where I feel as though I haven't glimpsed a speck of sunlight in months as we've stuck in a state of perpetual gloominess with all this overcast weather we've been having. It has been getting dark at around three in the afternoon, and while I love winter it is really quite frustrating when you are trying to take photos!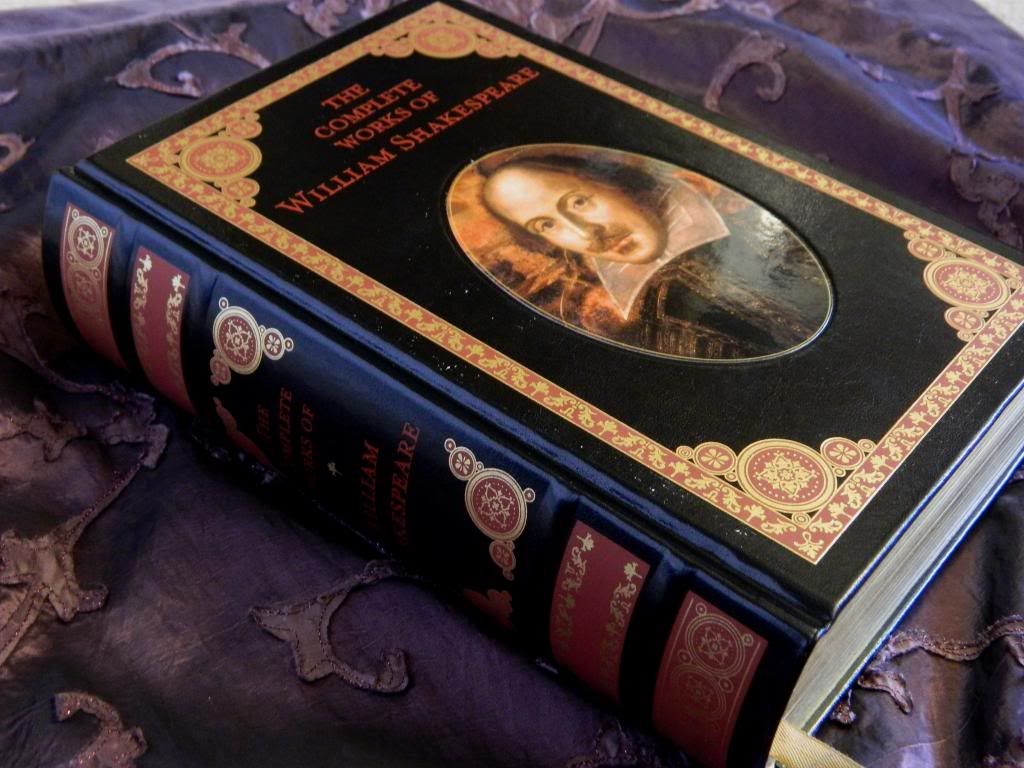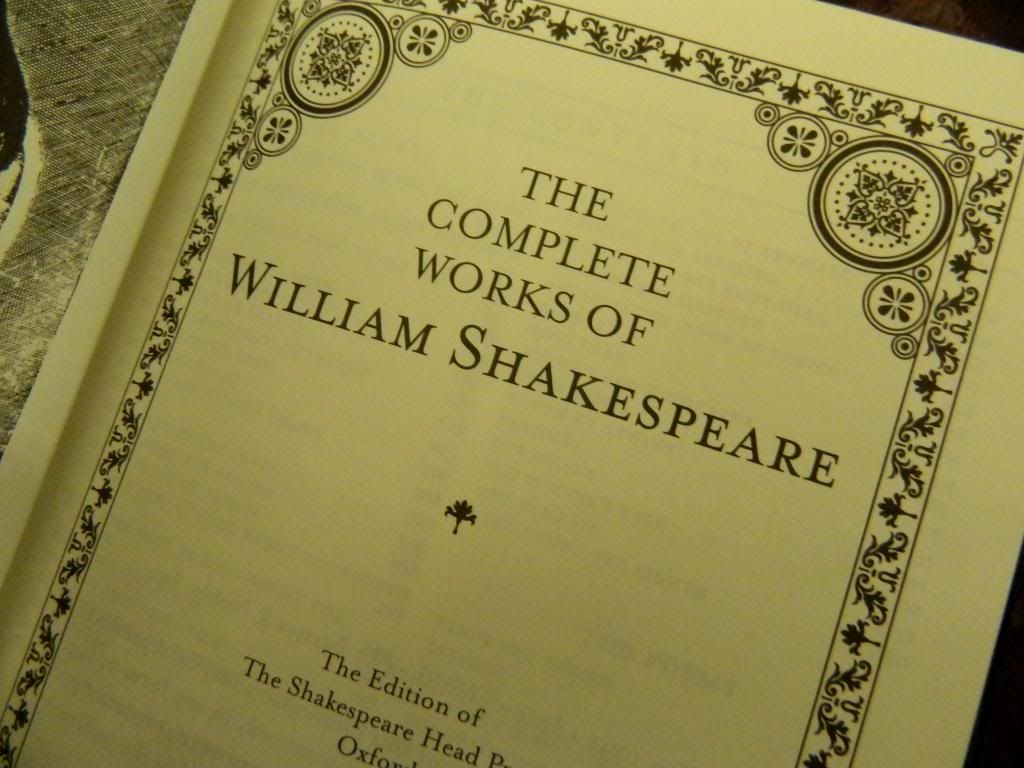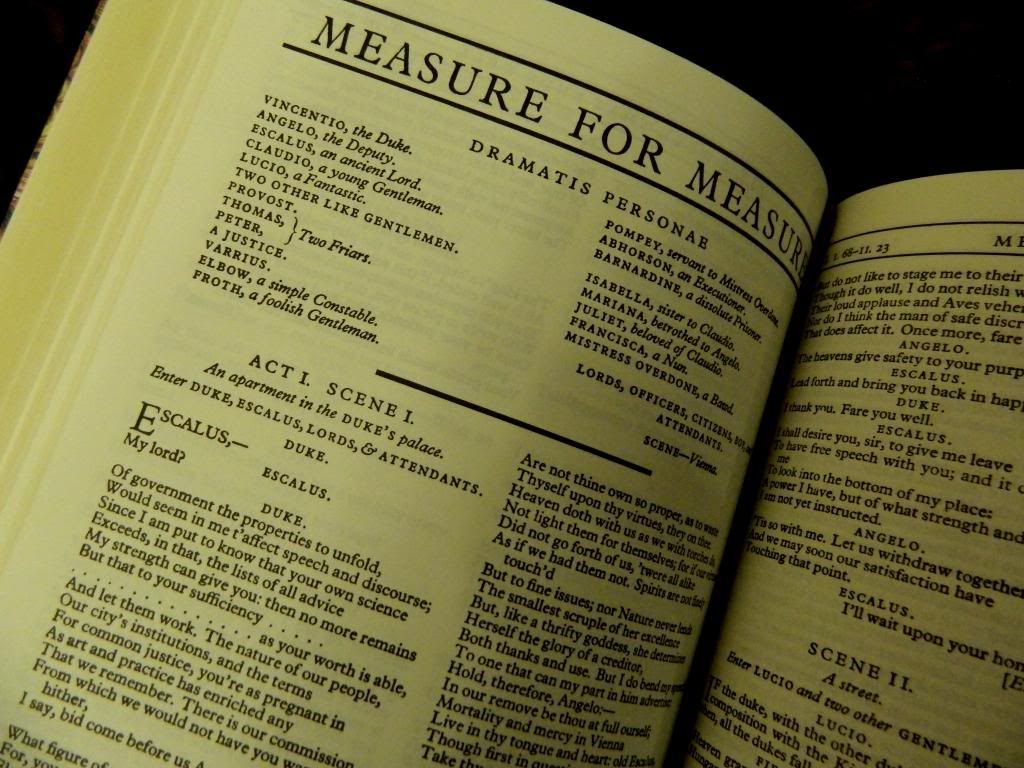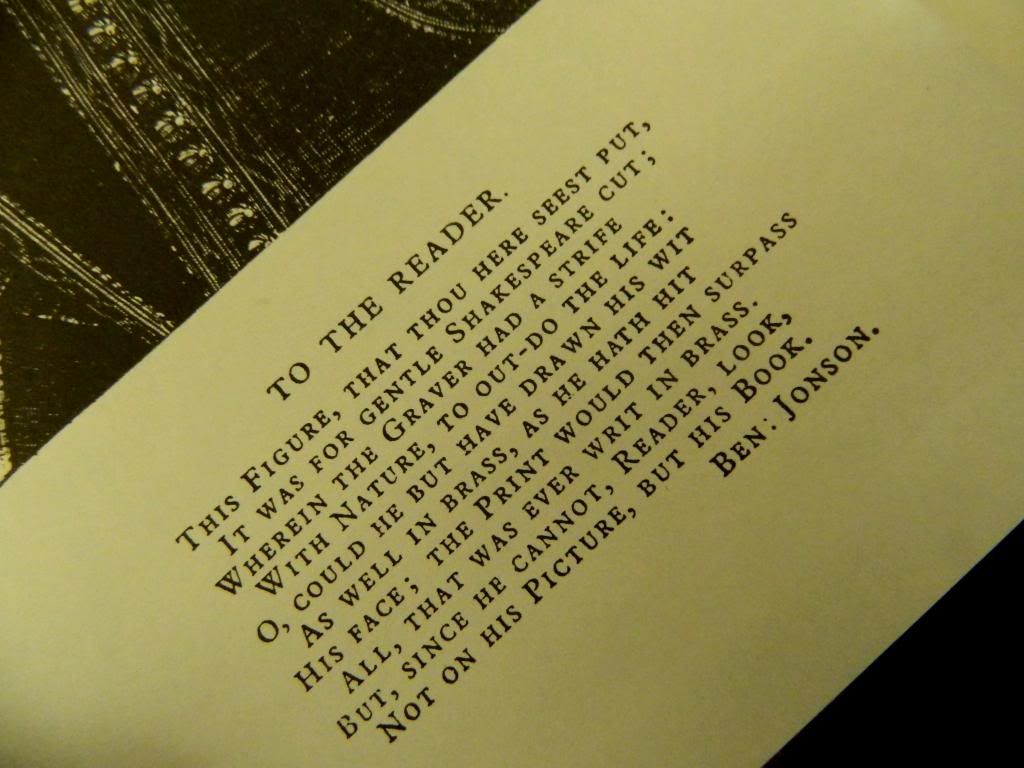 I already own the Oxford edition of Shakespeare's Complete Works. I bought it during my first year of university from the university shop, where they had a very tired second hand edition up for sale. I paid a total of £10.99 for it, which is truly shocking considering its condition. It is bent, has numerous coffee stains and looks as though it was dropped in a puddle of mud. Its previous owner also drew along the spine and on several of the pages, which is irritating. I did want a new edition, but I also really needed to save the money as I'd already spent quite a stunning amount on various anthologies that I needed.
As you can imagine, for somebody who enjoys reading Shakespeare outside of academia, this was not exactly thrilling. I pride myself on keeping my books in acceptable condition, and while it is perfectly fine for me to throw into my university bag for lectures, it is not perfect for recreational reading.
In comparison, the Barnes and Noble edition is wonderful, and beautifully presented. It features a gold spine which complements its black and red cover. It feels incredibly durable, and looks expensive. I'm especially pleased that it includes a bookmark as I frequently forget that I need one when I'm using my Oxford edition! The detailing is lovely. The paper is however very thin and delicate so you have to be careful when reading. The text is incredibly small and I have a bit of a hard time reading it even with my glasses on. This shouldn't be a problem if you don't have any issues with your eyesight.
One problem that I have with the presentation of this book is the portrait of Shakespeare on the front. It is separate from the cover, so in comparison feels really quite odd and cheap, which is truly a pity as it detracts from the beauty of the book. Nevertheless, it is still a beautiful edition. Another issue is that it omits
The Two Noble Kinsmen
, so it is not actually complete. I presume that this is because it is a collaborative play with John Fletcher, but I still feel that it should be included in the complete works.
I do think that this edition is more to recreational rather than academic reading. The line numbers are listed at the top of the page rather than in accordance with the lines they refer to, and it lacks footnotes which means that it is unsuitable for academic work. It does have a glossary. It's also very heavy so you'd have a difficult time carrying it around! If you are searching for an edition for academic reading, the one I use
this one
. The Barnes and Noble edition is excellent if you aren't planning to use it for academic purposes.
Overall, this is a fantastic edition and I'm very pleased with it. It's a lovely addition to my collection.
Did you receive any books for Christmas?
Disclosure: This was a gift.