It has been quite some time since I last reviewed any beauty products hasn't it? At the moment most of my beauty purchases are repurchases, so I have often reviewed them before. However, I did purchase one high end lipstick just after my birthday in February. I had been hearing a lot about Charlotte Tilbury products before I purchased this lipstick. I did not consider buying any of her products at first, but since I had some birthday money left over, I decided to invest in a lipstick. I have really been liking matte lipsticks recently, so I chose the Matte Revolution Lipstick in the shade Love Liberty. I was very tempted by Glastonberry, but I decided that I would probably get more use out of Love Liberty, as I already have so many dark berry lip colours.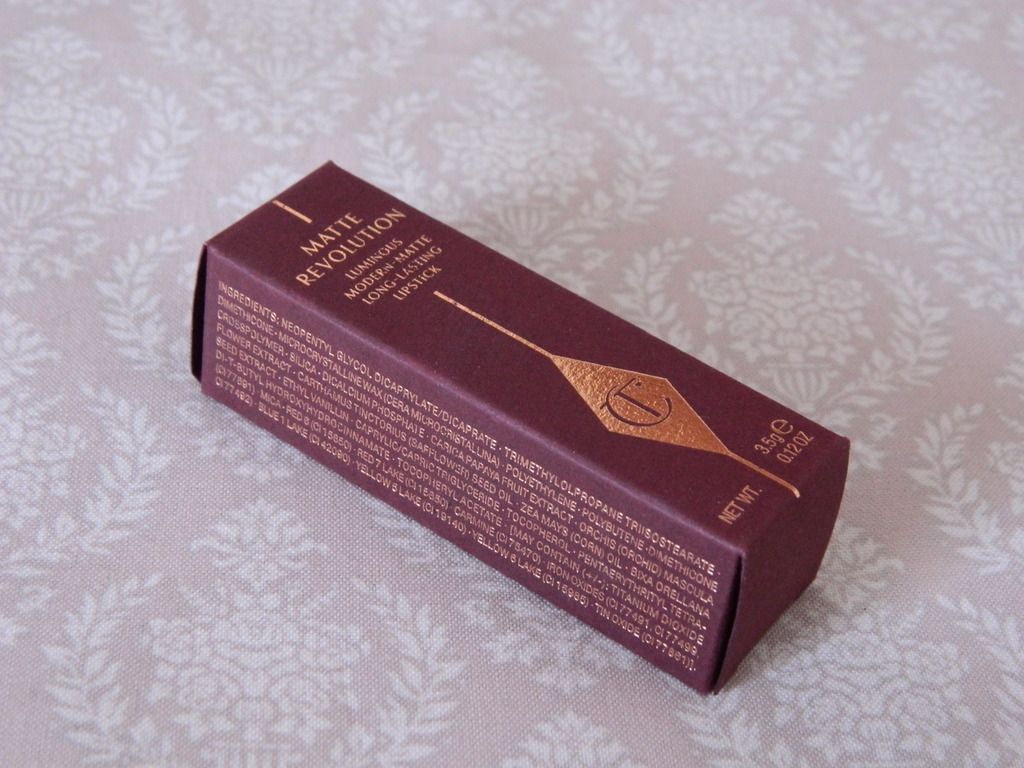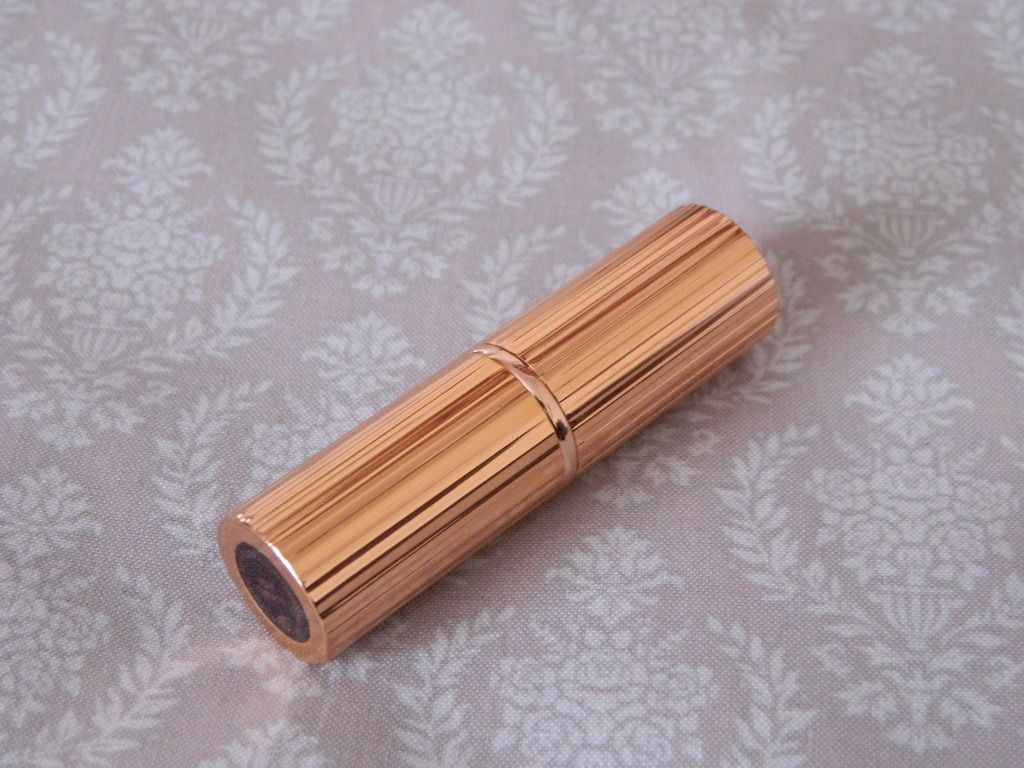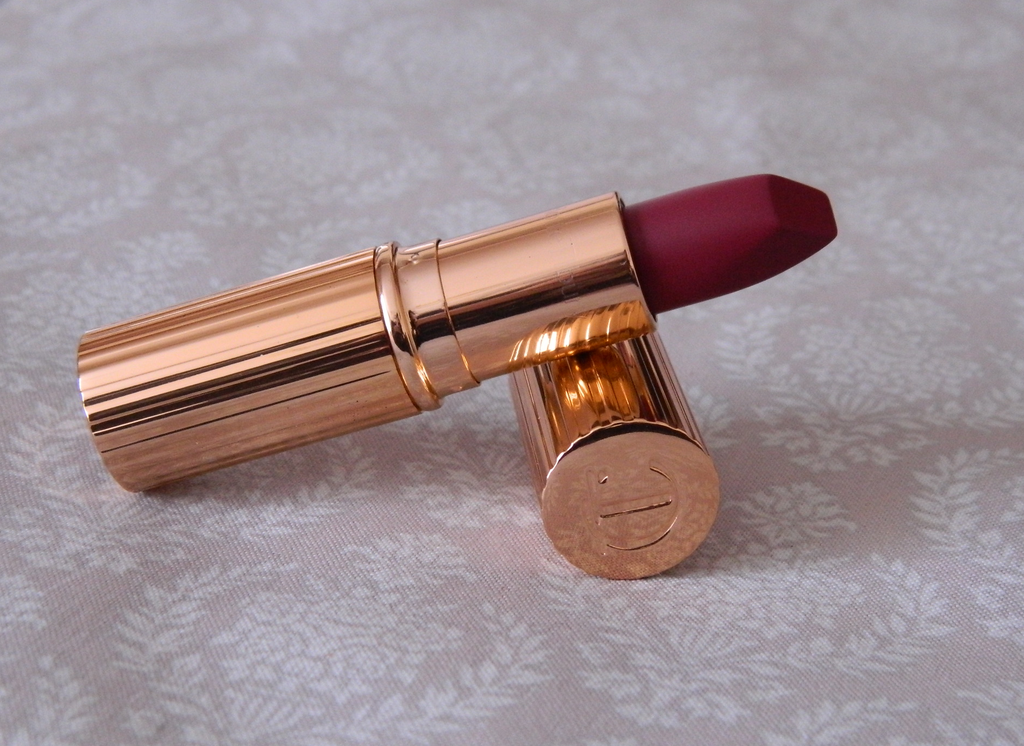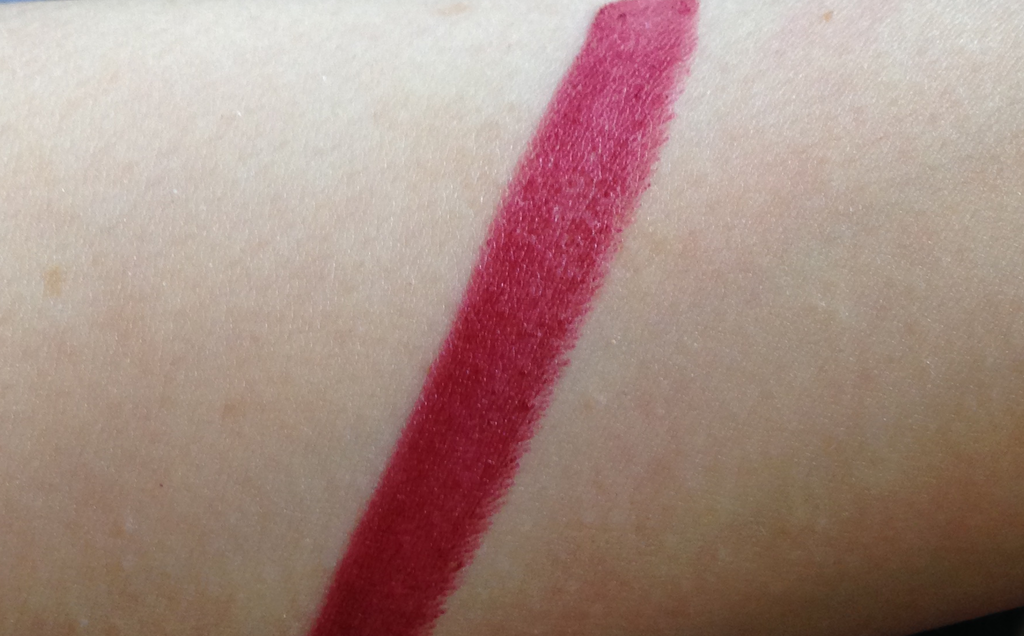 Firstly, the packaging looks spectacular. It's beautiful. It arrived in a box that was far too big for just one lipstick, but it was beautifully packaged in purple paper. I am guaranteed to like anything if it arrives in purple packaging! I also adore the rose gold bullet, but it is surprisingly light in comparison to my two YSL lipsticks. It isn't weighty. It looks beautiful, but I really did not expect it to be so light! I also love the square bullet, which I find allows for a much easier application. Sadly, the focus on my camera has broken so the lip swatch was taken on my phone, which is why the quality is so poor!
Love Liberty is a beautiful light berry. I adore the colour. It isn't so dark that it is unwearable, but it is an intriguing and eye-catching colour nevertheless. It's very elegant, and is suitable to be worn for both formal occasions and for casual everyday situations. On application it feels extraordinarily creamy for a matte lipstick, and applies smoothly. The pigmentation is excellent, it is opaque in a couple of swipes of the tube. I do find that it is a little drying over time, and does slightly enhance the dry areas on my lips, so I would recommend using a scrub and a balm beforehand (my lips are naturally extremely dry so this problem may be isolated to me). However, it is a lot more moisturising and comfortable than most of the matte lipsticks I have tried, and the colour is just beautiful. It also doesn't look as 'flat' as most matte lipsticks. According to the box, it has pigments to give a glowing look, and it certainly gives the lipstick a fuller appearance. I adore the finish. In regards to wear time, it lasted around five hours on me, but faded considerably after a meal. It also fades very evenly, so it wasn't too noticeable.
The biggest problem for me is the price. At £23, it certainly isn't cheap. However, I do love the colour and the finish is lovely. I doubt that I will be purchasing another shade because they are so expensive, but I am pleased that I own this one.
I purchased this lipstick from the Charlotte Tilbury
website
.
Have you tried any Charlotte Tilbury lipsticks?
Disclosure: I bought this lipstick myself.