I hope you are all having a wonderful weekend. I've ended up with several jewellery reviews in my draft post list, so I thought I would begin with another Black Cat Jewellery Store review. I've ended up with quite a few pieces in my collection, but I these chokers are the ones I am most excited about. I purchased the Ella black velvet choker with black onyx, and Anna very kindly sent me the Calypso choker with a red crystal.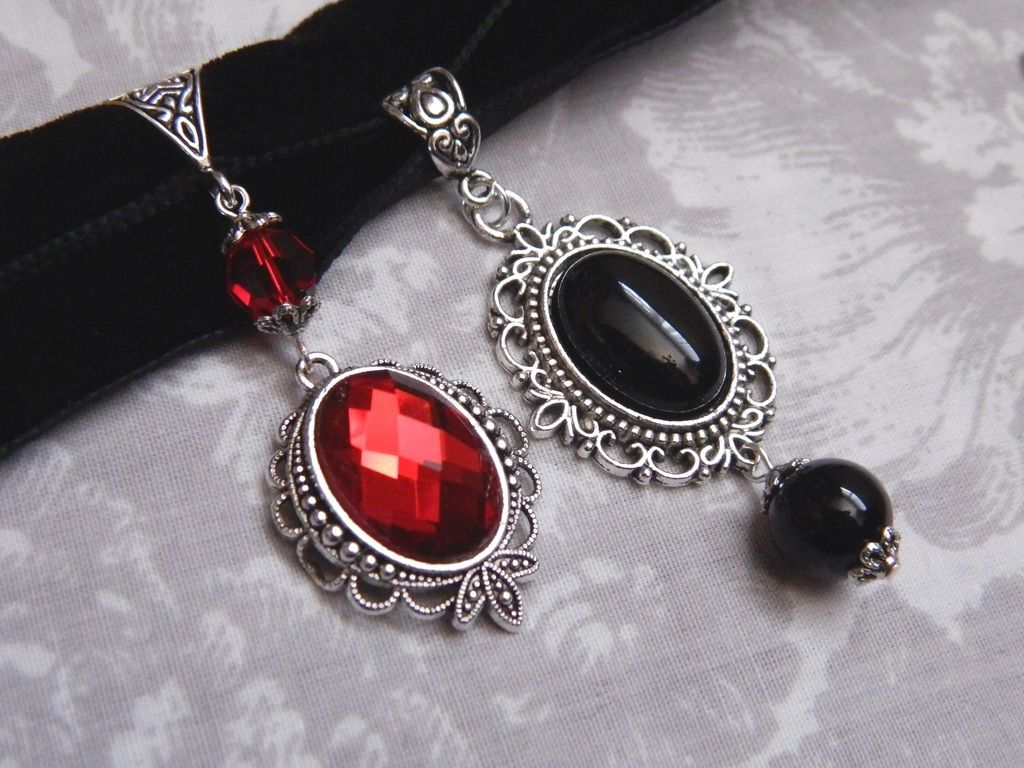 The Calypso choker features a faceted red crystal set within an intricate silver frame, which hangs from a red crystal. It is hung upon black velvet, and the clasp is decorated with two tiny red crystals. The red crystal catches the light wonderfully. It constantly sparkles in sunlight. The colour of this reminds of me of Angela Carter's
The Bloody Chamber,
when the Marquis gives the heroine a choker ordained with bright red rubies and she describes it as 'an extraordinarily precious slit throat.' It's such a wonderful shade of red! It is a very eye-catching piece.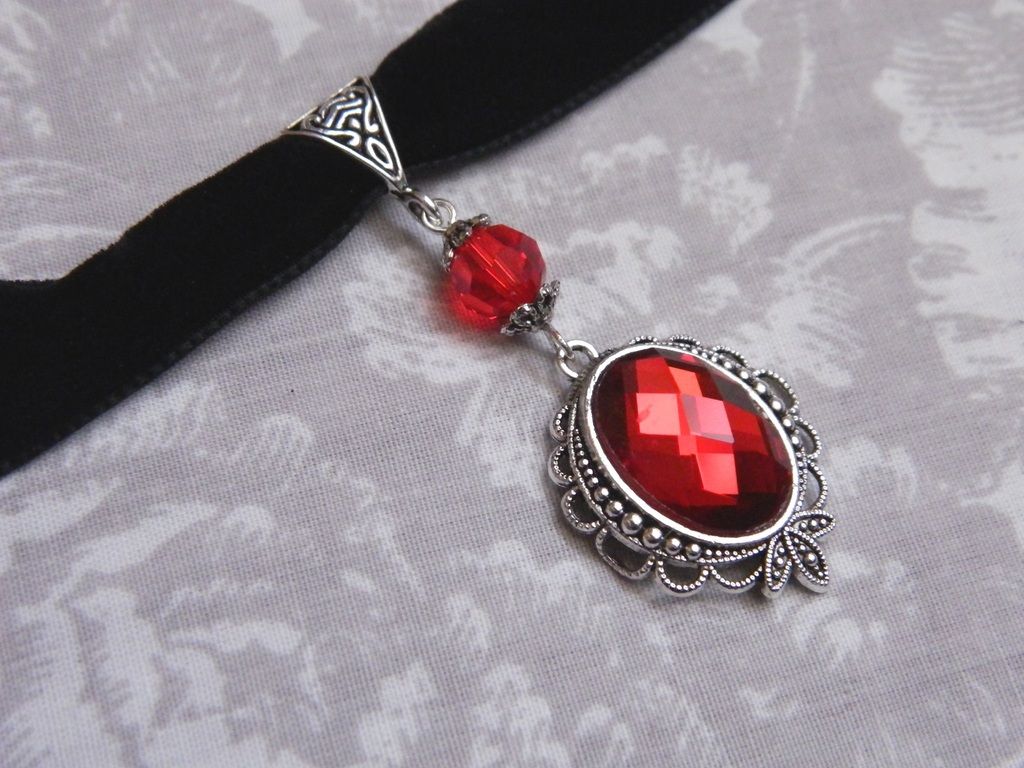 The Ella choker features a black onyx crystal set within an ornate silver frame. A single black onyx stone hangs beneath the frame. It is a beautiful piece, and it epitomises elegance. It's perfect for formal events or to give a plain outfit a touch of opulence. It also came with a box stamped with a black cat. I adore little touches with packaging, and Figgy approves!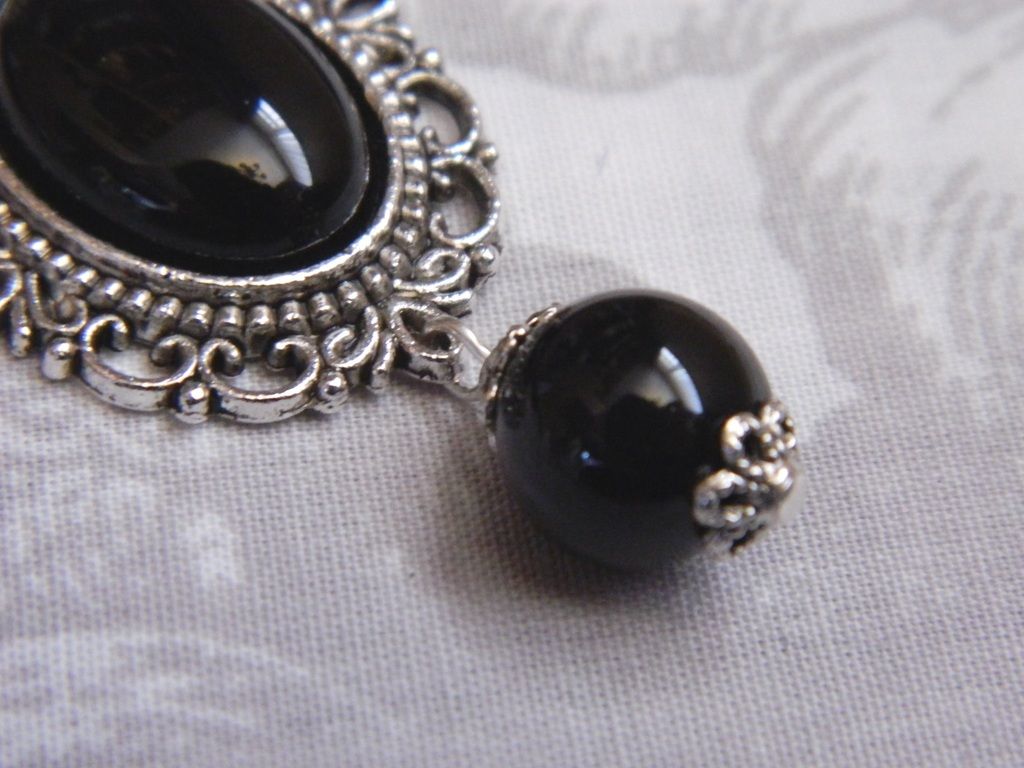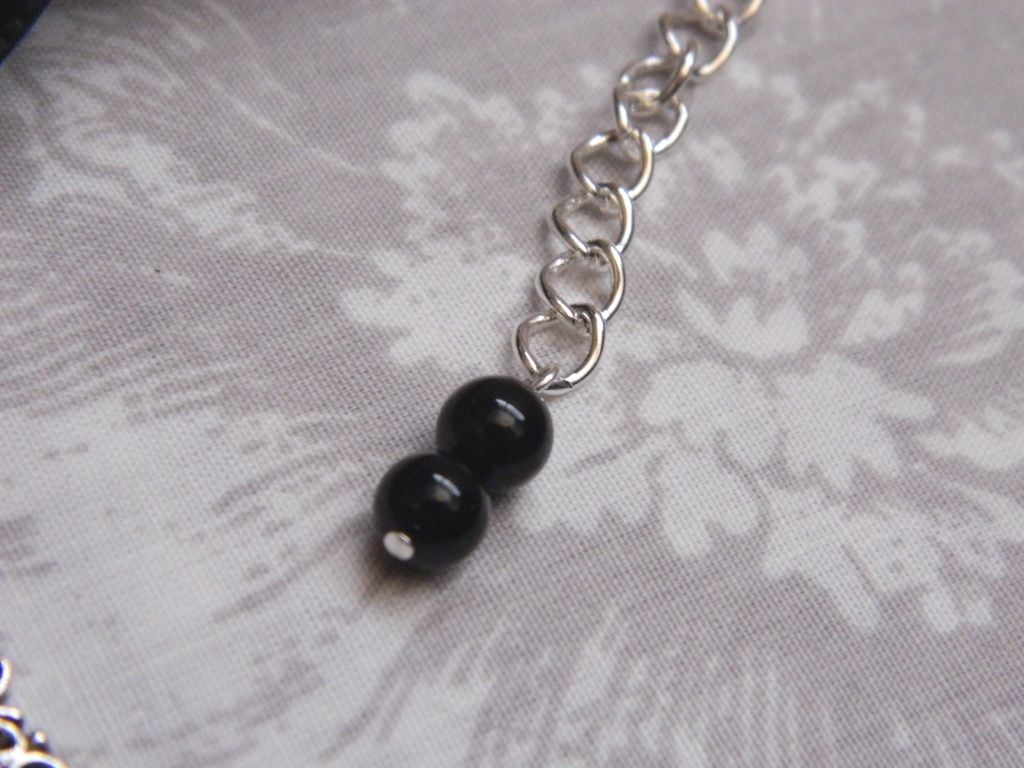 I adore the detailing on both of these chokers. Anna kindly made these to fit me, so they fit perfectly. I also find that some heavier chokers have a tendency to drop and fall down on me, so I have to tighten them throughout the day. Both of these are incredibly light and comfortable and I have not had to adjust them.
Both of these chokers are incredibly sturdy. I did manage to accidentally unhook the clasp my Calypso choker by dropping it onto my tiled floor, but it hooked back on and has not fallen off since. I dropped two of my Alchemy Gothic necklaces on it and both of them were immediately broken. One had to be glued and one had to be thrown away, so I would say that only having the clasp fall off is an excellent result and is testament to how well these are made.
I love both of these pieces. They are both incredibly captivating, and very unique. I can't quite decide which one is my favourite!
Both of these chokers cost £17.50 each. You can purchase both of these from
The Black Cat Jewellery Store
. The Calypso choker is available
here
and the Ella choker
here
.
Have you purchased anything interesting recently?
Disclosure: I bought the Ella choker myself and Anna sent me the Calypso choker.