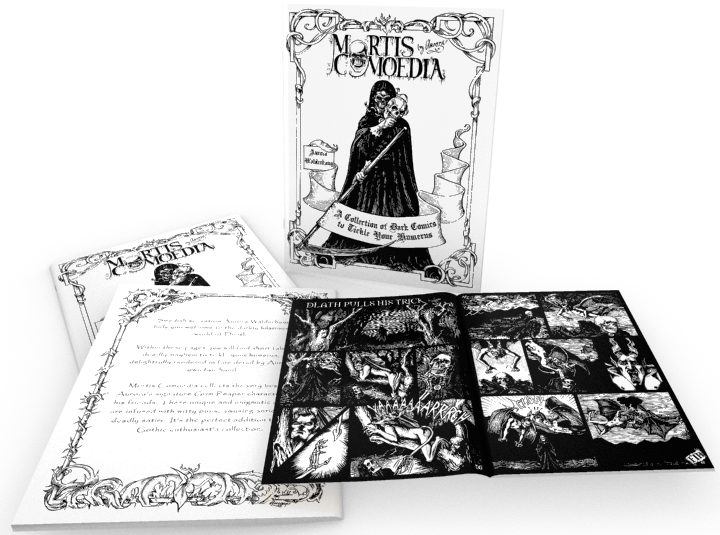 Happy Halloween! The spookiest season is upon us once again (it seems to come around faster every year) and I thought I would celebrate today by reviewing a suitably dark read.
I was contacted a week or so ago and asked whether or not I would be interested in reviewing a new comic named Mortis Comoedia by Aurora Walderhaug. As many of you know, I am always searching for new reading material and I did not hesitate to agree. I was provided with an electronic version, which was a little unusual for me (I do not own a Kindle or an E-reader) but it worked wonderfully. I did find myself reading it on my laptop when I was supposed to be filling out forms for work though! I was kindly provided with some images to use in this post so you can see some of the artwork for yourself.
The comic begins with Walderhaug explaining the background to the comic and the origin of her own fascination with death and skeletal forms, by stating that 'those of us who want to depict the body, and the reality of life in death in a convincing way, are as capable of avoiding the skeleton as they are of avoiding death itself.' I loved the beauty and the eloquence of this sentence. This is actually one of the nicest aspects of the comic, as I adore personal elements like this. It gives the reader a wonderful insight into the creation of the comic and gives the reader a unique connection with the author. She explains her first real glimpse of death and how this influenced her, which resulted in the publication of this comic. As somebody who has always been intrigued by the notion of death, I found this section really insightful and lovely.
Mortis Comoedia is composed of several short tales, each featuring the activities of Walderhaug's Grim Reaper character. My favourite little short tale is 'Mask of Death', which is perfect for this season as it details the Grim Reaper's antics on Halloween. All of these tales made me smile (which is a rare feat since I have quite a specific sense of humour) and I imagine these tales would delight both children and adults alike. The use of short tales means that it is a perfect read for a busy autumn evening when you have little time to spare. They have (rather ironically considering the subject matter) been brightening up my hectic October evenings!
Furthermore, one of my favourite elements of Mortis Comoedia is the illustrations between the comics. These illustrations all match the strip that precedes them, and they tie the strips together perfectly. They are startlingly beautiful, and I would love to frame some of them. The comic is a captivating blend of beauty, elegance and dark humour. It is incredibly unique, and is illustrated with a wonderful elegance and flair. The end of the comic also includes several full length illustrations of several incarnations of the Grim Reaper character, which are astonishingly detailed and capture the edgy yet witty essence of Mortis Comoedia. My favourite one of these is definitely the 'Prim Reaper' which shows the character dressed in a corset, long skirt and holding a compact mirror.
Mortis Comoedia is exquisitely detailed and beautifully compiled. The comic strips are elegant and charming whilst retaining their distinct dark wit, and also offer a more serious undertone through the examination of the oddities of modern life and society. This is particularly apparent through one of the strips named 'The Walking Dead', which shows the Grim Reaper becoming fascinated by an iPhone. It sounds ridiculous, but it really does make you consider how truly silly our obsession with technology can be! These moments promote an intriguing sense of self awareness and parody modern life flawlessly.
I do not usually read comics, but I thoroughly enjoyed this one. I would actually struggle to think of a single aspect that I did not like! I would definitely recommend this comic to you if you enjoy satire surrounding death. It is beautifully presented and wonderfully macabre. I highly recommend it for those of you who enjoy satire and want to embrace the lighter side of death. It is worth looking at even if you do not like comics – I would buy this for the outstanding artwork alone. It's beautifully decorated and is exactly my kind of dark aesthetic. It also ends with one of my favourite Shakespearean quotes from
Macbeth
, 'Life's but a walking shadow, a poor player / That struts and frets his hour upon the stage / And then is heard no more.' I think this quote captures the quality and atmosphere of
Mortis Comoedia
perf
ectly. Death is nothing to fear when we accept that life is merely an illusion.
Mortis Comoedia
captures our peculiar fascination with death and the absurdity of life perfectly and is an excellent read if you are inclined to the darker side of life. As Samuel Butler stated, 'If life must not be taken too seriously, then so neither must death'. It's a little too late to recommend it as a Halloween gift, but I think it would make an excellent Christmas present.
Mortis Comoedia
costs £9.99 and can be purchased
here
.
I hope you all have a wonderful Halloween!
Disclosure: Mortis Comoedia was sent to me for reviewing purposes. This does not affect my opinion whatsoever.